Prue Leith is a presenter on Channel 4's Great British Bake Off. As a chef herself, she also knows a fair bit about the elements that come together to make an efficient design. Rebecca Nottingham talks to her about how she helped design her own colourful kitchen and the developments in the kitchen industry over the years…
Q: Tell us about your kitchen and the design process…
A: My husband and I designed this house from scratch when we made the inevitable decision to downsize. As the kitchen is, and always has been, central to my life we started with this room and went from there. I had worked with Omega on the kitchen in my old house and it was perfect – spacious and efficient – and still going strong after 25 years so I worked with them again on the new kitchen and basically copied the original layout.
Planning a kitchen for the way you live your life is vital. I'm a social cook for instance; I like to have friends chatting or helping, while I cook. So, designing a kitchen with space for them was essential.
My other criteria were that I like canisters of ingredients visible and within reach and tools and utensils hanging on wall racks. Everything else must be in drawers so there's no scrambling in cupboards.
The resulting kitchen has a central island, open shelves, a wide stove top, separate standing fridge and freezer, and dining table at the window. The kitchen units are Sheraton, from Omega.
Q: There are obviously general rules of thumb when it comes to kitchen design, but how important is personalisation to getting the space right?
A: It doesn't matter whether the consumer is a keen cook or just someone that wants a functional kitchen, the design has to meet their specific needs.
For instance, a must have for my new kitchen was that it absolutely must be able to accommodate my bespoke, two ft-tall, four-tier lazy Susan. It has herbs and spices at the bottom, then a space for bottles, above that a knife block and then at the very top, a place for utensils. It's made to suit my height when it's on the island worktop so that I have easy access to everything while I'm cooking. My kitchen had to be designed around this.
Consumers are new to the design process so they will rely on the designer to guide them through the process. Get them talking about who lives in the house and get them to think about how they're going to use the space.
They may not fall specifically under the personalisation category but another area that is absolutely key to the conversation at the start of the kitchen project is lighting and ventilation. These two aspects, in my opinion, are often last-minute thoughts but they can really make the difference between a good or bad design.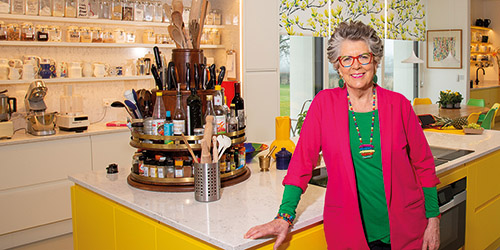 Q: Do you think multigenerational living should be a consideration in terms of kitchen design and product development?
A: Absolutely. I believe you should plan every kitchen with the idea that you could be using it throughout your lifespan. So, consideration of how your needs may change over the years is key. Your kitchen should work for your life or the life that you'd like to have.
Q: There's a lot of impressive technology in today's cooking appliances but do you think that sometimes the appliances that are designed to allow people to cook more professionally can be a little too complicated?
A: I think it all comes down to the kind of cook you are. If you're a keen cook, one of the main pleasures of a new kitchen is learning about what the new kit can do. Therefore, some people will absolutely love an oven that has multiple functions because it could help develop their skills. On the other hand, most consumers tend to stick to one or two settings with every appliance they use and so, many of today's appliances might appear overly complicated. That said, if you've only got space for one oven then the development of multifunction models is absolutely marvellous.
Q: A lot of consumers want to be able to cook like a professional these days, but do they really need to invest in quality appliances to do that?
A: I think it's all relative and that's the beauty of how this industry has developed over the years. There have been some brilliant innovations and what's great is that a lot of those have filtered through to all levels of the market. For me personally, it's not always about price it's about the efficiency of a product. It might not cost a lot but if it does its job well then, I'm all for it.
Q: What has been the standout innovation in the kitchen industry for you?
A: It's difficult to pick one because there are so many elements that make up a kitchen, and we've seen some fantastic innovations come through in all sectors. From my own kitchen, I have to say that I am mad about my Miele induction Teppan Yaki. I also entertain a lot and I have to say that my wine fridges have made a big difference.
Q: What do you make of the GBBO kitchens?
A: I think they're a great example of what a working kitchen should be like – it's a multifunctional, efficient space. A very well-designed kitchen.
Don't forget that the bakers get quite a lot of help – for instance, they don't have to do their own washing up – so, the space must be big enough to accommodate home economists as well. The kitchen has to offer a lot of workspace and storage too because, for each task, the bakers have to use a variety of appliances and tools.
Q: Obviously at work you prepare gourmet cuisine but what do you like cooking at home?
A: Most cooks actually prefer to cook really simple food at home. Because of my commercial catering background, I love making recipes that lend themselves to batch cooking. For example, if I make a Bolognese sauce I won't make enough for that one meal, I make lots and then freeze it.
Q: What was the defining moment you realised you wanted to cook professionally?
A: I was studying languages at university in Paris and I realised just how much effort, intelligence and interest there was in food. It was all so exciting, and that's when I knew that I wanted a career in food
and cooking.
PHOTOGRAPHS: David Lawson