Clive Christian Furniture has unveiled its first new mainstream collection in a decade and has moved into new territory with a contemporary kitchen collection called Opus No.1, which is part of a new range called The New Classical.
Kbbreview was at the launch at the Clive Christian Furniture in Nantwich to see the new collection.
Clive Christian Furniture has built a solid reputation on its luxury traditional in-frame product, such as the Architectural range, and Opus No.1 is a landmark move for the brand, being its first foray into a fully contemporary kitchen. As global sales director Phil Cole observed: "This will kill a lot of myths about Clive Christian Furniture."
This launch comes hot on the heels of its new outdoor Garden Kitchen last August, which again broke new ground for the company, which had never produced such a product before.
The move follows the management buyout in 2019 that saw former Shaws of Darwen owner and Perrin and Rowe MD David Dare become the new owner and chairman of Clive Christian Furniture.
Cole explained how the first Covid lockdown gave them pause to sit down and plan for the future. He told kbbreview: "We got the time to take stock, sit back and re-evaluate the business, look at the directions we wanted to take the business in, our new brand strategies."
The Garden Kitchen and now the new Opus No.1 contemporary collection are the first manifestations of the newly reinvigorated Clive Christian Furniture. Cole confirmed that the company was attracting more younger buyers and that the Opus No.1 range would help the brand appeal even more to that demographic.
Head of design Oli Deadman was quick to point out that although more contemporary, the company was keen to stay true to its core values. It did not want to produce a simple white slab-door German-style kitchen. They wanted, as Deadman put it, "something that looks simplistic, but still has the complexity of previous Clive Christian Furniture pieces".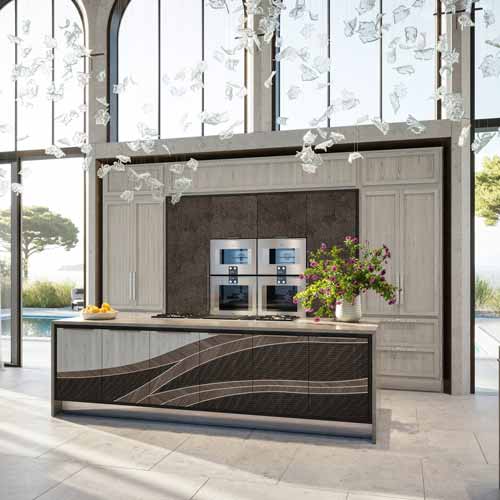 Opus No.1 features an all-new method of carcass construction. In its traditional in-frame designs, each piece has its own visible frame but for Opus No.1, the customer can choose a seamless run of cabinets where doors and drawers do not have frame members separating them. This, it said, has allowed them to create 'art pieces' and bring character to Opus No.1 with special treatments.
Two colour palettes are offered – warm and cool. Warm has options including warm gold, espresso and elderflower, allowing for zoning options in large open-plan layouts. Timbers include a striking toned ash and premium oak to provide different looks and grains.
The Nantwich display features the Effervesce finish on its doors, where bubbles are CNC-machined into their surface and then each bubble is finished by hand-sanding. The inspiration was said to be bubbles rising in a freshly poured glass of champagne. The theme is echoed in special handles, hand-cast in the UK for Clive Christian Furniture by Philip Watts, which also have dimples in their surface.
The Cool Palette has an industrial colour quality, but Deadman explains that to bring "a bit of nature, character and humanity". They introduced a feature narrative that drew inspiration from the European Ash tree bark formation. Driven by the company craft wheelhouse, the original sketch was recreated in a mixed media composition of carving, inlay and decorative marquetry herringbone work.
Deadman says that they will offer customers the option of personalising their own particular designs. The range also offers new upgrades to internal fittings and the usual 'hidden details' that the brand prides itself on. In-built charging stations are also available.
Concluded Deadman: "We are on the cusp of doing very different and special things."
Said CEO David Dare: "This is a real milestone for the business, our first new collection for a number of years. It showcases the principles synonymous with Clive Christian – scale, grandeur and opulence, with sustainability firmly at its core. Whilst demonstrated initially in the kitchen, Opus No.1, like all our collections, can be applied across the whole home. The ability to use luxurious veneers and marquetry across the Opus No.1 cabinetry can transform an island or console into a unique artwork, and looks sensational in any setting from the kitchen through to a dressing room, bathroom or bedroom."
The New Classical collection and Opus No.1 range will go to market this summer.
Commenting on business generally, global sales director Phil Cole told kbbreview: "Sales in the last six months of 2020 were hugely up from what we would normally do in a six-month period. We achieved nigh-on a year's sales during that six months.
"In 2021, we were up around 25% year on year and this year we will probably grow between 25% and 33%. There has been a real thirst for the brand again that we haven't seen for a long time."
Cole also said Clive Christian Furniture is expanding its business in the US with a new showroom in Los Angeles, run by the same person that runs the New York and Chicago franchises. Cole added that it was also looking to expand its showroom network in the UK and Ireland.
Asked how the Garden Kitchen launched last year was going, Cole said: "We have had a lot of enquiries and it has been well received. It is an exciting time for us because it's not something we have done before.
"We have plenty of pop-up events planned. We will be doing an event in May called Elite London in partnership with Sub-Zero & Wolf and we will be looking at doing multiple events throughout the summer that allows us to showcase it."
He added: "It is a new sort of sale for us and our retailers. We are not used to that sort of sale and I have a feeling that it will be bought as a much quicker process. Kitchens and dressing rooms often involve a lot of construction and pre-planning and drawings, and we have projects that have gone on for two years, whereas I feel the garden kitchens will be a lot shorter process."