A new instant hot water tap company, Wodar, has been launched on to the UK market by ex-Frontline director Michael Sammon.
Claiming to offer an extensive range of "highly-specified" products at "much more accessible prices", Wodar has recognised the surge in interest in instant hot water taps driven by the post-pandemic thirst for home improvements. However, it says that they are generally seen as luxury items.
Wodar claims it is about to change all that with its instant hot water tap collections – Design, Design+, Architect, Heritage, Pro Flex and Sleek – in heritage, contemporary and industrial styles, starting at a retail price of £449.
Speaking exclusively to kbbreview, Wodar director Michael Sammon said: "We have focused on choice through design and although it is a crowded market, the £400 to £900 price point it is not as crowded, and we saw a big opportunity to offer more designs and colour options without a big price hike. That's where I am hoping to win and gain traction."
He added: "I have a real passion for product design and for me it's a question of 'does it work well?' and 'would I have it in my own house?' I looked at the market and thought, how could I improve it, and I think there is a gap in the mid-sector."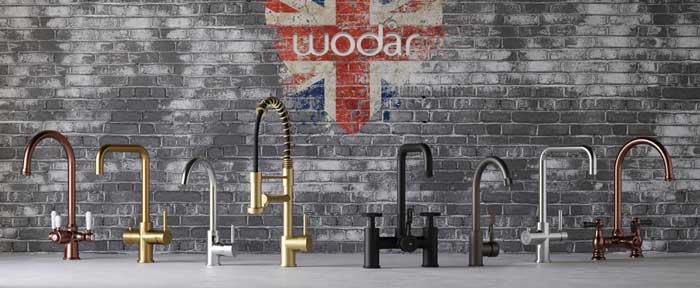 Commenting on Wodar's channels to market, Sammon said: "From my understanding of the online market, I know not to conflict with retailers and to protect their margins. From my time in the bathroom industry, I have a good understanding of how we can help retailers. We will sell direct from the website to consumers at full RRP and we have a national fitting service for £99, and the same rules apply for a kitchen retailer who wants to put one on display. But that is the only online channel we are looking at. And we are actively looking to take on more kitchen retailers."
Wodar is a British company and all of its products are designed in the UK and made in China. Sammon told kbbreview they are making sure they have the stock on the ground moving forward for next-day delivery.
The taps come with a compact, fully insulated tank and are available in six different finishes – brushed brass, chrome, copper, black, gun metal and gold. The company claims that the Wodar range opens up new markets for kitchen retailers.
Said Wodar founder and director Michael Sammon: "We are delighted to offer our range to kitchen retailers throughout the UK. For consumers, Wodar offers everything – convenience, value for money, energy-efficiency and style. We have created a trade log in which enables retailers to purchase our ranges at highly competitive trade prices."
The Wodar ranges will be available to the market from this week and there is a log-in area on its website for retailers. It is also offering special discounts for trade customers.