European and UK buying group MHK had a large stand at the kbb Birmingham show this year where it unveiled a hardback book of useful business advice for its members.
Called The Little Black Book of Really Useful Business Tips for the Independent Kitchen Retailer, it contains advice on topics as diverse as costs and margins, cash flow, partnering with the right suppliers, online marketing, "appliances and the margin myth", installation and making sure displays are earning their keep.
The book was a collaboration between UK national sales director Paul Wheeler (pictured) and UK national sales manager David Morris.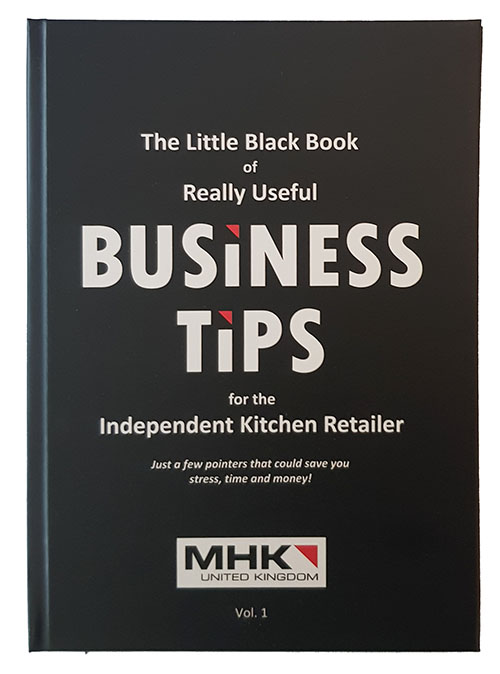 Speaking to kbbreview on the MHK stand at the show, Wheeler said: "It started out as an idea I had last summer for something that would be a useful guide. We printed it in hardback as we didn't want it to be a leaflet that might get thrown away. We wanted it to be a reference guide, to be useful. It was a collection of mine and my colleague David's ideas on what we have learnt about kitchen retailing over the years. If you are a new retailer just starting out, there are some useful tips in there."
He added: "We are good at how to run a business and that is what we can bring to the table and the book also shows people that we know what we're talking about. It's not just a book of buying terms. We only grow if our retailers grow and so everything we do is about making their lives easier, making their business more efficient and that leads through to more sales, and that benefits us."
MHK was also showcasing on its stand its new Kitchen Experts website, which was launched in March.
"On Kitchen Experts we are working with a sub-group of suppliers who feature on that site along with selected retailers," said Wheeler. "It is a joint marketing concept and so MHK, the retailers and suppliers contribute to a marketing pot that we then use drive traffic just to those showrooms. Our retail members are not automatically included, they have to elect to display the brands that are within Kitchen Experts. The advantage is that we pay a further bonus on those and if they sell the additional rebate that is extra money in their pocket. It can also help take some of the lead-generation away from kitchen retailers and for every £1 they spend on Kitchens Experts they are generally getting £2.50's worth of benefits."
In the future, MHK UK may also look at getting involved with installations. Wheeler said: "We are looking at getting into the installation side of things. We are training fitters in Germany and that is very much something that we want to move into in the UK too. It is not just training, but also offering an installation service."
The MHK buying group has around 3,000 members in Europe and the UK, with a showroom count of around 5,000.
Wheeler explained: "Our buying terms are negotiated based on our collective buying power. We specialise in kitchens, with around 15 kitchen suppliers for the UK, mostly German. In the UK, we are working with Manor Cabinets, Mereway and The Real Kitchen Company. So we can offer most styles of kitchen. We have to have a very rounded range and we want to have products that cover 90% of the people that come through a retailer's door."
And to make that proposition more "rounded", it has also added solid surfaces, glass splashbacks and lighting, so that "everything in the kitchen can be bought within the MHK system – all coming on one invoice".
MHK can also help its retailers with a website leasing arrangement that offers low upfront costs.
Asked how business had been for MHK, Wheeler said: "We have grown substantially in the UK and we have doubled our business year on year for the past three years – some of that through acquiring new partners and some through existing partners growing their businesses. We are very selective about who we deal with and we want to work with only the highest calibre of retailer and so there may be fewer of them, but the payback is that those guys spend more."
Bathrooms is another area that MHK says it may well look at in the future. In Germany, it has Interdomus, which, said Wheeler, "does for bathrooms what MHK does for kitchens".
Wheeler added: "We would like to think that that will come to the UK at some point in the future, once things are more settled. The bathroom industry faces similar problems to the kitchen industry. We have seen some bathroom retailers move into kitchens because they see its potential and that it is less on the internet and more difficult to make price comparisons on the core furniture."