Kia Stanford won our Bathroom Designer of the Year (project cost over £25,000) Award with this striking design for a townhouse in London's High Street Kensington
For aesthetics, nothing screams luxury more than a custom laser-cut porcelain floor that not only drove us to distraction to make – being completely unique we had a lot of work to create the templates for the cutters – but that is made to hide all the ills of the room. None of the furniture or fittings in the room, apart from the V+A bath, are centred and so the aesthetics of the floor was interwoven with solving the problem of balance.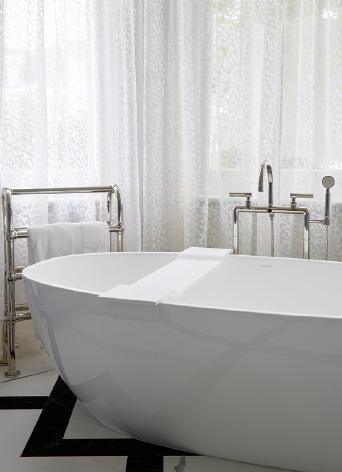 We wanted something that would playfully cut across the floor, providing interest without a central point needing to be set. It also has a large number of hidden items that helped to solve problems.
With the flooring being so important, we didn't want a shower tray and traditional drain. Instead we have gone with a hidden in-wall drain allowing the floor to be completely unimpeded.
This also allowed us to put in a storage shelf along the entire length of the shower rather than be limited to a more traditional niche area. Solving the shower storage area without adding to the boxing that would take away precious floor space.
When you look at a bathroom that is so large, you don't often think that storage is going to be an issue. However, we were careful to make sure that the room wasn't overrun with cabinetry. We have also hidden storage, as the bathroom mirror above the vanity opens to a medicine cabinet, allowing this to be out of the reach of children, but still easily accessible.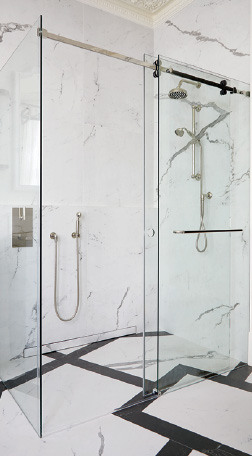 The joinery was all made bespoke to our micro-shaker detail, allowing us to use a bold and interesting colour on the cabinetry – providing a design that grabs your attention while not distracting from the floor. The patterns of the room – strong rectangles in both the joinery, flooring, lighting and sheers – are then offset by the imposing, but very intricate, coving detail, which, although new, was specially picked to bring in the grandeur of what would have been in this area of the house originally.
What the judge said
"We were impressed by Kia's effortless blending of classic, elegant clean lines, bold geometrics, understated luxury touches and her tasteful use of colour in the bathroom furniture, which helped to provide the client with the calming retreat she had been looking for."