Leeds-based retailer, Four Seasons Interiors, will be the first UK kitchen showroom to offer Puustelli's Miinus range of eco kitchens.
Puustelli is the largest and longest established kitchen brand in Finland and its new range is a result of a €1.5m (£1m) investment R&D programme to develop a material to replace the standard melamine faced particle boards the majority of kitchen cabinets are made from.
The new range utilises a bio-composite carcass frame that almost halves the carbon footprint of existing kitchen cabinetry.
The range will be available at the Four Seasons Interiors showroom from January 2016 and Puustelli expects to grow the network of Miinus retailers to six showrooms in 2016.
"We're delighted and proud to be the first UK retailer of a groundbreaking kitchen range especially at a time when consumers are so conscious of the environment when making buying decisions," said owner and design director Ian Sandford. "I've long held the belief that retailers have a responsibility to meet the demand for products that are earth friendly and by offering the Miinus range, this will allow us to realise that ambition with a kitchen range that ticks all the eco boxes."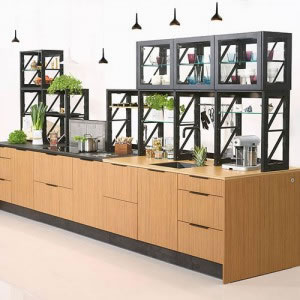 Kitchen consultant and Miinus's point of contact in the UK, Tim Foley, said: "After 30 years as an installer and contractor, I never thought I'd witness a much needed evolution of kitchen cabinetry. It was through my earlier conversation with the scientist, Professor Juhani Salovaari, who worked with Puustelli to develop the Miinus range that my enthusiasm was born. I am thrilled to now be driving its introduction into the UK and Irish market some four years later."
Pictured (top) from left to right – Donna Fox, senior designer and showroom manager, Liam Hannon, design technician, Dean Robinson, senior designer, Steve O'Connell, director and installations manager.