German sanitaryware manufacturer Hansgrohe has revealed it will be the second sponsor of a local team that has entered the 2017 cycling Elite League World Tour.
The company joins kitchen appliance manufacturer Bora as an official sponsor of the cycle team from Raubling in Bavaria. Its name will appear with Bora on the team's jerseys.
Hansgrohe has previously sponsored the Hansgrohe Superprestige cycling competition in Belgium.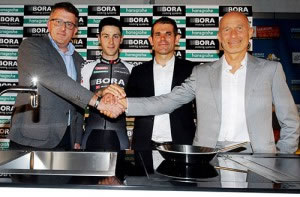 "The Hansgrohe brand stands for water – Innovating Life with Water – and is therefore inseparably linked to athletics," said Thorsten Klapproth, chairman of the executive board of Hansgrohe SE. "Competitive cycling is highly dynamic and enthuses the masses. This is exactly what we're doing with our bathroom and kitchen products. The aim of this commitment is to boost our brand awareness. International large-scale events like the Tour de France are what actually make the sport of cycling highly attractive. Within this we see a further opportunity to engage with our customer target groups across the globe."