'A bit of added value gets you a long way'
Could offering an upmarket replacement kitchen to homeowners while their current one is being refitted help retailers win sales from their competitors? Entrepreneur Ed Dean (pictured) tells Tim Wallace more about Kitchenpod, an innovative new concept for the luxury end of the market…
Here's an idea that's so simple, you're left wondering why nobody has tried it before. Everyone knows the mess and disruption that a kitchen installation can bring, particularly if it's a major refit. So why don't retailers offer homeowners a temporary replacement, available for hire, until the job's finished? Make it lightweight and easy to install and you've got yourself a nice little add-on sale.
A few years ago, City banker Ed Dean was having his own kitchen refitted and decided the idea had real potential. Maybe not for smaller fits, he thought, but for families reluctant to move out of their luxury homes and looking to avoid endless takeaway meals while they waited for jobs to be completed.
It's taken him a while to put the idea into practice, but with the kitchen market on the up, he's decided now is the right time to throw some money at it. In fact, he's so confident that the idea will work that he's quit his highly-paid job in the banking world and set up a new company – Kitchenpod – working from his luxury, gated property in Guildford, Surrey.
Bespoke units are made locally to his own design and held together by a lightweight, aluminium frame, making them easily transportable and a doddle to fit. Appliances are from Neff, worktops from Max Top and sinks and taps from Roux Lifestyle, a company that happened to be displaying next door to him at kbb Birmingham.
"I've had people say this is a nicer kitchen than the one they've already got," Dean laughs. "But it's so lightweight that it can be picked up like a stretcher. The aluminium gives it strength and durability.
"The price is £38.90 per day [3 Pod], excluding VAT, which includes delivery and installation within 50 miles of the M25. If it's further, we might factor in a delivery charge. I will be hands-on at every point, but I've got people who work ad hoc for me – joiners and a handyman."
So how does the Kitchenpod idea differ from more makeshift alternatives?
"It's all plumbed in – there's an under-counter boiler and a pump to expel waste," Dean explains. "So the idea is that I can put this in any room in the house. I just need to agree with you how I source cold water and how I get the waste out. We're producing a new smaller model for upstairs.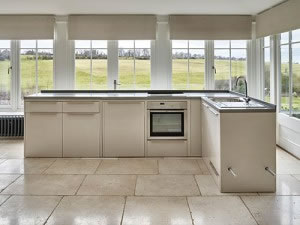 "Other solutions don't offer hot running water. You don't get an oven. Chances are you can't plumb it in. If you really wanted to, you could spend a few hundred pounds on something, but you wouldn't use it again afterwards."
Seamless
Dean has broken his idea down into two basic offers. The 1.3m-wide '3 Pod' features a 'hot and cold' unit with oven, four-ring induction hob, fridge with small freezer compartment and pan drawer.
Also part of the three pod is the 1m-wide 'Wet Pod', featuring a slimline dishwasher and sink with hot and cold running water, and a 1.1m wide 'Island Pod' with additional work surface and storage for cutlery, crockery and foodstuffs.
Each of these pods can be positioned independently in separate areas of the room or placed together to create a seamless work surface. A corner piece can also be hired to create an L-shape.
A more compact '2 Pod' is also available, which includes the same features, except the dishwasher. Clients can also hire storage trolleys, small tables, extractor fans, carpet protectors, microwaves and washing machines.
But to return to the original question, if this is such a great idea, why has nobody tried it before? You have to admire Dean for spotting a niche in the market. But does this niche actually exist, or is he creating it? After all, builders will generally leave as much of the old kitchen in situ until the last possible moment, after which a kitchen designer comes in quickly to finish things off.
Plus, at the level Dean is aiming at, homeowners will have access to water in their utility room, and maybe prop a microwave on top of a freestanding fridge. Will they really need a kitchen as sophisticated as this? Maybe the reason nobody has considered this as a business model before is that it's simply not economically viable?
"When I thought about why nobody had done it, I decided it's because it didn't make any sense for one retailer to do it," Dean counters. "There's not enough in it for them. There's plenty of margin in what they do already.
"Think about a kitchen company with eight stores that supplies 700 kitchens a year. If they can penetrate 1% of the market, that company will only supply seven temporary kitchens a year. What's the point? Because the kitchen market is so fragmented, you only need one guy doing this and servicing everyone."
Dean also stresses that the service is available either to building contractors, kitchen designers, architects, interior designers or homeowners. He's even printed two different styles of flyer, one with Kitchenpod branding and one without, which can be used by those he partners with.
"I'm looking to make relationships with whoever sees a value in my service, large or small," he says. "I can work with people in a number of ways, ranging from subcontracting through to dealing and billing the homeowner directly. It's more the family market because of the disruption to the kids."
Dean is only testing the water for the moment, with seven jobs completed at the time of going to press, but he insists he's fully set up to respond to stronger demand as time moves on. He may also consider a bathroom option once the business is fully up and running.
"Normally, a kitchen installation is booked several weeks in advance and this is the moment that I would likely be booked," he says. "This is the time that a homeowner decides to stay in the house rather than move out.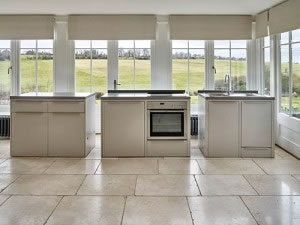 "I have capacity to build many more pods out of my own capital, should the demand be there, which I hope it is. Kitchens take four weeks to build from start to finish and only two hours to install. I will adjust my staffing levels as we respond to demand."
Early days
Seven finished kitchens doesn't sound like a lot, but these are early days and Dean claims he's had some great feedback, particularly among smaller kitchen retailers. "I must have got 100 leads out of the kbb Birmingham show," he says, "and 50 interested people via Twitter. I'm not in bed with any big chains."
So what sort of questions do people ask him?
"Some are technical," he says, "like how does the water side work? And is everything 13amp – which it is. They also ask if I'll go nationwide, and the answer is yes. I've got a minimum of two-and-a-half weeks' hire, but if it's a long job, I'll waive some of the cost of getting up there. Some people say they'll rig something up themselves. But what they don't have is hot water."
Kitchenpod still might seem like a very sophisticated solution for such a short-term problem, but it's something Dean has thought about: "It is, and in a year's time there might be a more basic option," he reveals. "A lot depends on the project. If someone's moved into the garage for six weeks, they want to stay on-site, because they're half-involved with the build. They don't want to move out. So I think I'm offering something that they haven't thought of and isn't being offered.
"In some ways, I'm offering a value-add to the kitchen company, but they're finding me a customer. So it's a mutually beneficial relationship. It could be that the next kitchen company has a relationship with me and is talking to that same customer, and that's enough to win them the business. Some retailers realise it could be the big winner for them. A bit of added value gets you a long way."
However, Dean admits the growth potential is hard to quantify. "How does anyone know?" he says. "It could be one big retailer who sells it, as a value-add, or it could be sold direct to the public. I have the capital to respond to what I think is realistic. If I had 50 in a year's time, that wouldn't shock me, but nor would 20.
"I believe this will be a stable business in a year. Once you get three or four kitchen designers who have a good experience, the phone won't stop ringing. There are enough scenarios out there. It's just whether I can get known well enough.
"If I focus on the South-East, that's a big affluent market. The British maybe spend more on lifestyle than other people. But it's not impossible that I could take this elsewhere in Europe. I've just got to make it work here first."