'We offer an online portal to luxury bathroom design'

Inspired by the standard of independent bathroom retailers in the UK, Designer Bathroom Concepts has taken that successful business model and moulded itself into a new type of web-based retailer. Rebecca Nottingham went to Doncaster to meet co-owners Russell Ward (pictured top) and Caroline Whittaker to find out more about its strategy
The success of a business can be rated in many different ways. In business terms most would, understandably, say that sales, turnover and profit are the ultimate measurements of performance. But is there anything more rewarding than receiving recognition from your peers?
That's certainly the impression I get from the team at Designer Bathroom Concepts. Despite launching the business just 18 months ago, the Doncaster-based online bathroom retailer already has an impressive list of accolades to its name.
Last year, it saw off stiff competition from within the industry to win the Product Gold category at the Designer Kitchen and Bathroom Awards and achieved finalist status at three of the industry's leading awards, including kbbreview's own prestigious, annual event – the kbbreview Retail and Design Awards.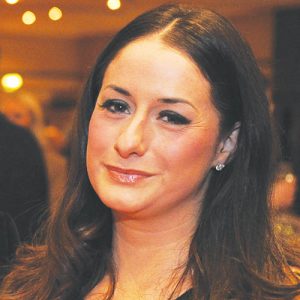 Outside of the industry, its strengths were also recognised when it was shortlisted at the 2014 Doncaster Business Awards. The company's web development manager, Paul Killen, even represented the company at Google's head offices in London's Covent Garden, after it was hand-picked to join a 'think tank' on the development of products and software solutions that could help SMEs to grow in the future.
Achievements and recognition of this calibre are hard to attain at any time, but for a fledgling business to receive this level of recognition, in such an aggressive and competitive market, shows that it must be doing something right.
So what exactly is Designer Bathroom Concepts all about and who's behind it?
Co-owners Caroline Whittaker – sales and marketing manager – and managing director Russell Ward describe it as an "online portal to luxury bathroom products and design".
"We spent months and months analysing the industry," says Ward. "We came to the conclusion that if we were going to get involved in bathrooms, we had to bring something completely unique to the table, otherwise we would just be joining an already saturated market."
According to Whittaker, the idea for Designer Bathroom Concepts came from the fact that there were very few online retailers offering what she describes as "luxury product and design".
Luxury
"There were obviously some big players already making huge headway by taking bathrooms online like Bath Empire, Victoria Plumb and Better Bathrooms," she explains. "But, we found that there weren't any online retailers offering a targeted, luxury design service.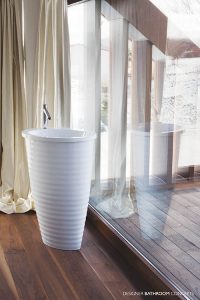 "Why shouldn't somebody who has a mid-market budget, but is looking for a new bathroom and doesn't have access to good retailers in the vicinity of their home, be able to get a luxurious, design-led, inspirational journey from start to finish?
And that, both Ward and Whittaker add together, "is the gap in the market we wanted to fill".
While Ward, a trained electrician who has launched several successful businesses since the age of 18, has no direct link to the bathroom industry himself, Whittaker is perfectly placed to comment on the bathroom market having spent a number of years working with key brands, including Jacuzzi, Roca and Laufen.
She explains how the changing retail landscape confirmed that their decision to launch a digital business, rather than a traditional 'bricks-and-mortar' model, was the right way to go.
"I've been involved in the industry a long time and have seen first-hand how the retail side has developed, and how manufacturers have changed their approach by lessening support to showrooms," she says. "That was a driving force behind our decision to create this new style of online bathroom retail business."
Generally speaking, e-tailers tend to operate a pretty simple, straightforward, business model. Basically put, it involves selling and delivering product on a supply-only basis in a heavily competitive, brand- and price-driven market. There's little interaction with consumers, which means that the level of customer service provided by showrooms is simply not required, hence why these businesses are usually associated with the lower end of the market.
Designer Bathroom Concepts also mainly sells on a supply-only basis, so what makes this online bathroom dealer so different from any other?
One of the standout differences is that it actively seeks interaction with clients by offering a full, bathroom design service.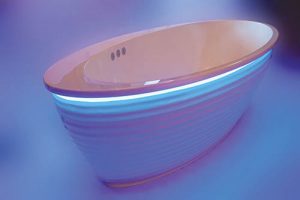 "In terms of the design service, we class what we do as bathroom interior design and architecture," explains Whittaker. "Anyone can take a space and put products into it, but that was the kind of retailer we didn't want to be."
But selling online can be troublesome, can't it? There's opportunity for uneducated consumers to buy bathroom products they don't really understand, leaving the retailer open to potentially costly and time-consuming issues.
Thankfully, though, for Designer Bathroom Concepts, despite fielding a growing number of enquiries, supply-only sales and working on quotes for bathroom design projects every day, Ward says this is not something they have experienced.
"The average cost of a supply-only bathroom is around £7,000 with a great deal of our projects coming in at over £15,000," says Whittaker. "Maybe it's the level of the market we deal with, but we're fortunate that in 18 months of trading and, given the amount of sales we generate, we've encountered very few issues.
"We've had two of what I'd describe as major complaints, but they were difficult customers. We dealt with every step of each project as we should have done and, what's quite telling is, both customers ended up buying from us again very shortly after."
Aside from offering a full design service, and having the kind of website design you'd associate with 'luxury' fashion brands, the other major difference is that, unlike other online dealers, its search engine optimisation strategy (that's SEO to those in the know), does not use brand names to drive traffic to the site. Instead, according to Ward and Whittaker, the strategy in place encourages its target customers to visit, and eventually buy product, by creating a well-presented, content-rich and aspirational website.
Competition
"What's key here is that our site is not brand-driven," says Ward. "As an online retailer, choosing to operate in this way was a big hurdle we had to overcome. Obviously, not having a showroom, we can't display product and a number of manufacturers were sceptical about how successful a web-based business could be without brand names being featured in its SEO strategy."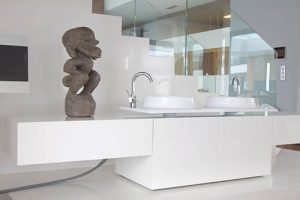 Whittaker adds: "The internet is hugely competitive and we didn't want to have to compete on price. When people search for a specific brand online, they're generally trying to find out where they can get it at the cheapest price. That's not our strategy at all. Instead, our SEO is built around 'design aspirations' not price. We may not be the cheapest, but the site looks luxurious and professional and that makes people confident that they're going to get a good service."
Basically, the website ranks highly in some very specific, very targeted searches. So, for instance, if a consumer is looking for and types in terms such as 'designer bathrooms', 'designer freestanding baths' or 'contemporary bathroom design' in the search bar, Designer Bathroom Concepts will be at the top – or very close to the top – on that search, putting them above some of the industry's leading bathroom retailers.
To anyone wanting confirmation that this type of online business strategy was unheard-of in the bathroom industry before the launch of Designer Bathroom Concepts, when Ward and Whittaker approached the suppliers they initially wanted to deal with, the reps laughed at the idea, with some even going as far as suggesting they wouldn't be able to succeed without going down the brand search route.
So how did they overcome these barriers and convince brands to deal with them?
"They took a punt on us, basically," laughs Whittaker. "But, just 18 months down the line, and we're in a position where brands are actually approaching us to see if we will work with them.
"Another way we differentiate ourselves is by sourcing a lot of unique product that you just can't find through other high-street or internet retailers," explains Whittaker. "We work with a number of European brands that are unknown in the UK. They offer incredible, fresh new designs at competitive prices."
It's their dealings with these new brands that led Whittaker to comment on the current state of the bathroom market and offer her predictions for how it may develop in the near future.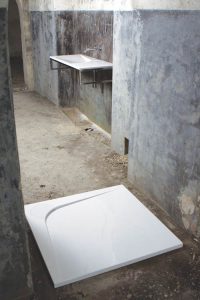 "The UK bathroom industry is very antiquated and I think there's going to be a lot of ripples through it over the next few years. There are a number of credible brands with portfolios of very high-quality products at a good price, like for instance Fiora, establishing themselves in Europe. Once they penetrate the UK heavily, which I've no doubt they will, it's going to shake the industry up big time and force some of the UK's top-performing brands into justifying price points."
The subject of new brands filtering into the UK bathroom market actually ties in perfectly with the next stage in Ward and Whittaker's plans to develop and grow their business. During their search for new and unique brands for the online store, the team at Designer Bathroom Concepts stumbled upon Vayer – a Swiss brand that specialises in "new and innovative bathroom products".
After "falling in love with the brand" and its "stylish and innovative products", they have decided to branch out into distribution by launching the brand through a select number of retailers in the UK.
Vayer
"This is a huge addition to our business," says Whittaker. "It's the ideal brand for us to take to retailers through distribution and for the future of Designer Bathroom Concepts."
"We're going back to basics," Ward adds. "We want to be able to offer retailers an element of exclusivity with Vayer, so we've hand-picked 80 mid- to high-end retailers we will target with the brand initially. We have a two-year strategy for the brand. We're not launching everything at once and then that's it. There will be a continual drip-feed of new products.
"We really want to support Vayer dealers, so the brand won't be available online, not even through our own site. We will also be offering full training on the product portfolio, support in-store and a strong marketing package. The strategy will be to drive business to the retail showrooms using our web-based expertise and the skills of our sales and marketing coordinator Rebecca Moody. This will help build the profile of the brand and drive footfall to showrooms."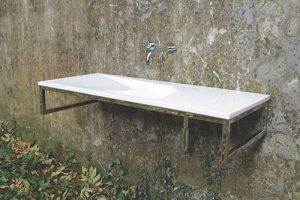 And, going by the company's industry awards success with Vayer's Etna bath last year, it's not only the team at Designer Bathroom Concepts who have fallen in love with the brand. At the time of this interview, 20 out of the targeted 80 retailers had already committed to displaying the brand in their showrooms. It may be a bit of a cliché but, as the saying goes, only time will tell whether Vayer will be as successful in the UK market as Ward and Whittaker believe it can be.
As it turns out, distribution isn't the only new string to the Designer Bathroom Concepts bow. Ward and Whittaker have put together a five-year plan for the business, which will, according to Ward, see the company evolve into an online retailer offering a total design solution for the home.
"This business venture was always based on a five-year plan and we're 18 months into that," says Ward. "We will shortly be introducing furniture to our portfolio and eventually the objective is to sell kitchens and bedrooms as well as lighting, accessories and outdoor furniture."
"Showrooms offer a very local service and because we were always thinking further afield, our plan was never to be a showroom-based retailer, but instead replicate online what independent showrooms do," Whittaker concludes. "As an e-tailer, our audience is much more widespread and 70% of our projects are actually in the South of England.
"However, without question, our aim is to open up a design centre in the near future, which will be open to the public by appointment for bathroom design."
When you look at what Designer Bathroom Concepts has managed to achieve in 18 months and, with Ward's business acumen and Whittaker's knowledge and experience of the bathroom industry, you can't help but wonder what's in store for the next 18 months.