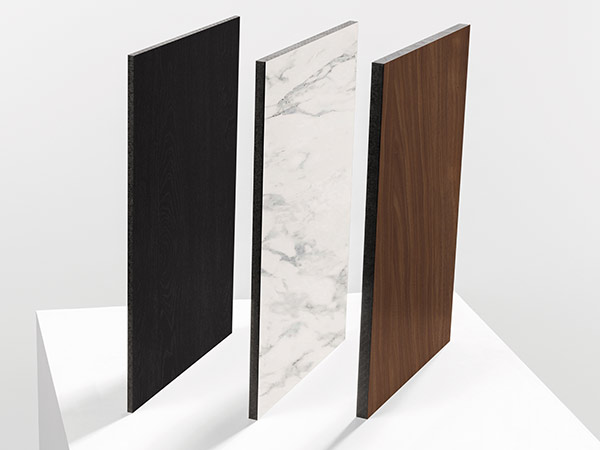 Decorative compact MDF: strong, easy to process and multi-purpose
After the success of its Fibromax Compact MR Black launch in 2021, Unilin Panels has introduced the Unilin Evola-Fibromax Compact MR Black.
Unilin Panels introduces decorative Compact MDF: a very strong material that is easy to process. This budget-friendly new product for interior design professionals is scratch- and wear-resistant, and its panels come in a handy large size. It's the perfect choice for various applications: from lockers and changing rooms to furniture for intensive use.
Ideal for intensive use
In 2021, Unilin Panels launched Fibromax Compact MR Black, an extremely strong, hard-wearing and moisture-resistant Compact MDF product. Now for 2022, the decorative version is also available: Unilin Evola-Fibromax Compact MR Black.
The substrate of decorative Compact MDF has a high density and a black core. This means it is not necessary to finish the panel with an edge tape, for example. As the core is moisture-resistant, decorative Compact MDF is also suitable for humid environments such as sanitary areas.
Due to its scratch- and wear-resistance, decorative Compact MDF is ideal for rooms and applications that are subject to intensive use. Examples include commerical applications like lockers, changing rooms and dressing rooms, toilet areas, indoor signage, and product displays. Plus residential uses like kitchen and bathroom furniture, wall coverings worktops and much more.
Easy to process, fast delivery
Decorative Compact MDF is also extremely easy to process, which is another major asset. Unlike other materials with a very high density, it can be processed using standard tools for MDF materials (sawing, drilling, milling etc.). The wide format of the panels (2800mm x 2070mm) also results in less saw loss and fewer joints in the end result.
The Unilin Decorative Range, decorative Compact MDF is available in different thicknesses and over 80 designs. The product is budget-friendly and a part of the designs is delivered within five working days, also in small quantities from just two panels upwards.

Do you have any questions about decorative Compact MDF? If so, please contact Unilin Panels at [email protected] Or you can find out more information here: www.unilinpanels.com
About Unilin Panels
Unilin Panels is part of the Unilin Group and has been delivering innovative wood solutions for construction and interior design projects since 1960. Its chipboard and MDF, HDF, HPL and melamine panels are sold to wood and building material dealers, industrial processors and DIY chains worldwide. 
Thanks to its investments in design and technology, it is a leading international player and a sustainable partner in the sector. Unilin Panels has over 1,300 dedicated and passionate employees across sites in Belgium, France, the Netherlands and Germany. Together, it produces 2.1 million m³ of panels each year.