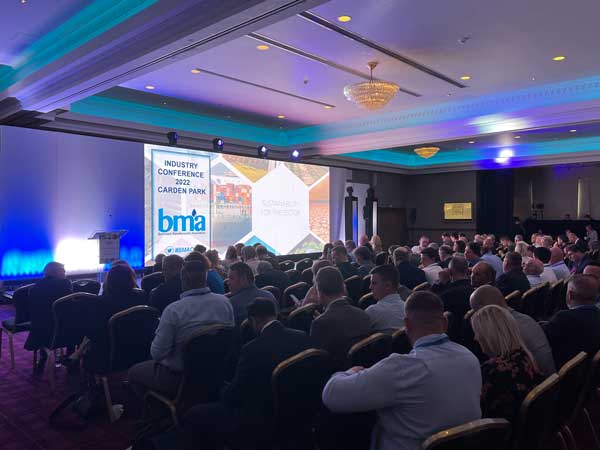 The Bathroom Manufacturers Association held its industry conference on yesterday (June 8) at Cheshire's Carden Park Hotel.
The theme of the conference was 'sustainability for the sector' and BMA members were treated to presentations from experts across a multitude of disciplines and subject areas.
Speaking at the opening of the event, BMA chief executive, Tom Reynolds, said: "One of the things that struck me during the Jubilee celebrations was Prince William's fantastic speech where he set the tone of optimism around a neutralist planet and our ability to carve ourselves a better future.
"The BMA really want to be leading that positivity in our industry. We've got some big challenges in the year ahead — some huge policy issues, a major consultation on mandatory water labelling, major changes to construction products regulation, and changes to the challenges to market."
Experts attending the event were John Hotowka, a business speaker, humourist and magician who has first-hand experience of the highs and lows running a business solo; design scientist and systems theorist Melissa Sterry, who is recognised as a world-leading authority on the science, technology and thinking that could help humanity build a brighter future; TV's Robert Lewellyn, former Scrapheap Challenge presenter and actor who plays Kryton in the BBC's science fiction comedy drama Red Dwarf, and Prof. Lewis Dartnell, a research scientist, presenter and author based in London.
New for this year's conference was the 'Big Debate' which saw on discussion on sustainable channels to market for bathroom manufacturers, and traditional verses 'click and collect'. There were five guest panellists who shared their views on how the industry is changing. Those panellists were: Mike Rigby, managing director at MRA Research; John Newcomb, chief executive of the Builders Merchants Federation; Dave Ruston from Eureka Research; Rosalind Bridges, account development manager for home and garden at eBay; and Jane Blakeborough, Research Director at Trendmonitor.
The two-day event also featured fund-raising initiatives for the Ukraine Emergency Appeal, which included a charity golf challenge and wine-tasting event. Further funds were raised through a silent auction and raffles with prizes that included luxury hampers, John Lewis vouchers, and a 4K HD action camera.
The BMA conference concluded with a gala dinner and special thank you to Ideal Standard business director and outgoing BMA president, John Robinson, who will be handing the reins to Jason Parker, managing director of Thomas Dudley.