'The opportunity to surprise and delight the customer is a building block towards customer loyalty…'

Diane Chan talks to four top American retail design companies for their take on how to create a better in-store experience and how the KBB industry can move the retail concept forward in an ever-evolving marketplace.

Q: What elements would you use to make a KBB retail space inspirational yet functional?
BRR (Big Red Rooster, Staci Mandrell and David McCoy): One of the main issues we often see in typical KBB environments is poor lighting and overall clutter. Our goal is to elevate the customer experience. We don't want the consumer to have to dig through the visual clutter, but enjoy the exploration – it's a natural and intuitive part of the shopping process. It is also important for the retailer to refresh the showroom experience – often enough to satisfy the shopper's need for relevancy and freshness.
Another strategy to aid the customer in product selection is to infuse inspiration and visualisation into the experience. While considering the practicality of the retail space, we look at solutions that solve both things.
We find opportunities to illustrate how the product will look within a home environment. From vignetting, to aspirational imagery and interactive digital tools, there are a variety of ways to solve this in a retail environment.
BA (Bergmeyer Associates, Stan Kubinski and Rachel Zsembery): Position the KBB retailer as a design expert by creating opportunities for design collaboration and design inspiration within the retail space. Samples should be readily available and portable for hands-on exploration with clients, rather than permanently mounted as displays on a wall.
The focus of the detailing of the work spaces should be aspirational, yet with an eye towards durability. The retailer should use technology to create an emotional connection with their customers through access to Pinterest-type inspiration boards.
JGA (Ken Nisch, chairman): There is art and science in retail environments. The science focuses very much on what would be the measurable – the human factors of circulation, focal points, discovery trails, etc. To make it exciting, it is often achieved through appropriate storytelling. Remember the most inspired element of the space in most cases is not what you are saying, but what the customer is feeling. Help them feel involved, engaged. Help them feel as if they are co-creator and not just an observer… This isn't a museum where it's 'don't touch,' making many of us feel stupid. This is an experience that should be about making the visitor and the guest feel that this is their best day, their moment to shine, the beginning of a place where they will celebrate family milestones, entertain their friends, and enjoy life's rewards – in other words, it's all about them.
RD (Richardson Design, Scott Richardson): We do this by leveraging all the information from the pre-design phase. When we have a total understanding of our customer's goals, fears, dreams, and purpose, we strategically begin to assemble vignettes that represent their customer base. We then use the filter of current trends to tweak design language and allow the ever-evolving sensibilities of the customer to drive the next tailored KBB solution. Increasingly, we are seeing fewer fixed elements (large-scale vignettes) in the retail space and more area dedicated to creating, collaborating, and assembling the customer's ideas.
Q: What KBB retail trends are happening now, such as pop-ups, and what do you foresee happening in the future?
BA: Investing in pop-ups provides the ability to test a new market and create a consumer buzz in a highly visible, yet lower risk way. Another trend that KBB retailers might take advantage of is that of collaboration between brands in complementary markets This includes the co-location of brands in different categories under a single roof to provide a unique and wholly unexpected shopping experience. The opportunity to surprise and delight the customer is a building block towards customer loyalty.
BRR: We have seen KBB retailers who are investing in their stores and it is paying off. Integrating unique customer experiences, like cooking demonstrations, interactive product displays and premium design services, are important aspects of driving customer engagement and dwell time.
JGA: Pop-ups are an interesting opportunity. They can be tied in to some type of major community or charity event at which your brand could benefit from being present. Think of the activities of organisations such as Diffa (Design Industries Foundation Fighting AIDS), who have put together events to raise funds through everything from 'dining withs' to dream homes. All of these are forms of pop-ups that are worth looking at.
RD: Pop-ups are a great way to test a market and bring the experience of the dealership to a younger, urban, more design-savvy customer base that wouldn't necessarily seek out a kitchen and bath dealer. Because these audiences are so resourceful and brand-savvy, we would urge dealers to consider their messaging prior to launching into this retail trend.
Part of the reason pop-ups have been so successful are the experiential and social aspects they bring to shopping. They often make it a party. Customers love to see product in action, so inviting a local chef to do a demonstration in one of the test kitchens and throwing a party around the occasion could be a very effective way to gain new clientele. This is partly why models like Pirch and Ikea have fared so well in the marketplace – their model allows for the customer to envision themselves utilising the space in their own, unique way.
Retailers also need to make sure they have total control of the omni-channel impression of their brand. While they may have a beautiful space, millennials are approaching the shopping experience in an entirely new way – and boomers are following suit. They will probably check website and social media prior to engaging the actual space. All facets must have consistency between them and send a unified message and brand impression to the customer.
Q: How do you inject uniqueness, creativity and innovation into the design, so that it's not just another KBB shop?
BA: Create a differentiator for the brand and capture the brand's core values. Highlight specific hero products and inspire customers through aspirational elements. Challenge the retailer to push technology in an innovative way. Create collaboration space and spaces to educate the consumer.
RD: This can be a tricky balance, but we often find that focusing on the client's strengths and what uniquely differentiates him or her in the marketplace makes all the difference in the overall design. If we can answer what the client offers the customer that no one else can, we will be very successful.
We also are very keyed in to making sure that anything we do supports the ability to customise messaging, is flexible enough to change displays and remain on-trend. Large, fixed display vignettes are a thing of the past. They're too permanent and lock you in to a certain way of connecting with your customer that may not remain relevant in the future.
Q: How important are personalisation and customisation in the future of KBB retail design?
BA: This is an enormous opportunity and represents one of the most influential trends. This is due in no small part to the media saturation through TV networks, which instils confidence in consumers that they can delve into customisation and design themselves to achieve an environment that really speaks to their personality.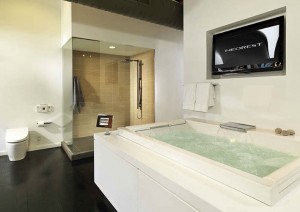 BRR: Personalisation and customisation is a huge trend in product and service design across every industry – it is table stakes now. 3D printing will open a multitude of options and craftsmanship in the future. It will truly challenge mass manufacturing and make price points attainable for more personalised goods. Interactivity within the store environment is important here too – you must create an overall personalised experience to engage shoppers.
JGA: Today it's everything. The customer who has the budget, the attitude and aptitude for investing in their home, is used to having customisation – whether it's in the automobiles they buy, the hotels they stay in or the trips they take. So they are used to seeing themselves as the curator and creator – with more than a bit of help from retail staff adding value.
RD: Personalisation has been a trend for the past decade. Social media has narcissistically propelled the concept forward and we can now recognise personalisation as part of our culture and lifestyle. Retailers who truly incorporate customisation and address this societal shift tend to be the leaders. The key to successfully competing in the KBB space must incorporate a philosophy that it is easy to customise and make your own personal statement. Customers want the feeling of customisation, but don't have the time to invest in a process that is too tricky to master.
Ikea, for example, has gained tremendous market share by showing consumers how they can take stock product and modify it to 'make it their own.' In short, everybody wants to make a unique statement, whether an early adopter, or a trend follower.
Q: How has KBB design evolved in recent years?
BRR: We have abandoned formal dining rooms and living rooms are getting less use. Kitchens are now the family hub and bathrooms are our personal sanctuaries. So there is a demand for a broader range of styles in these spaces and more investment in finishes, fixtures and more premium appliances.
RD: DIY and home improvement shows, Pinterest and Houzz have played an important role in KBB design recently. By providing education about design to the masses, consumers have found room refreshes and renovations to be within their reach. These outlets have also provided education about the value of using professional designers to add equity to their home. These avenues have increased the level of personalisation consumers feel able to achieve.
The dealership is now the consumer's extension of their Pinterest board, adding insights and lessons learnt to the discussion.
Q: How is the environment impacting KBB design?
BA: There is a trend-driven niche of customers looking for recycled content in their products with an aesthetic that incorporates found and antique materials with new. More universally applied and adopted sustainable design opportunities include customer education and increased product offering around LED lighting, low energy- and low water-use appliances and fixtures.
BRR: Reclaimed and recycled materials are giving us uniqueness to add character and consciousness at the same time. Consumers want these natural products in their home to add more sensory finishes to counterbalance the slick screens of modern technology.
JGA: The environment is not only important, it's a responsibility. Environmental doesn't just mean recycled – it's everything from fair wages to work environments and social responsibility. Reclaimed and repurposed, which today is referred to as 'upcycling', is both a style and a social trend. But, ultimately, the most eco-friendly thing one could do is not throw away what comes out of the old.
RD: We've noticed consumers are more apt to adopt sustainability when it directly affects their bottom line, and the KBB world is behind in terms of showcasing the value of sustainability and balancing it with cost ramifications.
Environmental concerns have also made space in the market for more niche manufacturers who offer one or two specialty items, rather than attempting to be all things for all people. From a designer's perspective, we want sustainable products that have style, are durable, fit the budget, and see significant, measurable gain in the manufacturer's progress toward sustainability.
Q: What are some of the challenges facing KBB design?
BA: The changing landscape of competitors in this market, including the rise of e-commerce-only retailers, poses a challenge to KBB retailers. These retailers are often able to provide product at a discount without the overheads of operating bricks-and-mortar locations. The challenge to in-store retailers is to close the sale before the customer walks out of the door – focus on customer service and the collaborative design process to ensure that they feel that the retailer is their trusted advisor and a necessary component of the purchase process.
BRR: One of the main concerns we have heard from KBB retailers is shoppers only using their stores for 'showrooming'. The biggest challenge is to get a customer to come back and buy the product after seeing it in their store, as opposed to sourcing it online or purchasing from another retailer. If you cannot rely on a unique or exclusive product assortment, KBB retailers must differentiate through service and a more thoughtful customer experience.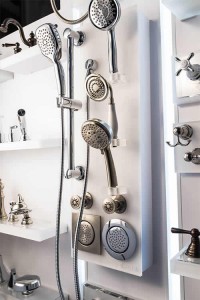 JGA: Given the customer's access to things online, such as Pinterest, it's hard to stay ahead and beyond the exposure that consumers can already access. This is changing the role from a showroom being a 'dream space,' to rather a social community and engagement space. One where all the current tools are available for digital visualisation, 3D printing in terms of creating models and mock-ups and rendering, and SketchUp techniques where much of the environment of tomorrow may be more around interaction than static displays.
RD: As millennials delay home purchases for a wide variety or reasons, the KBB market has yet to figure out the best strategic approach to capture this market segment in new ways. The future of KBB may end up trying to leverage a greater understanding of how kitchen and bath spaces can be more experiential than their traditional models. This would help to attract the new audience.
KBB dealers can stand to take a lesson from Pinterest, which is highly lifestyle- and experience-based. It's where a recipe is not just a set of words and instructions to make a dish, it is also a story, and an experience, and a picture of perfect living.
What we do know, is that when the time is right, the millennials' aesthetic preference is increasingly modern. Regardless of its eventual execution, KBB companies are going to need to be innovative and willing to step outside of their comfort zone to capture this new generation.
Q: What role does technology have in the future of KBB design?
BA: The integration of technology in the store is a key to forming an emotional connection. Harnessing the power of Pinterest, Instagram, and other social media platforms – where customers already travel for collecting and sharing design inspiration – involves the customer in crowd-sourcing design ideas and reinforces the importance of the touching and feeling of products.
BRR: Integration of technology will be an important trend and has been slower to materialise due to costly updates and technology changing too fast for the investment (for example, countertops with integrated Near Field Communication (NFC)). We have seen consumers adopting tech-infused products (such as MotionSense by Moen) that make life simpler and better. But technology should not be the main focus, it should be on better functionality. For product trends, the design aesthetic is getting more intriguing. Brands are making higher investments in product design, which is exciting and will continue. There are a lot more styling options available, and manufacturing efficiencies have now even provided a multitude of finishes. People want personalised products from brands. The era of 'one size fits all' is over."
JGA: The impact of e-commerce is not so much on facilitation, guidance and the consultant's role, but rather sourcing, pricing, and specifications. The increasing transparency of concepts such as Wayfair online showrooms, and the increasing trend of manufacturers to engage in the 'slippery path' of 'inspiration centres', may ultimately lead to direct-to-consumer access of many of today's products previously considered to be exclusive to the showroom environment.
RD: Several retailers have done a great job of creating an interactive 'swipe and play' model for customers to bring their kitchen to life, based on the selection of details and the overall size of their room. We are beginning to see the emergence of affordable technologies that can create an interactive version of this concept.
In the future, a KBB space might have a display of hardware where the system can recognise when particular items have been picked up and assemble a 3D model of the final space.
The emergence of interactive augmented reality will then make it possible for a customer to pick up an iPad and literally move through the kitchen or bath space and experience it in real time prior to purchase. As we continue moving forward, KBB stores will continually be asked to do more with less square footage, making technology an attractive option.
Also, the emergence of 3D printing technologies will mean a homeowner can take a favourite piece of jewellery to a retailer, have it scanned and duplicated in the form of a drawer knob. Or better yet, imagine products are manufactured on demand, allowing for little to no stock and instant customisation of finishes.