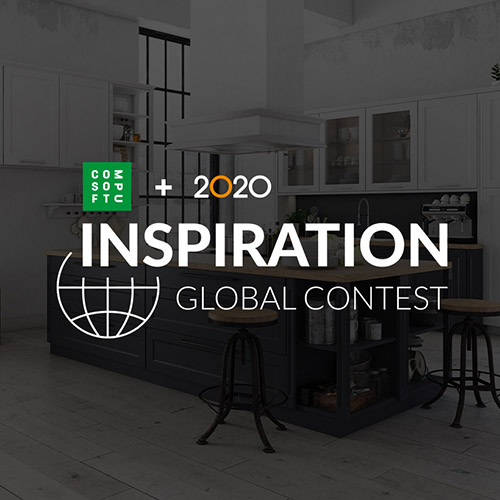 KBB design software specialist, Compusoft + 2020, has revealed the winners of its Global Inspiration Contest for kitchen, bathroom and office designers.
This year's competition, which was open to all users of 2020 Design Live, 2020 Fusion Live, 2020 Office, Winner and Innoplus platforms across North America and Europe, received over 850 submissions across twelve categories.
Designers were judged on their creative, functional and aesthetic design skills by a panel of guest judges including kbbreview editor Rebecca Nottingham, Business of Furniture editor Rob Kirkbride, NKBA director of member relationships Alan Dove and President of ESPRITMEUBLE Gaëtan Ménard.
"We are so proud of all of our talented designers who entered the Global Inspiration Contest this year," said Karen Curtis, director of marketing and communications at Compusoft + 2020. "A big congratulations to the winners who truly went above and beyond and made an impression on our judges as well as their peers."
Each winner will receive Amazon gift cards varying between $500 and $1,000 (awarded in the winners' country currency).
Category winners
2020 Design Live 
Kitchen: Catherine Ouimet, cuisine3d360 
Bathroom: Sarah Shoe, CSI Kitchen and Bath Studio 
360° Panorama: Brittany Hutt, Cabinets.com
2020 Fusion Live 
Kitchen: Aurore Guy, Les Simmone 
Bathroom: Michael Donovan, CW Interiors 
360° Panorama: Idil Sindir, Hive Architectural Design Consultancy 
2020 Office 
Educational Space: Marianne Box, Hertz Furniture 
Large Office Space: Bill McCourt, The City Desk Company  
Small Office Space: Jenna Kurtz, Ethosource 
Compusoft 
Winner: Jose Garcia, BC3 Kitchens
Innoplus: Aymeric Staudt, Braun et Baltes Distribution  
Showcase 360: Elena Demkina, Palazzo Kitchens Auckland
Grand Prize Winners
Best Overall Design: Anna Ozga, Prestons Kitchens
Most Innovative Design: Yaprak Yalcinkaya, ODA Interiors
Trendiest Design: Hernandez Magali, La Maison des Archis – La Valette
Voters' Choice: Bethany Ollila, Frendel Kitchens Limited
For more information head to the contest gallery.