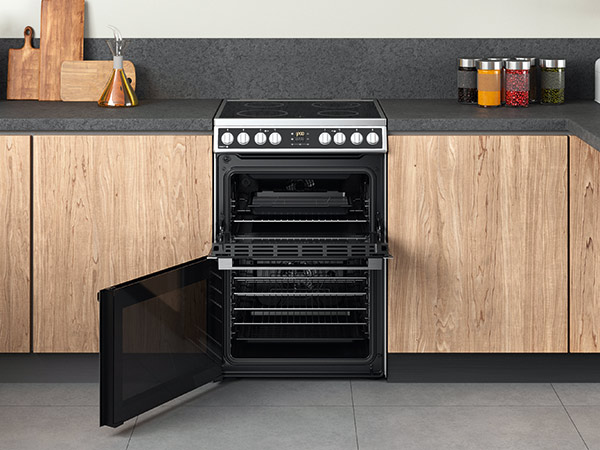 Major appliance sales have been the strongest performing sector in the UK fitted kitchens market over the past three years and 2022 looks like it will be 11.6% up on last year.
That is the prediction of the latest JKMR Integrated MDA Market Report, which shows that MDA sales bounced back strongly in 2021 after the impact of the 2020 lockdowns, with sales of integrated appliances projected to rise to £1.5 billion in 2022. The report added that integrated appliances were making up an increasing share of the overall fitted kitchen product market value year on year, with kitchen projects incorporating a higher average number of appliances, with clients proactively looking for more technologically complex models.
While Covid impacted the market in 2020, with a negative effect on new builds and some mass volume kitchen retail channels, the lockdowns led to a larger than usual number of households investing in MDAs – particularly refrigeration and home laundry. This meant total MDA sales values fell by only 2%, compared with an overall drop of 3.2% for the overall fitted kitchen products market.
In 2021, the substantial rise in the number of new kitchen installations, allied with rising transportation costs leading to price increases, total MDA sales values bounced back strongly, hitting £3.5bn – up 11.6% on 2020.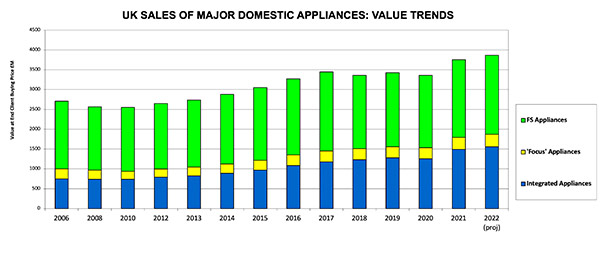 The report predicted that 2022 will see MDA specification continue to improve, with price increases leading to an overall market growth of more than 3% and that sales values would continue to grow by 4.5%.
JKMR also reported that despite Covid's impact on the new build market, where integrated MDA penetration remains higher than in mass-volume retail, sales declined less than 1.9% in 2020, with 2020 clocking up sales of £1.5bn. Integrated MDAs accounted for 40% of the total MDA market value and are expected to exceed that in 2022.
The report also analyses sales channels, noting the ongoing rise of Howden and Wren, and revealed that the majority of integrated MDAs were installed as part of a full kitchen refurbishment.
In terms of sales through independent studios, the report showed that the average spend per client on MDAs was rising, as was the proportion of the kitchen project cost spent on MDAs.
Looking forward, JKMR predicts the market will continue to change with the focus on new-build construction, increasing consumer demand for the smart home and outdoor living, both of which it says offer new opportunities in product design and supply.