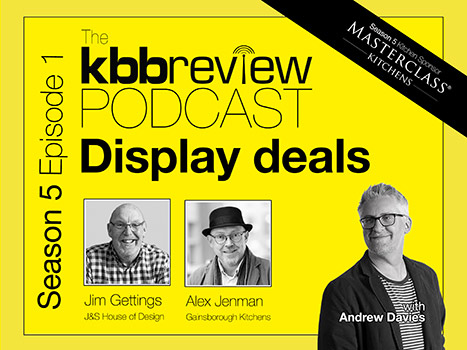 The kbbreview Podcast: Season five, episode one
The products you choose to display – and how you display them – are vital parts of any kitchen studio but how do you make sure you choose the right ones? More importantly, how do you sign off on the best terms with the suppliers?
What makes a good display deal? What are the red flags that make you walk away? How much space should the brand reasonably expect? And, perhaps most relevant right now, do you carry on displaying products that aren't available.
We're discussing all this and more with two very experienced retailers, Jim Gettings from J&S House of Design in Oxfordshire and Alex Jenman from Gainsborough Kitchens in Lincolnshire.
A huge thank you to our friends at Masterclass for being our Season Five Kitchen Sponsor, as many of you will know, they are a proudly British manufacturer of quality kitchen furniture, offering an amazing range of unique products for over 45 years. To find out more about you can become part of the Masterclass family go to masterclasskitchens.co.uk/hello-studios
Listen now in your browser by clicking the player below, or use your podcast app of choice such as: