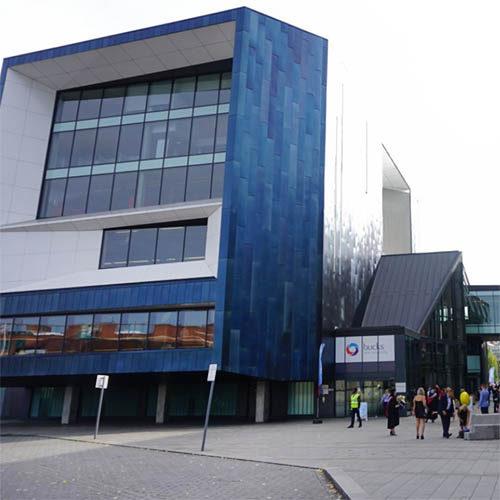 The closure of the industry's first degree level design course has been met with disappointment by many associated with it.
Kbbreview broke the news last week that Buckinghamshire University's had decided to discontinue the Foundation Degree in Kitchen Design course with effect from the 2022-2023 academic year. Students currently on the course will continue with their studies.
Course leader Jayne Hall Cunnick said: "The decision to close the course is very sad and the amazing academic team along with our wealth of industry supporters, such as Symphony Group, Quooker, the KBSA and many others, have committed to sticking with us throughout, prioritising the students for the remainder of their studies."
Speaking to kbbreview, designer Johnny Grey – one of the course founders – also spoke of his disappointment about the cancellation of the course but revealed why all may not be lost for the industry in terms of more formalised qualifications in the future.
"While I regret the closure of the kitchen design course at Bucks New University, there is still hope for formal kitchen design education," he said. "The Kitchen Education Trust (TKET), of which I am co-chair with Craig Matson [MD Roundhouse], has been working hard to finalise a new apprenticeship degree. For those of us who gave our enthusiasm, time and energy, often without pay, the demise of the course at Bucks New University is nonetheless disappointing and wasteful.
"The success of approximately 130 students who completed the course has been acknowledged with some extraordinarily supportive official feedback. The residential weekends were especially valued as a forum for learning, for discussion of contemporary issues and for industry figures to meet students and each other. The course's substantial academic and design content has served to justify kitchen design as a degree subject.
"As we move ahead towards new apprenticeship degrees, TKET is actively supporting this process. On its behalf, I would like to thank the industry sponsors who have made it possible. They are Blum, Miele, Franke, Quooker, BSH, Hettich, Blanco, CDUK, Cosentino, Egger, Franke. These are companies that see the value of education in making kitchens happier, more effective and healthy places in which to eat, share and live together."
One of the current second-year students, Lucy Heaney, a designer at Woodbridge Interiors in Suffolk – who is sponsored by Blanco – confirmed that she will finish the course.
"I've just finished my second year of the course – with two As and a B – and will be going into my third year this September," she told said. "Fortunately, the cancellation [of the course] does not affect any of my studies as Bucks New Uni are fully committed to continuing the support of all students currently enrolled on the course and we will all finish with the Foundation Degree qualification."
Although, as a current student, Heaney will still be able to graduate with the Foundation Degree qualification, the University's decision to cancel the course does mean she, and all the other students, will miss out on the opportunity to do the BA Hons top-up-year.
"I'm really disappointed that this means I won't get the opportunity to do the top up year and graduate with a BA Hons in kitchen design," Heaney said. "Our course leader Jayne [Hall-Cunnick] has worked incredibly hard to get the top up year approved, so that we all had the option to finish with a full degree."
Commenting on the news Quooker MD, Stephen Johnson, who only last year helped support student Denise Pinegar financially said: "I was, and am, a keen supporter of this initiative and am upset and disappointed that it seems to have failed. As an industry we all have a responsibility to nurture and develop fresh new talent. If we fail to do this the industry dies. Simple as that."
As a graduate of the course, Natalie Peters from Kitchens Etc in Norfolk – who previously wrote a regular column in kbbreview about her experience during her studies – shared her thoughts on the decision.
"I had such an amazing experience during my time on the Foundation Degree in Kitchen Design, which was made possible by all of the wonderful people from our industry that got behind it," Peters said. "It was a once in a lifetime opportunity to learn from, and be inspired by, the best of the best, many of whom provided invaluable support and mentoring enabling me to broaden my horizons beyond my wildest dreams.
"The course also provided a fantastic base for networking, collaborating, and learning from fellow students in our industry, of all ages and experience, from all over the UK, that I would never have experienced without this opportunity.
"It is hard to fully articulate exactly what the experience has done for me personally because there is just too much to mention. Two years after graduating and I continue to reap the benefits from my learning. I am very grateful that I had this wonderful opportunity and I feel very sad for a tremendous loss to our industry; an experience you really had to partake in to fully understand its true greatness and real value."