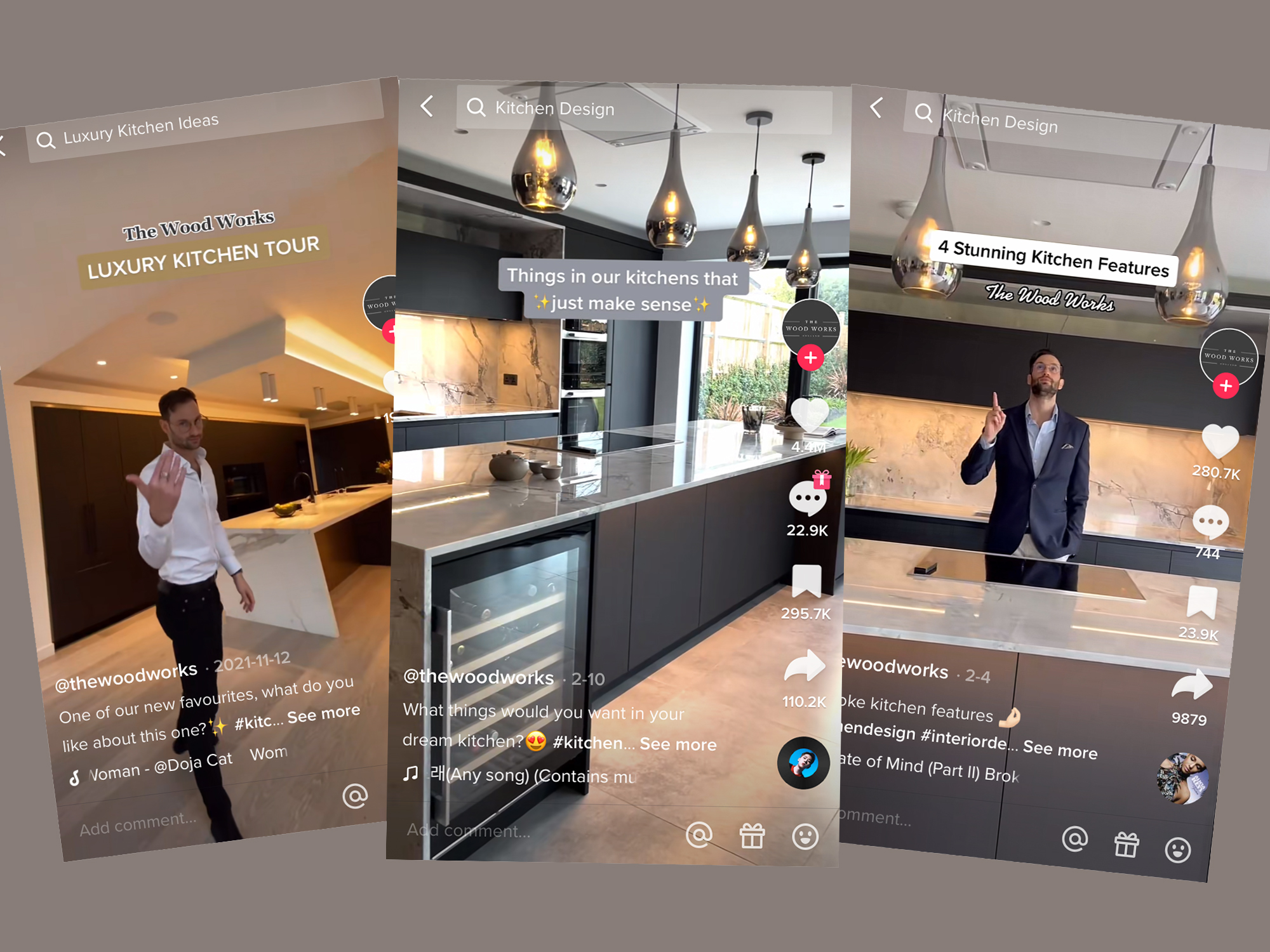 How to become viral on TikTok
Social media video has exploded in the past few years and one kitchen retailer has become a viral sensation. The Wood Works in north London has gained hundreds of thousands of followers across TikTok and Instagram with millions of views and likes.
Josh Delane, director at The Wood Works, started developing its TikTok in early 2020. He saw that few retailers were on TikTok, so there was an excellent opportunity to become the leaders on TikTok before other retailers joined the platform.
There is already a massive audience in TikTok. It has 1.2 billion active users and is the fourth largest social media platform. Instagram launched Reels in August 2020 as a rival to TikTok, and Instagram has 1.48bn users.
The Wood Works has 624,000 followers on TikTok with 6.6 million likes with one video getting 25.3 million views. Over on Instagram, the retailer has 101,000 followers with hundreds of thousands of views per Instagram Reel.
Describing the process of creating content on The kbbreview Podcast, Delane said: "We wanted to build the brand to a point where people would come in to buy into that brand. Most of that is now translated into our digital strategy, so we have a huge amount of content being put out daily across multiple platforms. We put out a YouTube video every week, five TikTok videos, five Instagram Reels videos, a feed post on Instagram, stories every day.
"We have become a content machine, as we are putting out content daily. That drives top-of-the-funnel brand awareness, hopefully translating into people booking design consultations and then converting that into making their kitchens."
The Wood Works has a strategy of batch-producing content. For example, if they are doing a shoot in a customer's house, they will film multiple videos. That footage is then used for the YouTube channel, which is then cut down for shorter Instagram Reels or TikTok videos. The house is then photographed and those still images are used on social media or as case studies.
Delane explained the process: "We try to film two kitchens a week. We try to batch that one the same day and do an AM shoot and a PM shoot. I will go to those shoots with my three photographers and videographers and the styling team. We go to the shoots and we are building everything around our pillar content, which is our YouTube video. We will shoot the YouTube video, which is clipped multiple times into shorter videos, and then we will have still images from there.
"We are condensing this all into one shoot, and it only takes two-and-a-half to three hours, and we do two a day. Then the team goes away and edits all the footage and posts it. So, we have a full team in place – it does sound like a lot, and it did not happen overnight."
The Wood Works' most viral TikTok video has 25.3 million views and 4.4m likes and is a tour around their showroom. The video showcased niche kitchen products like wireless phone chargers in the worktop, touch-controlled and hands-free cupboards, and hot water taps. These uncommon details of the kitchen made people comment on the video, which pushed it out to more people as it had a lot of engagement.
Delane's main advice for retailers is to give the platform a go, even if you have never done any video content before. And he warned that it takes a lot of testing and trialling different formats to find a format that would work for a particular retailer.
He advised: "We started in March 2020, and we had about nine months of playing, testing and figuring things out, to this year where we 'went hard' and hired two part-time people who are just doing TikTok content for us. We are investing in it and see it as a bright future."