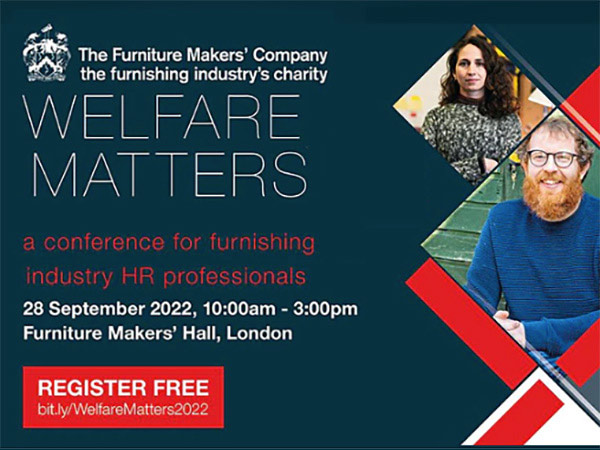 The furniture makers industry charity is staging a one-day conference to help HR professionals get the right support for employees.
The Furniture Makers' Company, the charity for the furnishing industry, is holding a free one-day for HR professionals to outline its welfare support and how it can help benefit employees who might be struggling because of the cost of living crisis.
The Welfare Matters conference will take place on Wednesday, September 28, 10am to 3pm, at Furniture Makers' Hall in London. The event is aimed at HR professionals or anyone in a furniture/furnishing business who oversees people management.
Furniture Makers' Company chief executive Jonny Westbrooke said: "The cost of living crisis continues to deepen and with inflation at its highest level for 40 years and energy bills set to rise in October, an increasing number of families around the country will be feeling the pinch and worrying about their finances.
"As the charity for the furnishing industry, we have been supporting the welfare of people working in the trade since 1903. We help furnishing industry people by providing financial grants and practical, useful advice."
Delegates to the conference will be given information on the various grants the charity can offer people and the tools available to disseminate information. They will also have the opportunity to network with their peer equivalents at other businesses over lunch.
Westbrooke added: "Traditionally, human resource departments have helped communicate our message to employees at their company who they know to be struggling. We want to connect with as many HR professionals in the industry as possible, and the Welfare Matters conference will be an opportunity to bring them together so they can learn about the charity and ask questions about the service.
"Delegates who attend the conference will also be the first to learn about a new free mental health support service that we'll be launching in the autumn."
Register for free at https://bit.ly/WelfareMatters2022