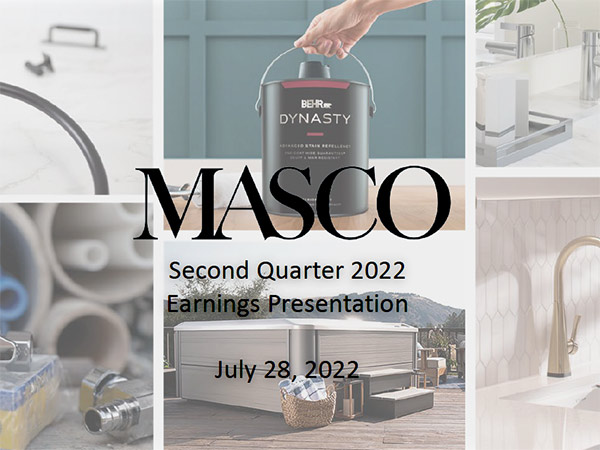 Masco Corporation has reported sales growth in the second quarter of 2022 but profits took a hit thanks to rising costs.
US-based Masco operates in plumbing and decorative architectural product sectors and is the parent company of, among many others, Bristan and Hansgrohe.
It reported an 8% surge in its Q2 total company sales up to June 30 to $2.35 billion (£1.92bn), compared with the same quarter in 2021, with operating profit of $408 million – down from $437m in Q2 2021. Profits were hit, said Masco, by "higher supply chain costs, marketing and currency, partially offset by higher net selling prices and incremental volume".
Looking in particular at the plumbing products division, which includes Hansgrohe and Bristan, revenue in Q2 this year was up 3% to $1.37bn, while operating profit fell from $273m in 2021 to $238m.
In the decorative and architectural division, sales were up 15% from $850m to $979m with operating profit also rising to $192m from $188m the year before.
Analysing sales by region, North America increased revenue by 11% from $1.72bn to $1.91bn with profits down from $370m to $356m. International sales fell from $462m to $447m, with profits also down from $91m to $74m.
President and CEO Keith Allman said he expects growth in the second half of the year to be "more modest", predicting an increase in its plumbing products division of between 3% and 5% and in its business as a whole between 5% and 7%.
Commenting on the results, Allman said: "In this challenging environment, I am proud of the results our team has achieved in the first half of 2022. We delivered another strong quarter with sales growth of 8% and continued to execute our capital deployment strategy by returning $614 million to shareholders through dividends and share repurchases during the quarter."
He added: "As we enter the second half of the year, we expect growth to be more modest than the first half and largely driven by pricing actions. We continue to position ourselves for profitable growth while mitigating the impacts of the challenging supply chain environment."
Looking ahead, Allman said: "We are closely monitoring market dynamics, and we'll take action if demand falls below our expectations. That said, we believe there are numerous positive structural factors related to housing that will be supportive of increased repair and remodel activity over the next few years, even if there is a short-term economic slowdown. The Covid-19 pandemic has clearly increased the desire for more enjoyable living spaces, which has led to increased home demand and remodelling expenditures. All of these structural forces provide tailwinds for our repair and remodel business."
When asked during the presentation of its results about Europe and Hansgrohe, he replied: "Well, we certainly are in no position to make an economic call in Europe. But I will tell you that we continue to see strong demand, particularly in the key markets for Hansgrohe. Central Germany and China continue to perform very well for us, France, the UK, etc. So we're counting on continued good solid growth from Europe, and our performance is quite strong."
In 2021 as a whole, Masco Corporation achieved sales of $8.48bn (plumbing products $5,1bn) and its sales were split between North America with 79%, 12% in Europe, 4% in China, 2% in the UK and 3% for the rest.