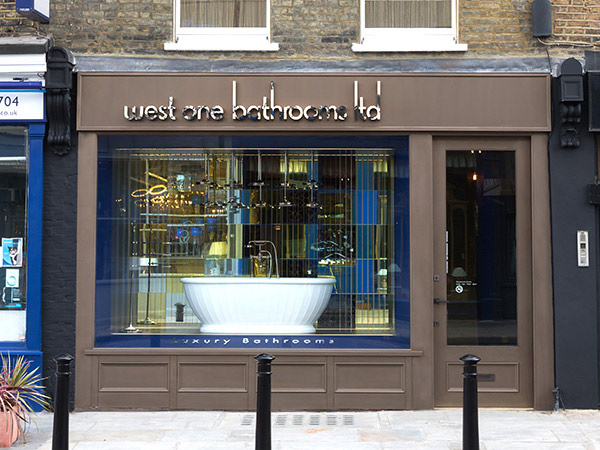 Luxury retailer West One Bathrooms has announced its plans to completely refurbish its Chelsea Townhouse showroom.
The showroom, originally launched in 2015, is on Kings Road in the heart of London's Design Quarter. It is set over four floors and has been a great success for the company. It is one of eight showrooms, including Battersea, Clerkenwell, Chelsea Harbour, Mayfair, Oxshott, Tunbridge Wells and Wandsworth.
Said West One marketing manager Charlotte Waters: "Since its opening in 2015, the showroom has gone from strength to strength. So much so that due to popular demand, we are refurbishing to cater for the audience and bring a refreshing space to the area. Even throughout Covid, due to our loyal client base, sales remained on target."
The refurbishment will feature redesigned displays showcasing its extensive range of its signature luxury brands.
One new feature will be a wellness area within the building's outdoor courtyard, which will feature the latest outdoor wellness products from Agape.
"We will be showcasing the outdoor basins, taps and showers," said Waters. "Outdoor wellness is something we are asked for and luckily able to cater for."
The showroom will feature a 'Studio' area to introduce clients to various textures, materials and finishes.
"The refurbished space will incorporate products from across our extensive product portfolio," explained Waters, "and also house a 'Studio' area, which is hugely popular with clients and designers alike. Through the use of samples, the concept allows for mix and match of finishes and textures."
Waters added that the refurbishment would also feature "inspiring room sets that lend themselves to the nature of the building, a typical London Townhouse".
As MD Duncan Waters said when the showroom first opened: "Each setting has been finished with lighting, tiles and hand-fabricated flooring. This is so that we could create an environment with a more homely feel to help customers visualise the solutions within a domestic setting."
Charlotte Waters said that the Chelsea Townhouse attracts consumers, architects and interior designers in roughly equal numbers and added: "The Chelsea Design Quarter is great to be a part of and aids in drawing in the right clientele for us."
The refurbishment is scheduled to be completed in autumn this year.