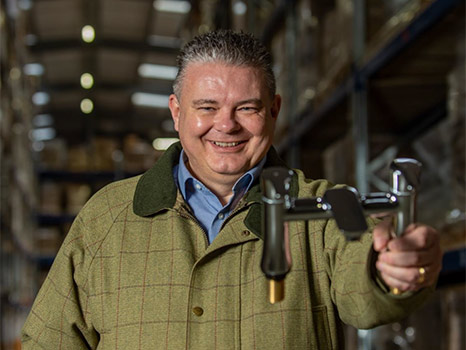 James Hickman, CEO of online retailer Plumbworld, believes that the new changes to competition law, which is set to level the playing field for online and bricks-and-mortar retailers, could be "the final nail in the coffin of the traditional independent showroom".
In Hickman's opinion page in the August issue of kbbreivew, he said: "Far from signalling the beginning of the end for the internet bathroom retailers, is this perhaps the final nail in the coffin of the traditional independent showroom? The independent showroom operator may not want to hear it, but their investment is a tiny drop in the ocean compared with large, online retailers.
"These online retailers now have the opportunity to complain to the CMA if they are not given significantly lower prices from manufacturers. They are legally entitled to better prices to adequately reflect the larger investments they make in supporting brands compared with that of smaller-scale physical showrooms."
Stephen Sidkin, commercial law partner at Fox Williams LLP, explains: "Going forward, distributors and retailers who feel they have been disadvantaged by the pricing applied by manufacturers and suppliers may seek to complain to the CMA or EU Commission, arguing that the price differential fails to properly reflect the difference in investments made or costs incurred in both the in-store and online channels."
Hickman believes that for physical showrooms to survive they need to "face the new reality, that buying products online is the default for most people" and not look to the competition law to help them survive.
Plumbworld makes huge investments that all online retailers need to make, such as holding large amounts of stock for next-day delivery plus all the staff needed to maintain an online business, such as sales and customer support staff and web designers
Hickman denied the myth that customers go into showrooms and then buy online as, according to Plumbworld research, 96% of customers who had bought a shower from Plumbworld had never seen the physical product.
It has become common practice now for customers to do their initial research stage online before coming to a showroom to buy. Hickman believes that there will still be customers who prefer to shop locally and in-store, but many will still start their buying experience online.
Hickman understands that there will still be a need for showrooms that have added services, such as design or installation that most online retailers do not offer. He said: "There is still a role for showrooms, but they need to move away from trying to sell standard products at the lowest price and focus on adding real value in the areas where online retailers can't compete. A showroom that offers a brilliant design service and a well-managed installation experience has nothing to fear from an online retailer."
He continued: "The online business model is hugely successful because it is very efficient at selling and distributing products. This allows online businesses to grow significantly, achieving large economies of scale."