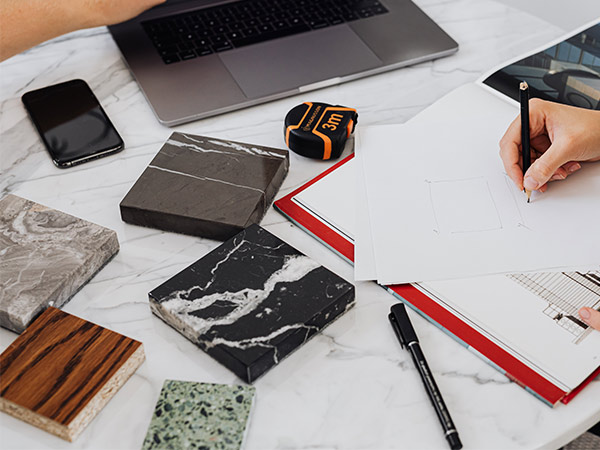 Customers are confused about surfaces and worktops in kitchen and bathroom designs because of 'a mountain of misinformation' – and retailers can help.
Many surface manufacturers and industry figures say that some designers, architects, or specifiers do not fully understand the properties of different types of surfaces, which is leaving the end-user confused and misinformed.
Jonathan Stanley, Caesarstone vice-president of marketing, UK and EMEA, said that it is a 'nightmare' for some consumers to wrap their heads around different surfaces. He said: "There is a mountain of misinformation around kitchen work surfaces in the market. It stems from many different sources, and it cannot be very clear for kitchen designers, architects, or specifiers to unpick. For end consumers, it can be a nightmare."
The Worktops Fabricators Federation, a UK organisation that promotes professionalism and best practice in the industry, points out that there is an overwhelming number of products on the market with various pros and cons and that this makes it difficult for consumers as kitchens and bathrooms are infrequent purchases.
Chris Pateman, general secretary at the Worktop Fabricators Federation, said: "In WFF's experience, consumers are often confused by choice of materials. Kitchens and bathrooms are infrequent purchases. In addition, every material offered for a worktop or interior surface has pros and cons – and technical improvements mean these may have changed significantly since the last time they made a purchasing decision."
Some believe that the fault lies with retailers who give clients "unrealistic expectations" or over-sell different materials. Naomi and Andrew King, owners of Affordable Granite, said: "Occasionally, we have to re-educate clients as they have been 'over-sold' materials by kitchen showrooms or have unrealistic expectations of what can be manufactured and installed in one piece."
One type of material that confuses people in the industry is quartz, according to Pateman and Stanley. Pateman says quartz has been used too much as a shorthand for an engineered stone material rather than referring to the naturally occurring quartz material, which can confuse end-users.
He said: "As far as showroom conversations are concerned, the description 'quartz' has become a convenient shorthand for engineered stone materials made in factories to combine the solid, through-coloured benefits of natural stone with the consistency and design-flair of man-made products."
Caesarstone's Stanley has similar concerns and said: "Quartzite is a naturally occurring metamorphic rock that comes in a range of soft to hard types. Softer quartzites need to be treated like marble and will require sealing. As a result, quartz surfaces are often referred to as 'engineered stone'. They're made from natural materials, typically quartz granules, combined with pigments and polymers to create slabs. Quartz has increased in popularity, with superior performance to many natural stones – with impact strength, flexural and compression strengths outperforming marble and granite."