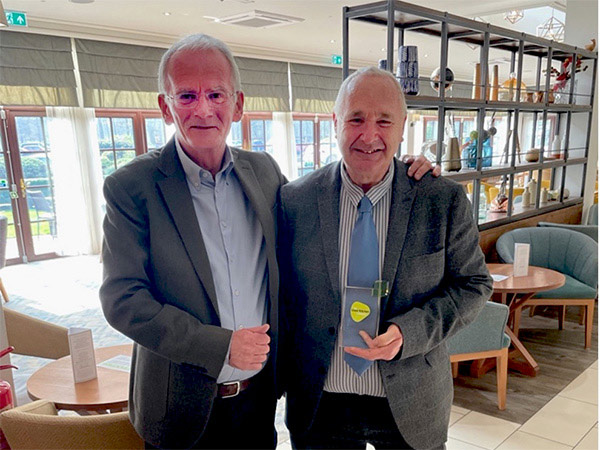 Symphony retailer Andrew Elden Designs has won an award for selling the most ex-display Symphony Kitchens through The Used Kitchen Company (TUKC) in 2021.
The Norwich-based family-run retailer was established in 2009 and sells and displays Symphony kitchens exclusively. The business is run by owner Andrew Elden and his wife Debbie and recently achieved Premium Retailer status with Symphony in recognition of its long partnership and the excellent design and customer service it provides.
Symphony works with TUKC to increase sustainability within the kitchen industry and encourages all of its retailers to sell their ex-display kitchens through them, helping reduce the number of kitchens that end up in landfill, while also realising up to 70% of their RRP.
Said Symphony marketing and retail director Simon Collyns: "Sustainability is at the forefront of everything we do here at Symphony, which is why our partnership with The Used Kitchen Company (TUKC) is so important to us. We are thrilled that one of our retailers, Andrew Elden Designs, has sold more than 10 displays under the project to help promote and extend the life of old kitchens by finding them new homes. This well-deserved award demonstrates a commitment to recycling and sustainability and we look forward to continuing a successful partnership with both Andrew Elden and TUKC."
Andrew Elden added: "We were so thrilled to receive this award and be recognised for recycling our displays and of course saving tonnes of kitchen waste from landfill. I only wish we had started to use The Used Kitchen Company earlier. They are a pleasure to deal with and removed all the aggravation that comes hand-in-hand with selling displays. We will certainly be using them again and could not recommend their service highly enough."
The Used Kitchen Company says it has saved nearly 30,000 tonnes of waste from going to landfill since it was set up in 2005.
TUKC founder Looeeze Grossman said: "As a sustainable business, we're always delighted when a retailer partners with us to sell their ex-display and clients' kitchens. Our customers are always delighted to find not only a real bargain, but a high-quality design for their home. We are so incredibly proud of the partnership with Symphony and what it has achieved in its first year. Congratulations to Andrew Elden Designs, they're such a deserving winner and it's great to see them really utilising the partnership. We are delighted to have found so many of their displays new homes."