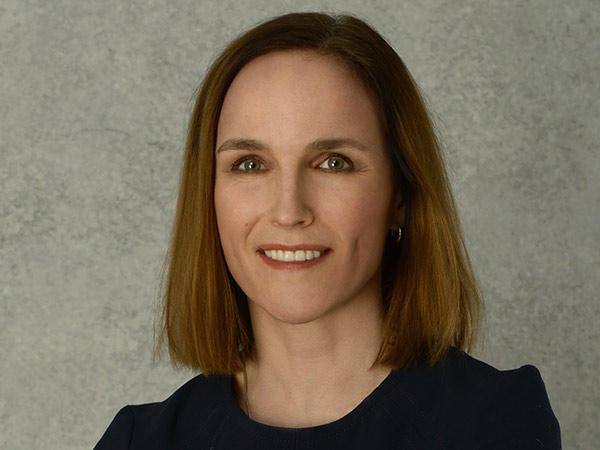 Why the kitchen channel is a huge focus for Whirlpool
Whirlpool UK's new managing director Lena Henry (pictured) talks to Rebecca Nottingham about why the brand is making a real push for the independent kitchen retail channel
Moving from the eyewear industry to the appliance sector might not seem like the most obvious transition but, according to Lena Henry, the new managing director of Whirlpool UK, the two industries have more in common than you might think.
"One of the reasons I took the role at Whirlpool UK, was because I wanted to work for a brand that makes products that make a real difference," she explains. "Appliances, just like glasses, play a huge and extremely important role in people's lives, and I'm really excited about this opportunity."
Henry has certainly joined the industry at an interesting time, what with the widespread appliance supply chain issues still rolling on. Her appointment also coincides with some major changes at the company. In a rather surprising move, last month Whirlpool Group revealed it had sold off its appliance business in Russia to competitor brand Arçelik.
Shortly after that announcement, it revealed that it had entered into an agreement to purchase the Emerson-owned InSinkErator brand, which claims to be the world's largest manufacturer of food waste disposers and instant hot water taps.
So, what does this all mean for the business in the UK and, most importantly, what are Henry's plans for Whirlpool in the independent kitchen retail sector where its brands have not had anywhere near a market penetration proportionate to the size of its parent company.
Q&A
Q: What's the first task on your agenda as the new MD of Whirlpool UK?
A: We have great assets in the UK – we have great brands in Whirlpool, Hotpoint, Indesit and KitchenAid, and we also have a very strong consumer-facing infrastructure. We have great relationships with a variety of different customers. Going forward, the plan is to be much clearer about where our strong points are, increasing our share in some segments and making the most of trends in the market. Clearly, built-in has been growing faster than the rest and that, for example, is a category where, in my opinion, we haven't flexed all our muscles yet. So, that's definitely something that we're working a lot on. Could we bring a better proposition to market? Could we work better with the kitchen channel on this? So that is a big focus point for us.
Q: Is that focus on the kitchen studio market a direct response to moves by other brands to target independent kitchen studios or a reaction to the fact that, despite its size, Whirlpool Group hasn't necessarily had the growth you'd expect in that market?
A: For us, it's about working with kitchen studios on an individual basis. The advantage we have in the short term is sustainability of supply – that puts us in a strong position to work with the kitchen channel now, as we know that isn't the case for every brand in the market at the moment. We have 12 depots across the UK, which means we can get product to studios all around the UK very quickly. That is a very valuable message for retailers right now. So, explaining clearly to them how a relationship with us can create a win-win situation for a customer in the kitchen channel is the emphasis for us right now. We're very much looking to demonstrate, on the ground, the value we can bring. There has been a clear strategy over the past few years to keep on investing to build on the success of Hotpoint in the UK. It is one of the most trusted appliance brands in the UK. It would have been wrong of us to take our focus away from it just simply because it's not our corporate brand, and when you see how successful the Hotpoint brand is still today, then it was absolutely the right decision.
Our big brands in the UK are Hotpoint and Indesit, which is the most recognised value brand. Both brands are an important part of the Whirlpool Group portfolio. We do sell Whirlpool product in the UK, but it's a much smaller part of our volumes.
Q: KitchenAid is the Group's premium studio brand but, despite its significance in the SDA market, the brand has never gained much ground in the UK MDA market. What do you put that down to?
A: Historically KitchenAid has indeed done well in SDAs in the UK, but we've always sold very few large KitchenAid appliances in the UK market. It's no secret that we've been working on a relaunch of the brand, including a full suite of new MDAs, due to arrive in the market in 2024. As part of that, we have decided not to renew the lease on the Wigmore Street KitchenAid studio for the time being. We however feel there is huge potential for the KitchenAid brand in the UK, with the new launch selling through kitchen studios in 2024.
In terms of the Group's fit for kitchen studios, we also have the Whirlpool brand, which is a premium option. We know, from talking directly to kitchen studios, that it's also very helpful for them to have mid-tier options, like Hotpoint and Indesit, as it gives them more flexibility with design when working against budgets. So, the beauty of the portfolio of brands and price points we have is that retailers can really give a lot of flex to enable consumers to get the kitchen they want within the budget they have.
Q: Could Whirlpool's purchase of InSinkErator – a brand that is very well aligned with the independent kitchen studio channel – give Whirlpool the foot in the independent kitchen retailer's showroom door it needs?
A: Whirlpool has entered into an agreement with Emerson Electric Co. to acquire InSinkErator. We are excited about the unique opportunity to add the brand to our portfolio. The acquisition is a clear accelerator of our ongoing portfolio transformation and aligned with our stated goal of investing in high-growth and high-margin businesses. Following the close of the transaction, InSinkErator is expected to operate as a separate business as part of Whirlpool's North America Region. InSinkErator will maintain its headquarters in Mount Pleasant, Wisconsin. It will take some time to establish next steps for other markets.
Our sustainability of supply puts us in a strong position to work with the kitchen channel. We have 12 depots so we can deliver product direct to studios across the UK very quickly. That's a really valuable message for retailers right now
Q: You mentioned that, despite the widespread supply issues across the appliance sector, Whirlpool has been able to keep up with supply and demand. What do you put that success in the face of such adversity down to?
A: We're not facing supply issues, and we are able to fulfil the current level of demand. That is obviously a good position to be in and it's the result of a lot of good work by us and our teams around the globe. My team in the UK has worked extremely hard making our end-to-end forecasting, demand planning, supply and processes all line up. It may sound boring, but that is a key part of the equation because if, for whatever reason, you hit a period of lower productivity, it's important to be able to forecast what product you're going to need and when and make sure every part of the chain is in sync.
Of course, our product availability is a positive but our goal, especially with built-in, is to showcase the wide range of our strengths, including our ability to deliver across the entirety of the UK with very short lead times. I want us to talk about our strengths as opposed to other brands' weaknesses.
Q: How important is the UK market to the Whirlpool Group?
A: We're the global leader in domestic appliances and we're present in hundreds of markets across the globe but the UK, specifically, is a very strategic market for us. We've been here a long time – 110 years – and our portfolio includes brands that have a very strong heritage in the UK – in particular Hotpoint and Indesit.
What's interesting about the UK is that it's an extremely competitive market – everyone plays in it, which makes it great for consumers. It's also a market that, surprisingly, still has a lot of growth and that makes it even more interesting. What I mean by that is that beyond the population growth, it's a market where people are actually not the best equipped, in terms of appliances, compared with other markets. Less than one-in-two households in the UK has a dishwasher. It's a similar story for dryers and washer-dryers, so there are still lots of growth opportunities.
Q: With a recession looming, what are your predictions for the market moving forward?
A: Clearly 2020 and 2021 were boom years in terms of volume for the industry. After the lockdowns, there was a peak in demand and with that came huge challenges of supply. What we've seen this year is a drop in demand on last year's figures and, as a group, we are roughly operating at around pre-pandemic volumes. What we're really focusing on is our core strategy of bringing the right products to market. We're quite lucky that right now, we are in a good place in terms of supply chain. We've made quite a lot of changes to our way of working between our market and the rest of the world. We have the right capacity of product at the right time for the second part of the year. Overall, we feel positive about the months to come. The question is, will 2023 be a year of growth or will it remain at 2019 levels?