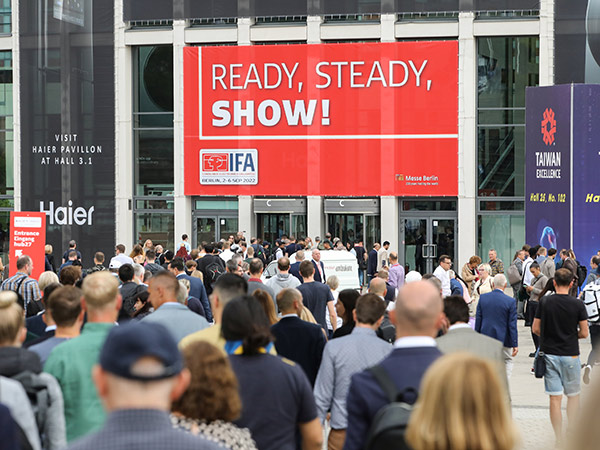 The Internationale Funkausstellung (IFA) consumer and home electronics show in Berlin bounced back after a three-year absence with strong attendance over five days at its Messe Berlin venue.
Organisers GFU said that more than 161,000 visitors attended the show from September 2-5 in what was the first fully live, in-person IFA since 2019. Exhibitors from 46 countries booked over 80% of the venue's 151,000 square metres of floorspace. Industry professionals made up a higher proportion of attendees than in pre-pandemic years.
Attendance was down on IFA's record-breaking year in 2019 when 245,000 visitors were recorded, but up on the 151,000 who visited the 2018 fair. The organisers said that exhibitors reported a high number of business meetings taking place during the show and recorded a "huge order volume".
Those unable to attend in person could make use digital channels such as IFA Virtual, the new IFA App and IFA's social media platforms, which had more than 1.6 million impressions.
Sustainability, connectivity and smart home solutions were big themes at this year's IFA. This was reflected in the keynote speeches from key industry figures, with Arçelik (Beko/Grundig)'s CEO Hakan Bulgurlu delivering an impassioned plea for consumers and the industry to work together and do their part in containing climate change and reducing pollution.
On the connectivity theme, in another keynote Qualcomm CEO Cristian Amon explored the huge potential for connected devices and services in the future.
Commenting on the 2022 event, GFU managing director Dr Sara Warneke said: "After the pandemic-related break, IFA made an impressive comeback with the most important trends for products and solutions in the fields of consumer electronics and home appliances as well as related industries, especially in the area of sustainability. It was once again the proven meeting place for industry and trade, trade visitors, the media and, of course, consumers."
Messe Berlin chief executive Martin Ecknig said: "It's been fantastic to see our halls packed once again. I've had really positive feedback from all the global brands and retailers that I spoke to, and I'm especially pleased that we recorded such large numbers of industry professionals and trade visitors attending IFA Berlin. We are on track for IFA to regain its full strength in 2023."
• See our IFA show report in the October issue