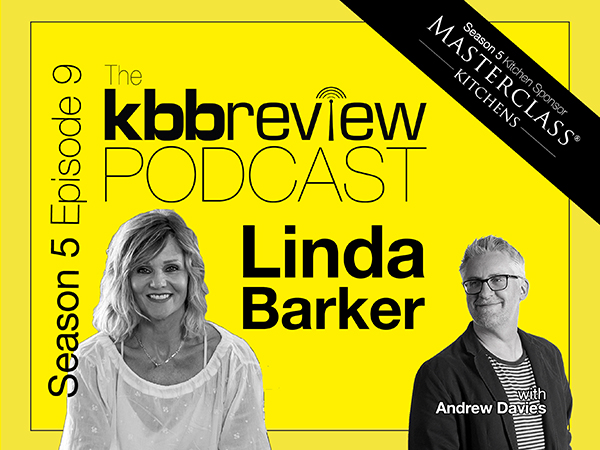 Welcome to the kbbreview podcast, this is episode 9 of Season 5 and your host as always is Andy Davies.
Great episode this week as we chat to one of the most high profile designers in the UK – Linda Barker. She is one of the original 'celebrity' designers, shooting to fame on Changing Rooms of course and is now a very successful interior designer and interior product designer plus, of course, a judge at the kbbreview Retail & Design Awards.
We talk about how she got into design as a profession, how she got the Changing Rooms gig, and she tell us all about her new kitchen that she designed herself that will feature on the cover of the next issue of our sister consumer title Kitchens Bedrooms & Bathrooms.
There's no question in my mind that we wouldn't have the huge choice and variety in the kbb industry today if the public's understanding and interest in interior design hadn't been kick-started by Changing Rooms. It's a hugely influence on the trajectory of this industry and we discuss all that too.
Once again, a massive huge thank you to our very good friends at Masterclass for being our Season Five Kitchen Sponsor, as many of you will know, they are a proudly British manufacturer of quality kitchen furniture, offering an amazing range of unique products for over 45 years. To find out more about you can become part of the Masterclass family go to masterclasskitchens.co.uk/hello-studios
And don't forget that entries are open now for the kbbreview Retail & Design Awards 2023. It's totally FREE to enter and we have categories for designers, retailers, supplier, and installers so there's something for everyone.
Go to kbbreview.com/awards to find everything you need to know.
Listen below, on desktop, or on your podcast player of choice like Apple Podcasts or Spotify.