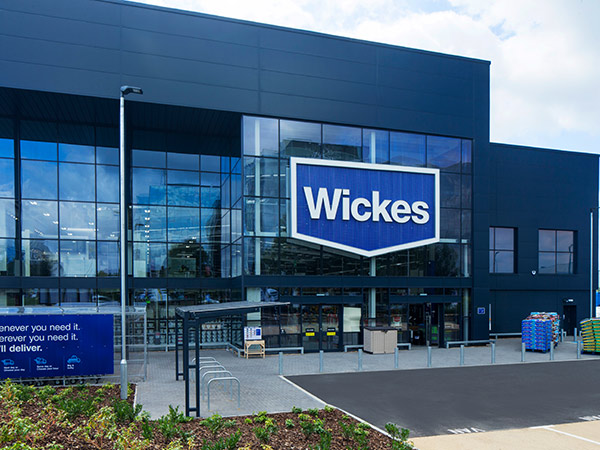 Wickes has reported record first-half sales bolstered by strong trade growth against a backdrop of a 'softening' DIY market.
Revenue was up 1.3% to £822.3 million compared with H1 of 2021 (£812m), with like for like sales up 0.8%, and 23.4% on a three-year basis. Adjusted operating profit was down 9% from £61.9m in H1 2021 to £56.3m this year.
Wickes chief executive David Wood said: "This was a half in which we achieved record sales, as customers continued to be attracted to our market-leading value, choice and availability, and I would like to thank all my colleagues for their hard work and support in delivering these results.
"While market volumes have declined, we have made further market share gains and delivered a particularly strong performance in Trade, with an acceleration in the rate of sign-ups to our TradePro membership scheme."
The kitchen and bathroom side of the business has grown in the past 18 months, with new ranges in the kitchen and bathroom sides and putting these products on display at showrooms. There has also been movement in the lower end of the market with six new ranges in the 'Ready to Fit' offering.
The Do It For Me (DIFM) side of the company, which deals with professional installations rather than the DIY side, is still a key focus. The Wickes installer network has grown by 200 in the first half of 2022 to 2,800 teams of contractors.
The in-store bathroom design staff has also been improved by driving customers' engagement to use the design services when purchasing the products. There is also a push for add-on sales, such as tiling, flooring and joinery with the kitchen and bathroom sales.
Wood said: "In DIY, we continue to cater for an increased number of younger customers who first turned to home improvement during the pandemic, while in DIFM, delivered showroom sales have remained robust, as we launched new kitchen and bathroom ranges and worked through the elevated order book."
According to Wickes, the DIFM delivered sales were up 29.7% LFL in 2021 as that side of the market was in a 'recovery'. The order book for this area is at £136m and remains significantly ahead of the previous year.
Wickes also accelerated its store refit programme and there are 11 refits taking place this year. During Q4 this year, there are plans to open a new store in Bolton, and over the next five years, there will be 20 new stores opening.