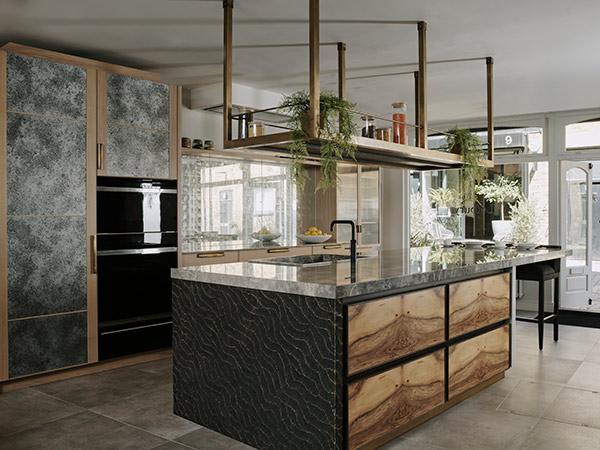 Charlie Smallbone, founder of the Ledbury Studio, has completely revamped the Notting Hill showroom in London.
The Ledbury Studio was set up in April 2019 and Smallbone told kbbreview why he thought it was time for a refresh: "Ever since opening our showroom in the heart of Notting Hill in 2019, we have continued to explore new ways to use metal in the kitchen. Increasingly, we have combined it with other materials to broaden its application and appeal. Our refurbished showroom gives us an opportunity to show how our aesthetic has evolved over the past three years. We are thrilled with the result."
Smallbone singles out the island as his favourite part of the showroom revamp.
The island is in a central location and is a focal point for the showroom. It features as Fior di Bosco marble work surface illuminated from above by LED lighting that is concealed in an aged-brass hanging rack that also provides extra storage. It also has eye-catching wild walnut drawer fronts, whitewashed fluting to pick out the breakfast bar area and, says Smallbone, "my Choppy Water design is hand-carved into the end panel".
For the wall runs, he used painted zinc panels for the cupboard fronts on the tall units with pale oak frames and sides. There is a step-down to a lower-level worktop at one end with a fluted glass-fronted cupboard on top. The splashback is made from verre églomisé in silver leaf [a process of water gilding gold, silver and other precious metals on glass to create mirror-like reflective surfaces].
Charlie Smallbone has been in the kitchen design industry for more than 40 years and was the founder of the iconic Smallbone of Devizes brand.