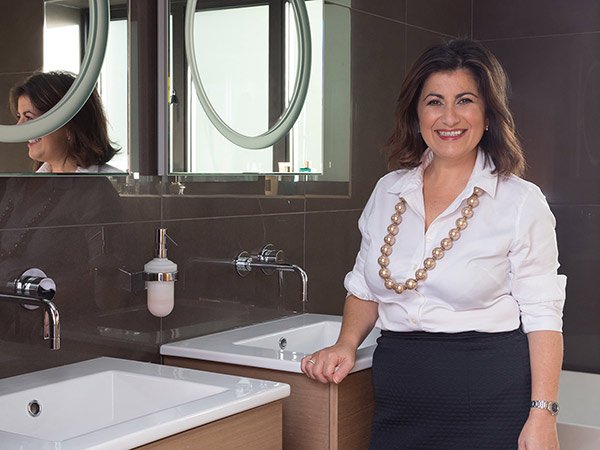 Origins Living reveals its ambitious growth plans
Bathroom accessories brand, Origins Living, claims it is in the best shape it's been since its launch 27 years ago and owners Sofia and Frixos Charalambous have ambitious growth plans. Rebecca Nottingham went to find out more from Sofia at their HQ in Essex
When Sofia Charalambous met her now husband Frixos at university, little did she know that it was the beginning of a love affair not only with him, but also with the bathroom industry.
Like many others, Charalambous 'fell into' the bathroom industry but never left. Her 30-year career in the sector began after she graduated with a degree in business and marketing in 1993, which she put to good use in her father-in-law's high-end bathroom showroom.
"Frixos and I graduated in the midst of a terrible recession," she explains. "We went to work at the Charalambous family bathroom business – The Bathroom Centre in Wood Green – while we looked for other jobs, but we loved it that much we never left.
"I learnt everything I needed to learn during my time at the showroom, which was an early adopter of the high-end, luxury design service. Even in the 1980s they were designing £50,000-plus bathrooms."
Charalambous has arguably become one of the industry's most passionate and fiercest advocates – leading to her being invited to join the business judging panel for the kbbreview Retail & Design Awards. And, when you consider that she and husband and business partner Frixos cut their teeth in retail, it's not surprising that they based the model of their specialist bathroom accessories business around retailers.
"Maybe it's because of my degree in business and marketing, but I've always been one for building relationships and making everything a win-win situation for both parties involved," she explains. "We really are passionate about what we do, and we go above and beyond for them. For us, it's not just about selling to our customers, it's about supporting them and working with them."
So, where did their business, Origins Living, start? 
"During our time at The Bathroom Centre showroom, we saw a gap in the market for well-priced, stylish bathroom accessories," she explains. "We struck a deal to distribute Sonia Accessories – a brand we still work with in the UK – and the rest, as they say, is history.
"We started as Homestyle Bathrooms, in 1995, operating from a couple of shelves in a broom cupboard at the back of the showroom – I kid you not. Then, slowly, slowly we grew. In 2011, we became Bathroom Origins and this year we rebranded to Origins Living."
The name change, she says, reflects not only the development of the business over the years – transforming from a traditional distributor to a supplier with its own designs – but also the way the bathroom sector has evolved too.
We go above and beyond and, therefore, have really good relationships with our retailers
Sofia Charalambous, co-founder, Origins Living
"That [2011] was really the turning point for the business and we've continued to evolve as the industry has," she explains. "Rather than separate rooms, today it's all about blended design that flows through the home. We found that a lot of our mirrors, for example, were being sourced for use in other rooms of the home, not just the bathroom.
"We're still focused predominantly on the bathroom sector – so the products are all high-quality – but we design them so they can be used anywhere in the home. Obviously, there are exceptions, like toilet roll holders, that won't go anywhere else, but you get the idea. And that is all reflected in the new name – Origins Living.
"In 2018, we completely re-strategised and began designing our own products. So that new way of thinking, our growing social media presence, plus our relationships with retailers, meant the business just really took off."
The company currently has around 600 active retail accounts, but its route to market also includes online retail, residential and commercial contract work and export.
"Bricks-and-mortar retailers are our focus, but we also work with online retailers, the contract sector and we've just started exporting to Ireland," she explains.
"We're the biggest we've ever been in terms of turnover. This year, we'll do around £2 million – our highest in 27 years. During the lockdowns, it was obviously our online customers that kept us going. But, this year, it's our bricks-and-mortar dealers who are driving the business."
By comparison with 1995 when, according to Charalambous, there was "a lack of well-priced, stylish bathroom accessories", today's bathroom market looks very different. Many of the leading bathroom brands are now offering a full range of accessories alongside other specialist companies. So, I'm keen to see how Origins Living competes with brands working on a much larger scale.
"We are dedicated to mirrors, accessories and storage. It's not just an add-on for us, we are specialists in those sectors," she says.
"A lot of our retailers say that they like working with us because we're also independent and they feel more aligned to our business model. They also tell us that they like that we clearly track trends and that we are very particular about design.
"They like the way we operate. We go above and beyond and, therefore, have really good relationships with our retailers."
Despite the business being in the best shape it's ever been in turnover terms, like most entrepreneurs, Charalambous is clearly not one for resting on her laurels.
Her passion and drive are once again evident as she describes their ongoing plans for the business.
"We're working towards an ambitious, but very achievable, target of £5m turnover in the next two-and-a-half years," she concludes.
"The growth is going to come from new product development – including moving into new categories – further development to our export business, contract work and the strength of our retail network.
"We are data-driven. We know exactly what our top sellers are, and which channels are selling what. We analyse everything and we're always looking at what's moving the needle. This enables us to grow the business.
"Our son Harry has joined the business and we're becoming even more design conscious. There's a lot going on. It's a very exciting time."
Charalambous on…
Surcharges…Retailers are being driven mad by surcharges being slapped on products at the last minute – left, right and centre. It's not fair. Of course, I understand you can't always account – or plan – for changes in the market and sometimes you have to adjust your prices accordingly. But do these businesses not build any sort of buffer into their original pricing to account for possible increases? 
New product innovation…We work closely with our retail network to ensure we're offering them what they need, and we closely track design trends in fashion and living sectors and we spot them two or three years before they actually come in.
Charging for design…Retailers should definitely charge for design. The ones who don't charge often say that, until it becomes an industry standard, they can't do it because consumers will just shop somewhere that doesn't charge a fee. My suggestion would be to charge a fee, but be clear that it will be deducted from the price of the final order. Not only does it safeguard your work, it shows you're confident in your skills. It's completely justifiable. 
Online retailing…We sell to online retailers and bricks-and-mortar retailers and we don't come up against much opposition to it, if I'm honest. Maybe that's because retailers are largely understanding of the fact that, when it comes to accessories, consumers don't just make that purchase when they have their bathroom redesigned. There are a lot of very good online retailers out there offering great customer service and project design. I don' think it's fair that they are all tarred with the same brush. The online channel is a strong market, from a business perspective. We have to evolve and operate in any commercially viable channel. 
Being a kbbreview judge…I absolutely love it. I love that I get to visit so many bathroom businesses and find out how they tick. The kudos also means I can get my foot in the door just about anywhere now too.