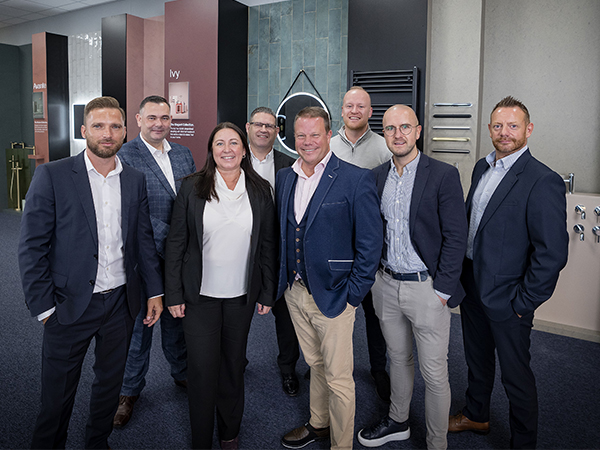 Bathroom manufacturer Aqualla has set its sights on becoming the 'best bathroom supplier to the independent retail sector' and has set up a new team to drive this growth in the UK.
The team has been built to help push sales and development within the company. Since the brand was founded in 2011, it has seen 'rapid' growth' and is already established in Northern and Southern Ireland, but now there are ambitions to increase the presence in the UK.
The Aqualla regional sales managers are tasked with driving new business and providing top-class service to existing and new customers including the independent bathroom retailer.
Pete Banham, head of GB sales, leads a team of seven regional sales managers that cover the whole of the UK. The team includes: Ben Kennedy for North London and Home Counties, Nigel Restall in the Midlands, Sarah Jowsey covering Northeast England, Ian Quigley in Northwest England, Ed Thorn in the Southeast, Shane Basset for Southwest, and Steven Sharp managing the whole of Scotland.
Steven Allaway, managing director at Aqualla, said: "The last 10 years have been a real success story for Aqualla with strong sales both here in Ireland and across the UK. With our new specialist team, we are looking to drive forward those relationships across the UK market and expand our presence even further.
"With over 55,000 square feet of stock holding, we are in the enviable position of being able to efficiently service all of our customers together with any new orders, while still delivering on our 99.6% fulfilment rate, which is something we're incredibly proud of."
"With Pete leading the team, and the combined knowledge and experience our regional sales managers bring, it's an exciting time for Aqualla as we build on our solid foundations to extend our network here in UK."
Banham adds: "2022 has seen us make some big inroads within the UK market with a number of 'firsts' for the company. This year was our first time exhibiting both Aqualla and Adamsez at the UK's largest and most well-respected trade event, kbb, and now we have our first ever market specific sales team.
"The team will be out visiting customers, ready to introduce retailers to our four new tap ranges which have just launched, as well as our wider portfolio, including Adamsez baths. There's lots to discover – from our designer products through to our dedicated service proposition and distinctive work culture, and we look forward to letting the UK market find out more about our story."