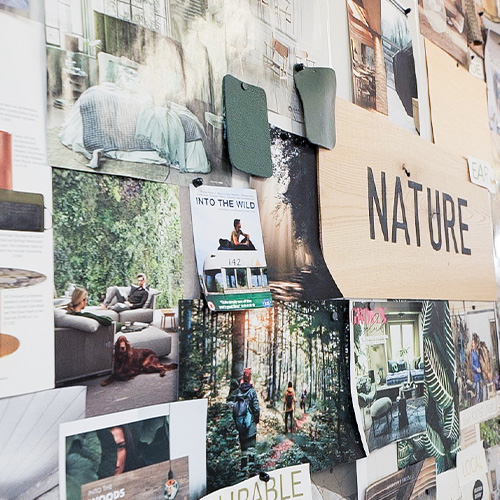 With Master Oak, UNILIN Panels has created a decorative surface that looks and feels just like genuine oak.
Designed and made in Belgium, Master Oak decorative surfaces achieve unparalleled authenticity in recreating the natural look and feel of oak in melamine and HPL faced panels, HPL and shelving. Versatile enough to be used on everything from desktops to shelves, doors, hotel furniture, storage, cupboards, partitions and more; Master Oak is a no-compromise surface finish.
Master Oak comes in six oak looks: light natural, natural, double fumed, brown, elegant black and everest white.
Each look has been created by UNILIN Panels' in-house design team: looking towards global trends and exploring how natural wood finishes are used in commercial interiors, they have put together a range of authentic oak looks that are versatile and usable in real world applications.
Texture that's deeper than before
At the heart of Master Oak lies UNILIN Timber Touch Technology that adds definition and detail and makes sure textures go deeper than ever before. At the same time, UNILIN Panels has improved the matt finish and enhanced its patented digital printing and with the industry's largest patterns, Master Oak is the most authentic wood effect panel yet. Simply, there's nothing else that comes close.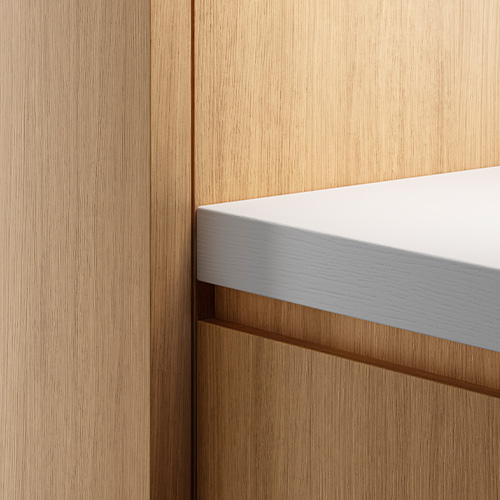 The result of advancements in press plate technology, patented UNILIN Timber Touch Technology is at the heart of many of the improvements in Master Oak's melamine and HPL options. Regular HPL and melamine-faced panels only have around three or four depth levels. Timber Touch Technology has 64 different depth levels for 20 times more texture than regular structures. This gives Master Oak its impressive feel, so that it has the touch of real oak – from rough to smooth and everywhere in-between. It also gives Master Oak its uniquely matt finish that has almost absent shine levels for a natural 'unfinished' effect.
UNILIN's digital printing technology is unique in the industry. A patented coating applied to the digital paper ensures that Master Oak has more colour-play and depth, as well as better sharpness and contrast. The result is a decorative surface that looks exactly like oak. The same technology also allows UNILIN Panels to create the largest pattern in the industry. Master Oak has an extra-large pattern of 5.8m2, which means an authentic look and fewer repeats. What's more, it's pattern is copied exactly from an original piece of oak.
A sustainable alternative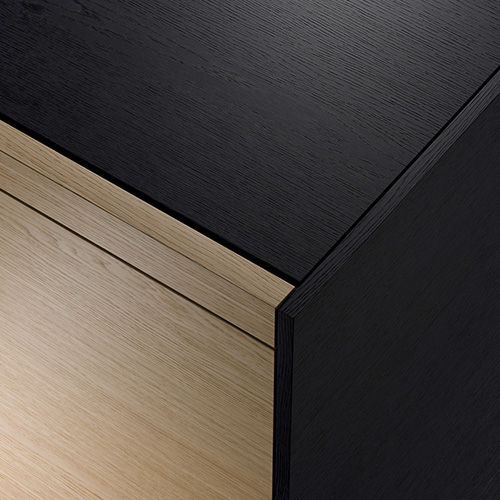 Using 100% recovered wood in the making of Master Oak is made possible by the industry's most advanced sorting and cleaning process. An ultra-modern machine sorts the post-consumer wood, using a mix of processes including magnets, wind sifters and centrifuges to remove impurities. Developing the technology over the past six years and through using wood that would otherwise have been incinerated, UNILIN gives continued life to more than 1,000,000 tonnes of wood every year.
As well as the durability and value advantages of using decorative surfaces over genuine materials, Master Oak is also a sustainable alternative. UNILIN Panels uses 100% recovered wood for Master Oak melamine-faced products. Recovered wood is rescued from incineration – a mix of wood waste from sawmills or wood-processing and from post-consumer wood such as old furniture. Master Oak chipboard panels use 90% post-consumer wood.
No compromises
Master Oak compromises nothing for its authentic look. It remains just as easy to look after and just as durable as any other UNILIN Panels HPL or melamine surface. Compared to real oak, Master Oak is three times as scratch-resistant, more colourfast and more stain proof. Thanks to its excellent performance characteristics, the finish is also easy to clean and needs no specialist or ongoing maintenance. Master Oak is suited to virtually all interior uses. So, everywhere from retail, cafés and bars, hotel and offices to schools and hospitals can enjoy the masterful authenticity of Master Oak.
To enjoy the relaxing look of natural oak with a sustainable, durable and easy to look after finish that's great value, order samples: www.unilinpanels.com/en-gb/interior/master-oak
For further information, www.unilinpanels.com, [email protected]
About UNILIN Panels
UNILIN, division panels – part of the UNILIN group – has been supplying innovative wood-based solutions for building and interior design projects since 1960. Its chipboard, medium density fibreboard (MDF), high density fibreboard (HDF), high pressure laminate (HPL) and melamine-faced chipboards find their way to merchants in building materials and timber, industrial processors and DIY chains worldwide.
UNILIN, division panels, develops solutions tailored to specific needs with creativity and innovation as the key drivers of its business. It continuously invests in product design and new technologies. Hence, the company is recognised as a leading international player and a reliable partner in its sector. Over 1,300 employees give their all, day-after-day, at production units in Belgium and France. Together, the company produces 2.1million m3 of panels annually.