Birkdale Kitchen Company: A premium connection
It was just a year after Birkdale Kitchen Company near Southport opened its doors for the first time that it won the kbbreview Kitchen Showroom of the Year award. Chris Frankland visits co-owner Neil Gokcen to ask about that and find out more about their dedicated 'connected' room
As soon as you cross the threshold and enter the Birkdale Kitchen Company showroom, it is obvious why they were chosen as kbbreview's Kitchen Showroom of the Year for 2022.
Eye-catching displays give way to more wow-factor room sets, presenting a wide variety of combinations of furniture, worktops and lighting to inspire customers with options they might never otherwise have considered without seeing them.
That Birkdale Kitchen Co should have won our Kitchen Showroom of the Year award this year is all the more impressive when you realise that owners Neil Gokcen and Steve Dunne did not open the showroom until April 2021 and that Gokcen himself had never worked in the KBB industry before.
Gokcen recalls his reaction to their win: "Not being from the industry, I didn't appreciate the scale of it. I remember when we were nominated, we had a lot of people call to congratulate us, but it also opened up a whole new world of other suppliers who were keen to gain access to the showroom. It has been very good for our profile."
Although Dunne had been fitting kitchens for the best part of 15 years and had two or three showrooms of his own in the past, Gokcen came from a telecoms and IT sales background.
Gokcen recalls: "I thought 'well, what do I want to do?' Then I learned of a kitchen showroom that was going to open the other side of the railway tracks from here, but went bust. But it made me think… 'kitchen showroom'.
"I mentioned it to my friend Steve [Dunne], who said that if we found the right location, he'd be up for it. Then we found this, which used to be a Laura Ashley clothing shop. And to cut a long story short, we managed to get the premises and it has been so good for us."
The two owners each bring their own complementary skills to the business.
"Steve is brilliant at designing," says Gokcen. "He has a really good eye and he is fantastic with people. Most of the sales and designing and problem-solving on jobs is handled by Steve. I do some designing now, but get more involved with the marketing, finances, logistics and the back end."
But what is also unusual about the showroom is their decision to have a separate smart-tech room where they could demonstrate the connected capabilities of appliances and other products, such as lighting.
"The idea was," Gokcen tells me, "to make it a differentiator between us and other showrooms that Mr and Mrs Jones might go to. To show people what you could do, so that when they leave the showroom, they think 'wow, that was really good, I wasn't expecting that'. We are trying to demonstrate what the system can do for people – the art of the possible."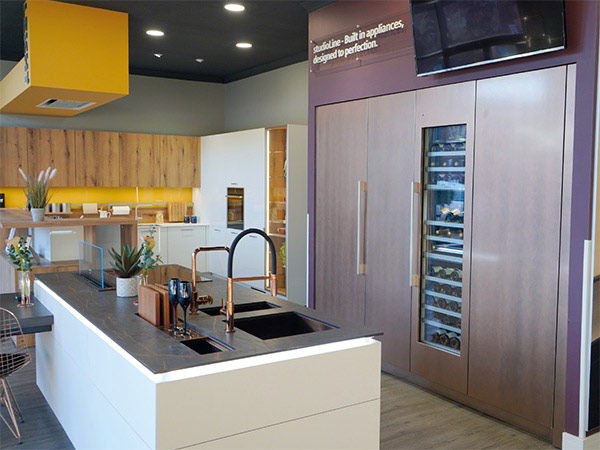 "You can also ask Alexa to turn on the coffee machine on the other side of the showroom. There are many different ways to use this technology and people don't always know you can do these things – and that's the idea behind this. So they go away saying 'wow, I didn't know you could do that'."
But does he feel that people currently understand what connected tech offers?
"Not really," he admits. "The trick is to show that it has a proper value and purpose to someone as opposed to just thinking, 'oh that's clever, but so what?'." And at the time of my visit, Gokcen is already well advanced with plans to take their connected offering "to the next level".
"We are going to enhance this room and we are just in the throes of working with a local smart automation business, Birkdale Smart Home, who have all sorts of clever technology that goes beyond what we currently have.
"And the market we'll be going for will have the kind of disposable income for these big renovation projects. That will only evolve and we will start to incorporate the infrastructure into the showroom and show customers the kinds of things they can do – and not just in the kitchen. We will be resellers of that product and technology, so we might well expand our offering into their lounge, bedrooms, etc. I can see us going more down the whole-home route with that element of the product mix."
Getting back to that award-winning showroom, there are seven modern displays from Leicht and one traditional style kitchen from Symphony.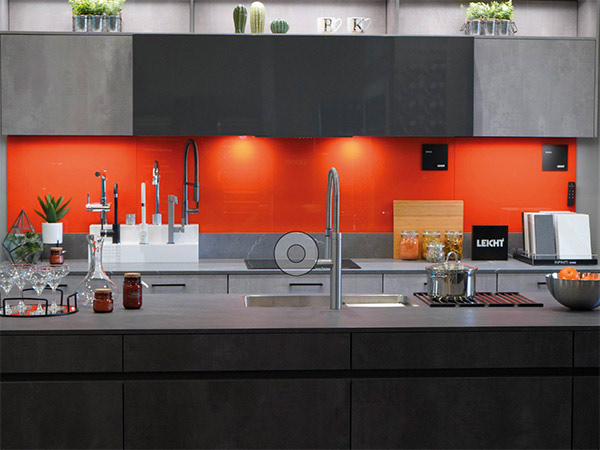 Says Gokcen: "Steve's idea was to go for larger displays. It is difficult for people to work out how their kitchen will look from just seeing half a run."
The underlying plan was to create a welcoming experience. "People react well to it," Gokcen tells me. "When they come in, it is friendly, warm, lots of things to play with and they can charge their phones on a wireless worktop charger. We even take care with the background music playing in the showroom.
"All these things are important. Lighting is important too. We are going to be installing some lights from a company called Zuma and they are also speakers, but they look like a normal spotlight."
Gokcen is also pleased with their chosen location: "It is an ABC1 demographic and nearby you have got Formby, where there are a lot of wealthy people, and there are lots of pockets of good areas within a 40-mile radius. We target our Google advertising accordingly, to be as smart as we can and tap into that market."
Now 15 months into its trading life, Birkdale Kitchen Co is selling around five kitchens a month with a turnover of around £1.4 million from a standing start last April. Gokcen expects that they should hit £2.5m when things really get going.
As for the future, Gokcen tells me they'd like to invest in Virtual Worlds 4D Theatre, although Leicht products are not yet on there, and of course their ambitious plans to radically extend their involvement in the connected home should keep them busy. I can't see them resting on their laurels, even if they are already our Showroom of the Year.