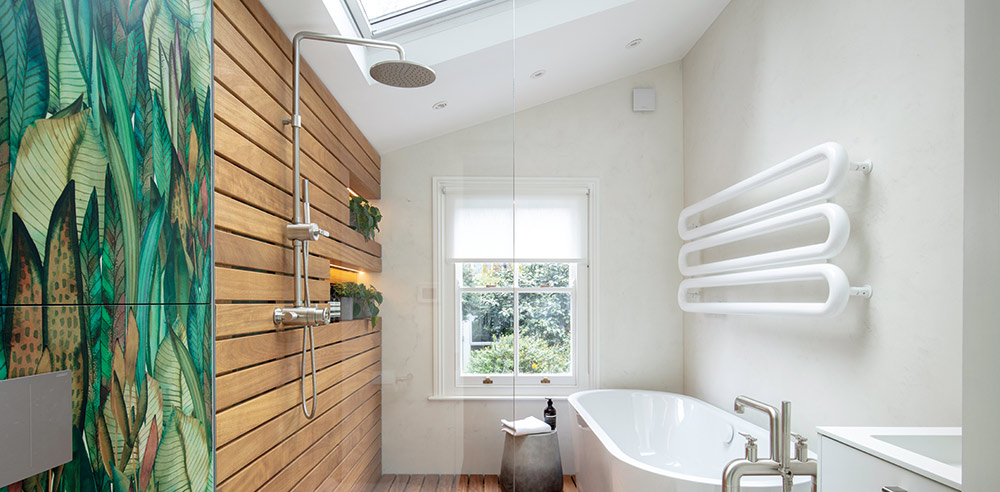 Case study: Relaxing with a pop of colour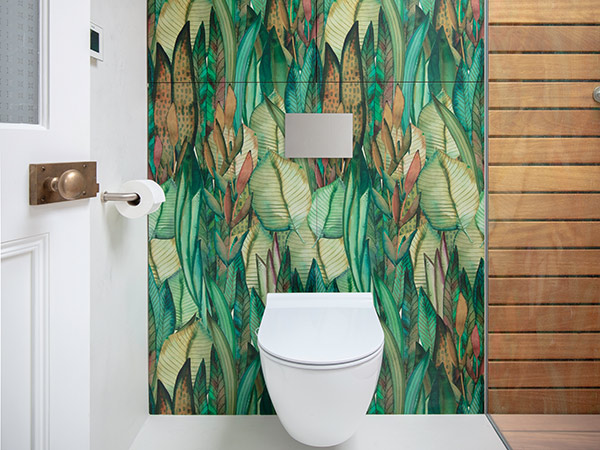 Amberth in London explain how they created a bathroom to relax in inspired by the luxury hotels in Asia that their client enjoys so much.
The overall aesthetic of the bathroom is inspired by the luxury hotels in Asia that the client enjoys so much. The light and airy feel make the room serene and relaxing, while the pop of colour from the tiles adds interest and incorporates the client's interests – plants and modern art.
We used different textures and natural materials to bring the outdoors indoors. We included a wall cabinet above the WC for additional storage, but tiled the doors to create a seamless look with clean lines.
The client had originally shown us some pictures from his travels during the consultation process and, although he didn't specifically mention it in the brief, we decided to include some natural wood that we'd noticed as a theme throughout. The client was absolutely delighted with this detail.
Our aim was to use as many natural products and materials as possible for this project. We were able to bring the outdoors indoors with the use of sustainable materials like the solid wood, micro concrete and ceramic tiles.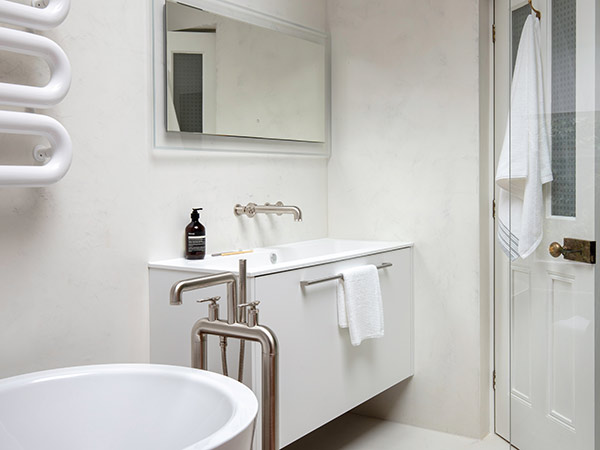 We tried to include as many unique ideas as possible in this project to make sure the client felt his bathroom was unique. Natural wood in the shower is an unusual choice, and we incorporated removable sections of the wooden platform to make cleaning the floor underneath as easy as possible.
In our initial design, the wooden platform was higher than the rest of the room, but following a site visit and seeing that the room's floor level is much lower than anticipated, we decided that the floor in the bathroom would be raised everywhere but the wooden area, achieving the same floor level throughout the room with no raised elements.
This creates a beautiful, yet functional space. We also installed underfloor heating, not just under the floor, but also in the walls, for good heating and to help the room dry quicker. The concealed wall cabinets above the WC are tiled and have a push-to-open mechanism, so that the cabinet is almost invisible, creating a seamless look.
Even with a unique project like this one, we still place a lot of importance on giving our clients the best value for money possible.
The materials we used were expensive, but of the highest quality, so they will be long-lasting and easy to maintain, such as the micro concrete. We also used non-toxic, very natural materials and we believe the style of the bathroom will prove to be truly timeless in years to come.