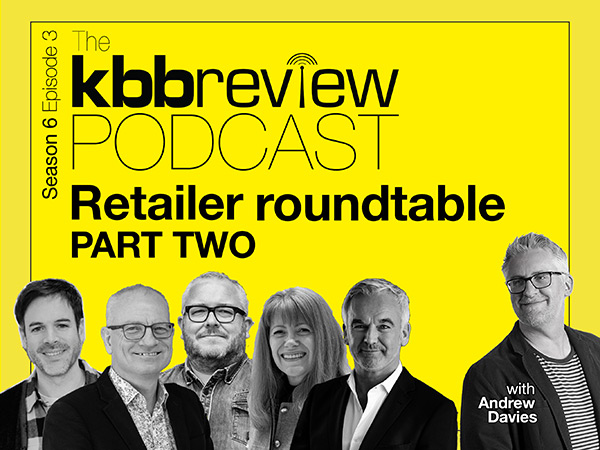 Welcome to the kbbreview Podcast, your host as always is Andy Davies and this is episode three of season six.
That's the official classification, but much more importantly this is Part Two of our top retailer round table. Last week was Part One of this in-depth discussion that took place at the KBSA Conference a few weeks ago.
And we've got a roster of some of the most high-profile kbb retailers in the UK talking about some of the biggest issues.
We have… Tony Robson from DayTrue in London Keith Myers from the Myers Touch in Winchester Diane Berry from Diane Berry Kitchens in Manchester Paul O'Brien from Kitchens International in Scotland and Ron Mascari from Mascari Design in Nottingham. And you'll also heard from Dawn Short from Callerton and Stephen Johnson from Quooker giving the supplier's point of view.
In Part One we covered two big topics – how business has changed post-covid – including a great discussion on who is still running by appointment only – and we also looked at how our retailers are approaching the thorny subject of sustainability, So if you haven't listened to that yet here's a link to listen now in your browser, or if you're using a podcast app you can find it in there.
In Part Two we're going to deal with another couple of BIG subjects, including probably the biggest of them all at the moment, the floundering supply chain in some categories and the disruption it is causing the retailers day-to-day business.
And then we talk training, development, apprentices and the next generation and whether or not this industry really has a plan. Two big subjects for Part Two of this discussion, so don't miss it.
Don't forget that entries close for the kbbreview Retail & Design Awards 2023 at 5pm on Thursday, November the 17th. It's totally FREE to enter and you can get all the details at kbbreview.com/awards