The new third-party verification Declare label from Caesarstone has been added to the majority of its interior products. The label aims to give more clarity on the materials used within Caesarstone surfaces and dissipates uncertainty regarding the presence of any unwanted materials or chemicals.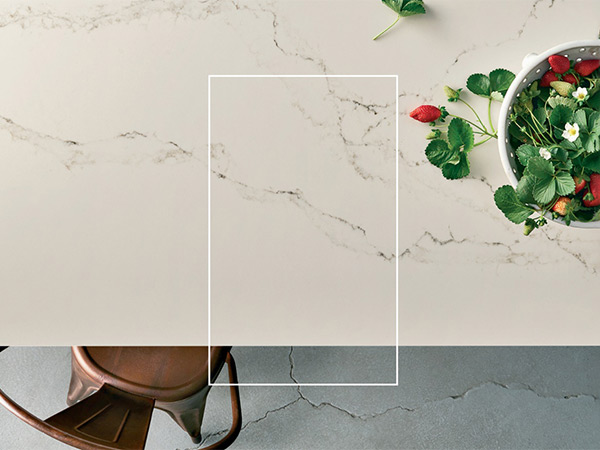 Caesarstone hopes the label will increase the brand's integrity and provide more clarity and peace of mind for its retailers and customers.
Hila Vitla, Caesarstone's head of global product portfolio and innovation, said: "When it comes to sustainability, Caesarstone is constantly looking to amplify its impact and maximize its product offering.
"Along with our recent ESG initiatives, the Declare label allows us to elevate our sustainability efforts to new levels. In terms of quality and sustainability, we are very proud of our products, and are happy to disclose valuable information regarding their contents."
Ido Winer, Caesarstone's material & research team manager, said: "We are committed to going above and beyond typical self-declared labels by offering verified transparency. With third-party verification, we are holding ourselves accountable. It is yet another step towards becoming the industry's most trusted brand."
The International Living Future Institute's Declare label is a cross-industry benchmark focusing on sustainable material transparency. Caesarstone's Declare label is also LBC Red List Approved, making certain surfaces suitable for Living Building Challenge projects as the products are free from chemicals that ILFI has classified as harmful to human and environmental health.
Vitla concluded: "Today, approximately 80% of Caesarstone's indoor portfolio has a Declare label, identifying all product ingredients above 100ppm. "Our first priority is to ensure that all of our indoor colours carry the Declare label while also adding Declare labels to all our outdoor colours.
"But this is just the beginning. We are currently working to obtain a Declare label for our line of porcelain products. Our Declare label is extremely important to us, not only due to its impact on global sustainability, but also because it allows us to showcase our priorities and the values that guide our work."
The Caesarstone ESG Report is part of the company's ongoing efforts to demonstrate its commitment to its values: sustainable products, environmentally responsible production, health and safety, and social responsibility.