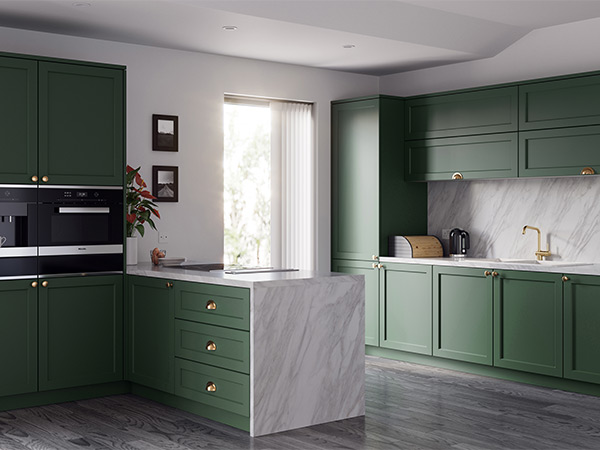 Hill's Panel Products (HPP) has invested in new production facilities to move the manufacturing of some door ranges to the UK.
The kitchen door collection was imported from Europe are is going to be extended and made in-house at HPP's Oldham HQ.
Dan Mounsey, HPP's marketing and business development director, said: "We've had Brexit, the pandemic and now the state of the economy, which makes the exchange rate between sterling and the Euro unfavourable. Add in logistics, the cost of fuel, lead times, and the availability of materials; bringing in doors from the continent ticks a lot of the wrong boxes. Taking into the account those pressures; we've decided to manufacture in-house."
"Because we're manufacturing in-house, there will be a made-to-measure option as well, which will make this range unique. So, for example, customers could order 90 per cent of what they need off the shelf and then have the rest made-to-measure. Overall, it creates great versatility."
The range is part of the Avanti off-the-shelf collection and will be called Juno. It is a skinny shaker, which has the style of a traditional shaker but with thinner stiles. Juno will sit alongside of the existing Avanti range.
Juno will be available in four super matt decors: dust grey, black, indigo blue and highland green. It will be available in approximately 60 SKUs, including doors, drawer fronts, end panels, cornices, plinths and filler panels in a wide variety of sizes, and all available to order online.
HPP sales manager Chris Essex said: "This will continue the growth for the Avanti range, which has been a great success since we launched it in 2011. It makes a significant contribution to the business and always has done.
"The Juno is going to do really well because it is very much on trend with the demand for matt colours and the slim shaker-style. In a stock door range, you want to have something for everyone, but that can't always be so, which is why we have the made-to-measure facility, but this new door is taking the range where it needs to go to keep the Avanti success on track."
Meanwhile, HPP is helping raise £10,000 for a youth charity that has aims to help support young people and families in Oldham who are affected by the cost-of-living crisis.