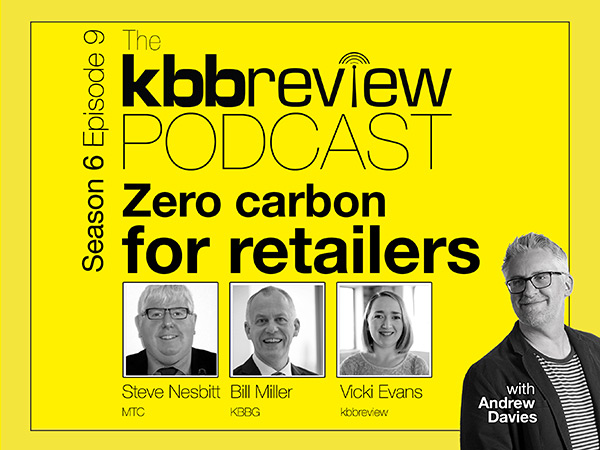 Welcome to the kbbreview Podcast, your host as always is Andy Davies and this is episode nine of season six.
Really, really interesting episode this week as we delve into Zero Carbon – no, please, bear with us, we know how you feel when we talk about sustainability, but this is important because it will directly affect the success of your business in the short, medium and long term.
The UK has a legally binding commitment to be carbon net zero by 2050 – and while that may seem like years away, it will take a huge effort between now and then to achieve it. Why is this important to you? It's because residential homes contribute around 40% to the country's carbon emissions and so the government is coming for the two rooms in the house that use by far the most energy, the kitchen and the bathroom.
Using a combination of legal force and substantial incentives, it will make consumers want and need to make their homes considerably more efficient and it's you they will turn to when it comes to those two rooms.
kbbreview deputy editor Vicki Evans is talking to technologist and zero carbon expert Steve Nesbitt from the Manufacturing Technology Centre as well as Bill Miller, the md of the Kitchen and Bathroom Buying Group. I
t's fascinating stuff, so fascinating in fact that we"ll confess that some of the audio quality isn't great in this conversation but we wanted to put it out anyway because what they're discussing is so interesting so please bear with it.
Listen below, on desktop, YouTube, or on your podcast player of choice like Apple Podcasts or Spotify.