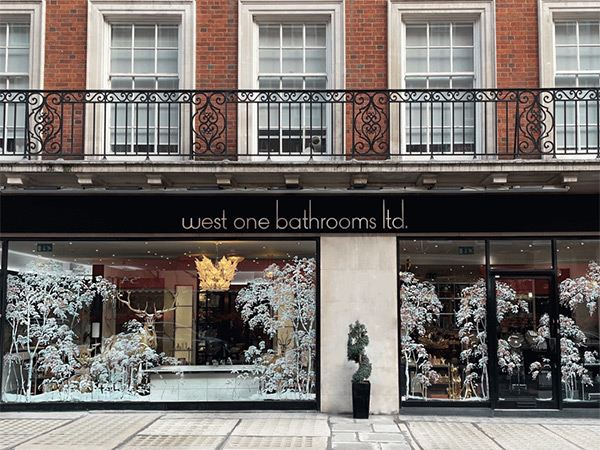 The winner of the kbbreview Christmas Window Competition 2022 announced
West One Bathrooms Mayfair has been chosen as the winner of the kbbreview Christmas Window Competition 2022 for its elegant painted window.
The scene has a regal deer amongst snow and birch trees with colourful hints of gold, pink and blue. The 'Winter Wonderland' design was created by London-based artist Aga Skiba who painted using acrylic paint.
West One Bathrooms even shared a video of the window's creation, showing the intricate details of the process and the full painting.
Kbbreview will donate £500 to West One Bathrooms' charity, courtesy of our sponsor Quooker. Thank you to Quooker for sponsoring the kbbreview Christmas Window Competition for another year.
Overall, we had many entries of people engaging with the competition across social media. Windows ranged from classic lights and trees to bright and colourful displays that stood out on the high street.
The kbbreview team loved reviewing the windows and thought that the variety of types of windows was so impressive. People let their creativity go wild in making a festive display.
The runners-up were: Interiors of Harrogate in Harrogate, Daden Interiors in Fleet, and Napier Bathrooms in Edinburgh.
The Interiors of Harrogate had two sides to their window. On one side was a simple window painting with a cute Rudolf and a simple gold and white tree. While the other had hanging baubles and an intricate illuminated Christmas tree.
Daden Interiors kept it clean and white, with a cheeky elf painted in the window's top corner. The snow-covered trees are made out of wool and have little felt mice on the trees.
Napier Bathrooms has kept things jolly with lots of Christmas presents wrapped up in beautiful bows. There is two Christmas trees decked with baubles and more ribbon, with finishing touches of candy canes and a Christmas star.