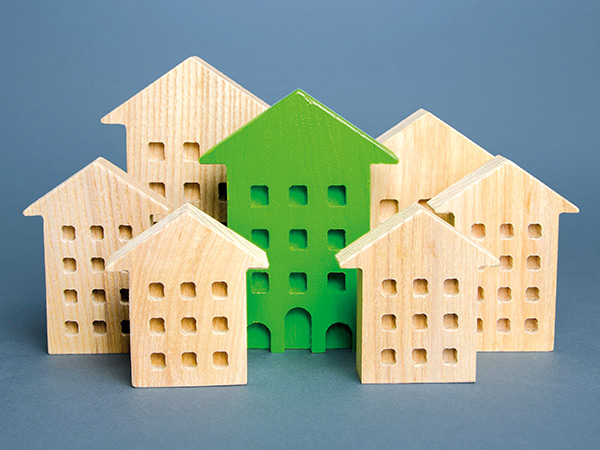 Net Zero 2050 is our collective responsibility
Steve Nesbitt, chief technologist at The Manufacturing Technology Centre (MTC), outlines what Net Zero 2050 means for everyone in the UK, while Bill Miller, MD of KBBG UK, tells retailers what they need to pay attention to.
Q: Can you start with an overview of what exactly Net Zero 2050 is?
Steve Nesbitt: The UK Government has passed an act through parliament: Net Zero 2050. It is an obligation enshrined into UK law, and it means that we all share an individual, personal, and commercial objective to contribute to achieving Net Zero in terms of emissions.
It is crucial for member organisa-tions and KBB businesses to recognise the part they need to play to help deliver the objective. You cannot opt in or out of it, as we all have a collective responsibility to contribute to Net Zero.
Q: MTC works across a vast cross-section of industries and looks at their sustainability credentials. How do homes and the KBB industry compare with other fields?
SN: Unfortunately, the built environment is the worst offender in totality. If we consider emissions directly arising from cooling and heating domestic residences, it contributes to around 20% of the UK's total emissions. When we add in non-domestic buildings and infrastructure and the operations of those, then it is closer to 45%.
A lot of effort has gone into reducing emissions from other industries, such as power and energy generation, and they have seen a dramatic reduction in their emissions. But the built environment hasn't yet. So, the emissions are still the same as they were 21 years ago.
Q: Bill, you know and understand KBB retailers from your position at the KBBG. Do you think they are concerned about or prepared for Net Zero?
Bill Miller: The move to Net Zero and sus–tainability is some—-thing we all have a stake in. There is a degree of interest. But for a high percentage of SME businesses, particularly in the KBB field, they didn't see a link between their business activities and Net Zero before hearing Steve's presentation at our 2022 Annual Members' Meeting. They saw themselves as purveyors of luxury kitchens and bathrooms to consumers, and thought that they would be broadly untouched by any legal changes.
This subject can be viewed as difficult and negative, but there is a lot of opportunity for renovations and upgrading the current housing stock. One of the biggest miscon-ceptions that many retailers have is that the move to Net Zero affects other businesses, would only affect new-build properties, and wouldn't affect the other 24 million homes
in the UK.
But, of course, for us to achieve the legal requirement of Net Zero, there will have to be radical changes in our daily lives.
There is a growing awareness that Net Zero will have an impact on people and businesses in the KBB industry, is there exact clarity on what those changes will be? No.
There is also a growing understanding that there could be some impact regarding what the retailers will take as standard operational procedures, such as taking an old kitchen
or bathroom to the tip without a second thought.
Q: Where are the opportunities for retailers in all of this?
SN: Net Zero 2050 is a beast to tackle, and it is one of those things where if you do nothing, you are guaranteed to fail. But everything that we do will help and will contribute. If we want to turn from a vicious circle, we need to consider the objectives that have been set, like removing natural gas as a fuel source and a cooking source by 2030. Then, there is a positive opportunity for retailers as the gas cookers need to be replaced.
There is an absolute imperative to come up with more energy-efficient pieces of equipment. The likelihood is the increase in the level of technology of the products that the retailers will provide in the marketplace. The potential value stream for the retailers will increase because the per unit value of a project, the kitchen or bathroom renovation, would go up, and the increased value would rise.
There is every scope for the retailers to see this as a good opportunity, but they have to be cognisant of where these products are sourced.