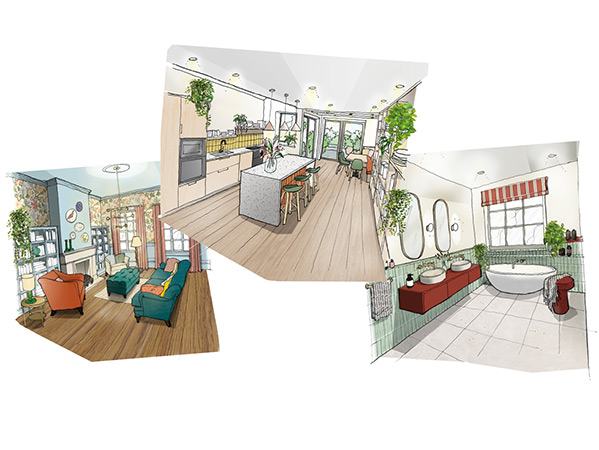 2023 trends: A new style for living
Gail Alcock, product director for Malmo LVT flooring, shares insights on 2023 trends and how they may be incorporated into your kitchen and bathroom designs.
The New Year signals new beginnings and a time for making positive changes. It's often a time for reflection on the design of our home environment and how it supports our lifestyles, but for all of us working across this sector, it's also a time for considering the bigger picture of 2023 trends and how they influence our business.
In our NPD and range development, we are immersed in design and are continually influenced by many aspects. How people choose to live their lives, at work, at home and at play are all linked, and we are increasingly seeing a blurring of boundaries between residential, workplace and hospitality design. Many of the trends are in fact ideas borne out of human desire to create spaces that make them feel better. Consumers are seeking designs that have longevity, are sustainable in themselves since they are built to last. A backlash to the throw-away fashions and fads driven by Changing Rooms and flat-pack furniture.
Urban Garden
The Urban Garden trend is all about connecting home interiors to the outdoors and has many claims to enhanced well-being. In the pandemic, people turned to nature and plants as a salve for stress and to create calmer, more restorative home environments. Biophilia expert Oliver Heath has talked extensively about how the space that surrounds us can have a dramatic impact on our physical, mental and emotional state and how incorporating nature into interior design can make people feel calmer and more relaxed. This trend is most apparent in the places we spend the majority of our time – the home and workplace – and shows no sign of waning.
Kitchen and bathroom designers can achieve this look with large glass door openings to the garden, skylights over the kitchen and by using materials derived from nature within the interior. Natural tones such as ochre, burnt orange and forest green are all part of this trend, complemented by light-coloured woodgrains in furniture and flooring.
Earth Bound
This trend captures inspiration from travel and escapism, which after lockdown has an even greater sense of importance, but it's also strongly connected to nature. It incorporates warm earth-baked tones, textural materials and organic objects made by hand, bringing together nature and culture. We've seen rich red shades chosen as the colour of the year 2023 by paint companies such as Graham & Brown and according to trend reports, we'll be seeing grounding earth tones such as terracotta, sepia and Italian clay for some time to come. Dark wood flooring with characterful textures are part of this trend.
Organic Sculpture
The Organic Sculpture trend brings together cocooning curves, tactile surfaces and soothing colours that are easy on the eye. It's driven by the need for creating interiors that are safe and welcoming and offer a place of security during times of anxiety. The bathroom is a key room here, as it's a sanctuary where we want time for ourselves. People want a more luxurious environment with large bathtubs, waterfall showers and indulgent bathing products that are also kind to the skin. TikTok shows more than 23 million searches on #BathRitual. There's a clear opportunity for manufacturers and retailers to tap into this desire to create the perfect bathroom retreat.
Grand Millennial
The Grand Millennial style allows spaces to be infused with personality and embraces a mix of old and new. This trend taps into the transition from blind consumerism to the more conscious consumption that has come to the fore in the past couple of years. You only have to look at companies like Used Kitchen Exchange and The Used Kitchen Company to recognise the appetite for repair and recycling. The Grand Millennial trend captures the love of vintage, which has been widely adopted as the responsible and ethical way of shopping for the millennials. They are brave and rebel against the catalogue interiors they were brought up with – looking back to their grandparent's generation for inspiration.
This look incorporates vintage heirloom furniture, chintz and floral patterns which can be combined with contemporary art and fresh colours keeping it from looking cluttered. Aged timber flooring is an excellent choice to incorporate into this eclectic design trend and those that replicate reclaimed planks also work very well here.
These 2023 trends look set to play a major part in shaping our home environments for many years to come.