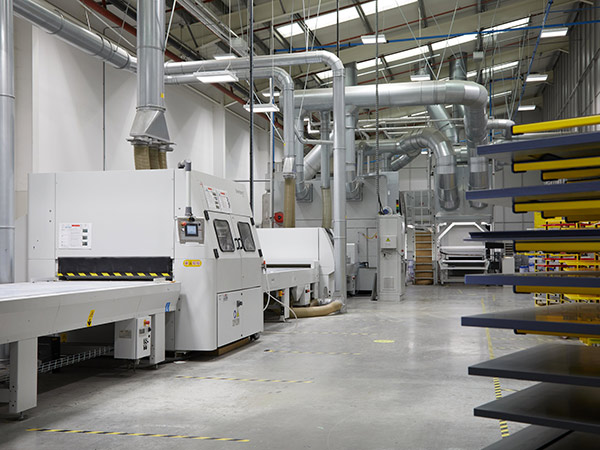 British kitchen manufacturer Omega has invested in new eco technology at its factory that will reduce energy usage by 15%.
Omega invested £20 million in its 400,000sq ft Yorkshire factory in 2018. With the second stage of the installation of its Ecogate system now complete, the company expects to save 600,000kWh of energy per year, which equates to 15% of its total annual usage.
The Ecogate system saves energy by regulating the way fans are used in the factory's extraction system.
The extraction system removes the dust and debris produced by the machinery in the factory and sends it through a series of fans down hundreds of metres of pipes to trailers that collect it and send it to be repurposed into animal bedding.
The first Ecogate was installed in 2021 and resulted in substantially less power being used to run fans in the areas of the factory that were not in use. This saved 200,000kWh and reduced energy usage by 5%.
The second Ecogate allows the extraction system to be completely switched off in unused areas.
Omega purchasing and operations director Alastair England said: "The recent installation of the second Ecogate allows the extraction system to be completely switched off in areas of the factory not being used, which is extremely valuable when different areas of the manufacturing process run different shift times. This second Ecogate saves 400,000 kilowatt-hours per year and, when both Ecogates are combined, equates to a 15% reduction in energy use which represents a significant energy saving for a large factory."
The Ecogates form part of the company's wider strategy to reduce CO2 emissions. The warehouse and office buildings use solar panels and LED lighting. It has invested in a more fuel-efficient lorry fleet and all company vehicles are now changing over to hybrid or fully electric.
Commenting on the development, Omega chief executive Simon Barber said: "Within Omega, we have continued to make ongoing day-to-day changes and develop initiatives throughout the organisation that can aid the corporate social responsibility and the long-term impact on the planet."