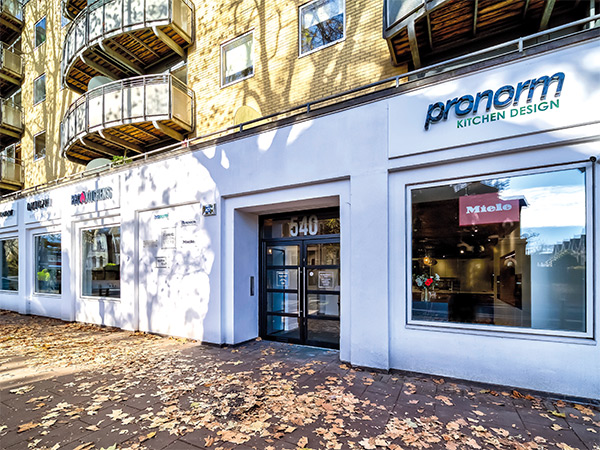 Outdoor and indoor kitchens mix at Home Living Group
There is an even split between outdoor and indoor kitchens at the company's new showroom on Chiswick High Road
Home Living Group is the parent company to a few brands, including Pronorm Kitchen Design and BBQ Kitchens. Each has its own market and niche but all are now housed in one showroom that opened in September 2022.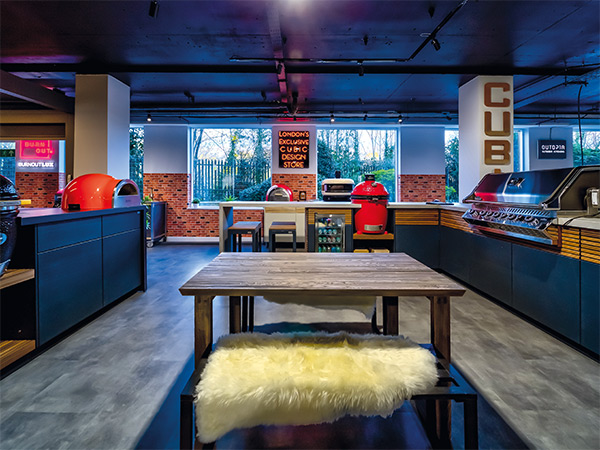 The team work with mid-to-high-end design professionals, from interior designers to landscapers, as well as the usual individual residential clients.
The space is also used as a hub for client meetings for local professionals, as Sinead Turnbull, director, Home Living Group explains: "There are many one-man bands out there who don't have anywhere to present to their clients. So, people like coming to the showroom to see the displays and then sit down with us or to have a private discussion with their clients about the rest of the project. Hence, why we call it a design centre rather than a showroom."
The showroom is evenly split between indoor and outdoor kitchens. Although the space is open-plan, there is a subtle division of the two sections and the outdoor side has an impressive display of pergolas and canopies. 
Turnbull explains how important outdoor kitchens have been for the company: "We were one of the first retailers to do outdoor kitchens in the country, but this is the first time that we have had the space to show them properly.
"Throughout Covid, outdoor kitchens have become popular, and it is a trend that is going to stay.
"A lot of people are only now getting their heads around the idea of the outdoor kitchens that we sell, which are essentially indoor kitchens that can be outside. As opposed to the traditional way of just having bricks and masonry with a BBQ grill."
For outdoor kitchens, Home Living Group works with four brands and the design centre features over 12 displays, with five for Cubic, three each for Outopia and Burnout and one for Fresco Pro.
All of the indoor kitchen displays are Pronorm as they are an exclusive retailer for the brand.
There are nine indoor kitchen displays and a sample section for clients to play with the different colours and finishes. "We wanted to show the versatility and the best of the Pronorm products," says Turnbull.
The aim was to show everything from reasonably priced kitchens for contract projects to Scandi and contemporary shakers. To highlight the flexibility of Pronorm's portfolio, the showroom features its furniture in utility room layouts, the reception area and even in its bathroom. Home Living Group also displays i-Luminate, Pronorm's premium range.
The new showroom space in Chiswick allowed the team to bring all of their brands under one roof. It has 5,500 sq ft of space and lots of natural light that makes it look even bigger.
There is so much in the one showroom, as Home Living Group wants to be more than just a kitchen brand, as Turnbull says: "We want to be product specialists."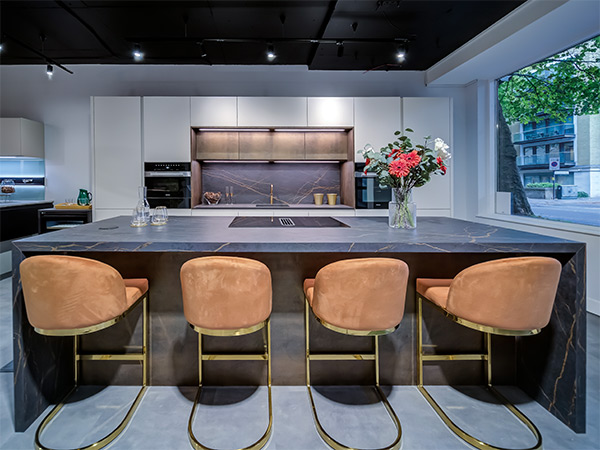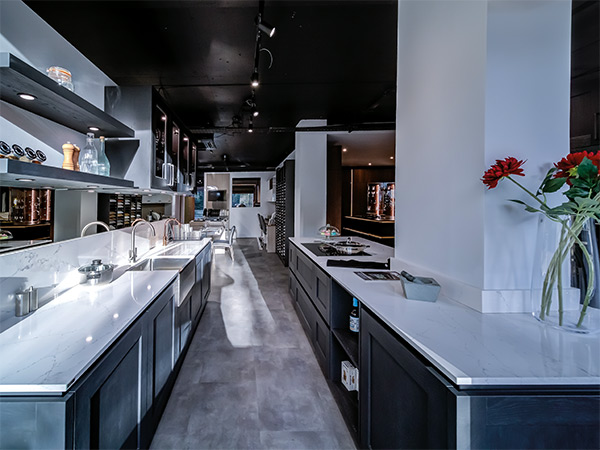 There are nine indoor kitchen displays and a sample section for clients to play with the different colours and finishes available in the Pronorm range