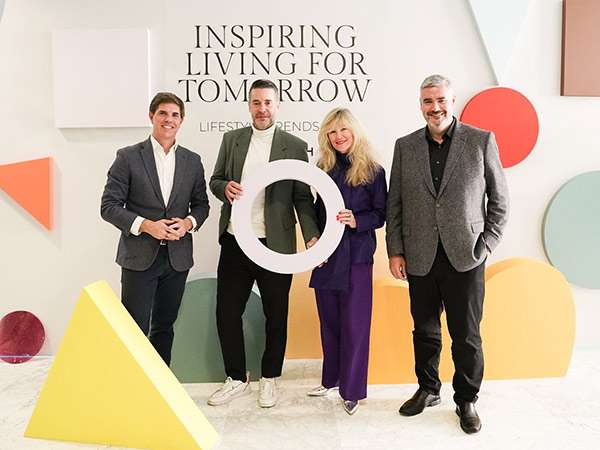 Neolith has unveiled a special report on future lifestyle trends that it hopes will help provide inspiration for consumers, architects and interior designers.
For the company's first trends book, Inspiring Living for Tomorrow: Lifestyle Trends 2024, it collaborated with Gudy Herder, futurist and keynote speaker on interior design, and Enric Pastor, founder of the Spanish quarterly interior design magazine Manera. It offers an in-depth analysis of how society is changing, users' new needs and their relationships with the environment.
It identifies the key design trends for 2024 and features input from artists and designers who have worked on projects that highlight these trends. These macro trends are urbanisation, well-being and nature.
Speaking at the recent launch event at Palacio Neptuno in Madrid, Neolith Group chief executive José Luis Ramón, said: "This book confirms our commitment to society, and its needs and demands, all while, in line with our DNA, highlighting our desire to always be on the cutting edge, identifying the major trends of a new lifestyle which prioritizes personal well-being and respect for the environment and sustainability as they apply to fields such as architecture, interior design, fashion and industry in general where Neolith surfaces can play a key role."
The event also featured input from well-known interior designer Patricia Busto, artist Rafafans and representatives from interior design studio Naifactory, who also contributed to the trends book.
Addressing an audience of 200 major figures from the world of architecture, interior decorating, design and industry, Neolith Group chief marketing officer Oliver de la Rica, added: "We want to get to our consumers, architects and interiors designers in many different ways and we want this [book] to be a 360° way of communicating with each group. We want people to have an emotional connection to our work. We want to help the sector by using inspiration from the fashion and beauty industries – these things can form part of our industry too. Part of our core at Neolith is [to] create a better space. Everything we innovate, everything we create, everything we inspire, is to live better. If you can get that through our materials, then that is fantastic."
The main macro trends identified in the book are Urbanisation, Well-being and Nature.
Looking at Urbanisation first, Neolith points out that by 2050 there will be 9.8 billion people on the planet and 70% of those will live in cities, which means there will be a lack of space and connections with nature and that we will need more flexible spaces with multifunctional versatility.
One featured project is a post office that will allow the picking up and return of products ordered online as well as a recycling area for packaging. Another project, under the 'modular planning' umbrella, is Polyroom ­– stackable containers that can also incorporate elements of nature and greenery. The first are due for delivery in France soon.
'Greentecture' is another microtrend under Urbanisation, with one featured project where a house was built around an existing fig tree and where that tree remains an integral part of the interior.
The second macro trend, Well-being, identifies the home or interior space as a safe haven that should be both practical and provide emotional support. One project, Dois Tropicos in Sao Paolo, is a space where people can relax with yoga or beauty treatments and features curves and a spiral staircase to help reinforce that feeling of protection.
The book also features a project in Barcelona called Juno House. This is a private club for female entrepreneurs and includes a children's area, a showroom to highlight projects people are working on, a shop, a podcast recording studio and a 'glow space' where individuals can freshen up.
Nature is the third major trend of the book and Neolith says that we are getting more and more involved in such projects as a society, with new developments in bio materials. Neolith believes we need to be more in touch with nature and involve it more in how we live. It wants people to focus on projects that push the idea of bio materials. The book highlights lampshades that are made from orange peel/pulp and coffee grounds.
It also highlights sustainability and a new restaurant in London, called Silo, which produces zero waste and takes in no products in packaging. It makes its own butter and beer and nothing is thrown away.
Neolith points out that a third of all consumers are willing to invest more and more in sustainable products. Summing up on its sustainability message, CEO Ramón said: "We were born with the idea of being a sustainable company. We like to talk about sustainable beauty. Because if we go back in time a little, to make something sustainable was not compatible with beauty or longevity. We think you can combine beauty, sustainability and longevity and we are proud of our focus and how we work on that. At Neolith, our material age beautifully with time."
CMO de la Rica added: "We want to win the hearts and minds of our end users – consumers, architects and designers. That means connecting with their emotional side as well as the commonsense side and becoming a name that is a reference in terms of quality and sustainability – a perfect combination of quality, sustainability, applicability combined with elegance, class, sophistication and find a balance point. That is where we want to be."
And in his closing comments on the future for Neolith, Ramón added: "We have an intense agenda for the foreseeable future. We are trying to push our presence on a worldwide level. We are opening one Neolith distribution centre a month. We are focused on the kitchen, then we went on to bathrooms and now we want to go on to home furnishing, indoor, outdoor, growing and offering more solutions in these areas."