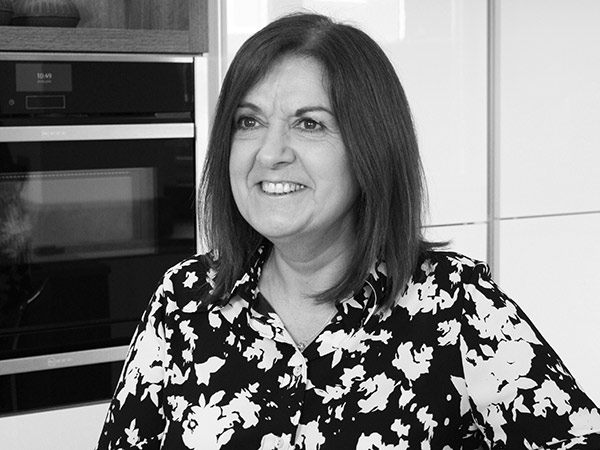 As Sunderland-based kitchen manufacturer Callerton prepares to celebrate four decades in the industry, Rebecca Nottingham speaks to CEO Dawn Short about how the brand is celebrating this milestone and her plans for its future
Many suppliers claim to understand what it takes to operate as an independent on the retail frontline of the KBB sector today. But, unlike Callerton, very few of those manufacturing and supply businesses were borne out of the founders' own experience of designing and selling kitchens to consumers. 
Where it all began
"The business began 40 years ago when founders James Herriot and Gordon Stanger-Leathes set up a small property development business in Newcastle," explains Dawn Short (pictured), Callerton CEO. "Having seen some of the kitchens they'd designed and installed in their developments, friends and relatives began asking them to help them update their own kitchens. After a while, they decided to manufacture their own brand of furniture, and Callerton was born."
Short – a chartered accountant by trade – joined Callerton in 2007 as financial director and, following co-founder James Herriot's decision to step down from the day-to-day running of the company, was promoted to the role of CEO in 2021. 
"My route to becoming CEO of a kitchen manufacturing business isn't perhaps as conventional as most," Short explains. "After qualifying as a chartered accountant, I joined Tyne Tees TV and a career at Scottish and Newcastle brewery followed.
"I was very lucky to be introduced to [Callerton founders] Gordon and James and we very quickly discovered we all shared the same values of fairness, relationships and integrity.
"I can honestly say that I find the kitchen business and wider industry exciting and rewarding – it certainly didn't disappoint even after working in TV. It is challenging, none more so than in recent years, but I've met some amazing, talented people and seeing the completed kitchens, containing our furniture, still brings a lump to my throat and fills me with pride to think 'we helped to create that'!"
Relationships
Aside from understanding kitchens, manufacturing and design, what's apparent during my conversation with Short is that the glue that binds all of that together is the company's understanding of what it is that retailers need to make their interaction with consumers as straightforward – and successful – as possible.
"Relationships are at the heart of everything we do and critical to our success and growth," she explains.
"Not only do we understand what it takes to design and sell kitchens to end consumers, we recognise that without our retailers we don't have a business. Maintaining and developing the ties we have with the individuals that make the independent retailers we work with is at the core of our business. They are friends and colleagues, and we want them to succeed, which we both benefit from. Which is why everything we do is tailored to making their lives as easy and straightforward as possible.
"We are focused on developing competitive products, with family values as regards providing service, assistance, and back-up to our retail and trade partners – with a proven ethos of putting the customer first."
Benefit
Perhaps one of the best examples of this commitment to understanding the needs of its retail partners, is the fact that it developed its own example of a Service Level Agreement, the lack of which – across the entire KBB industry – retailers have been bemoaning for some time.
"We introduced our Needs and Requirements document specifically to show our commitment and support to our retail partners," says Short.
"It details what a retailer requires from us as a manufacturer in a variety of areas, from product range, to timescale, and on to product quality. We then detail our requirements, including providing a realistic and acceptable manufacturing timescales and our commitment to the ongoing education and development of staff.
"This means we all know where we stand and, perhaps most importantly, helps ensure we're all getting things right first time and, for whatever reason, if something does go wrong, it is dealt with quickly and effectively by all parties."
British-made
The brand prides itself on being a British design-led furniture manufacturer, but what else does Short believe makes Callerton stand out from some of the other successful furniture brands on the market? 
"We've always been seen as being a bit different," she says. "We're obviously very proud of our heritage and keen to promote the benefits of buying British. We have a diverse portfolio, ranging from traditional painted kitchens to cutting-edge contemporary designs and, we've never been afraid to mix the two styles together either!
"Although we have a huge respect for the European brands, we believe our size and proximity to our retailers can bring many benefits, including flexibility and lead times. Each kitchen is manufactured in-house to the retailer's specific requirements.
"We understand that designing, installing, and managing a kitchen project can be challenging. To assist our retail partners, we aim to turn around small orders in two weeks to ensure they can complete the projects on time."
Callerton, Short says, regularly updates its product offering as well, to ensure it remains "relevant, exciting, innovative and price competitive".
"Recently, the price of oak rose significantly, but at the same time, we experienced a dip in quality," Short reveals. "To maintain product quality and protect price point, we therefore made the decision to move away from painted oak and towards ash painted."
Investment programme
As you'd expect of a business that's just about to hit the big Four-Oh, Callerton has undergone some major change and development over the years, none more significant than the implementation of its recent 12-month investment programme.
Callerton has made a significant investment in its factory in the North-East with the introduction of new buildings. This not only allowed them to increase capacity in a bid to meet the needs of its growing retail network, but also allowed them to move equipment round to increase efficiency.  
"Following the significant investment we have made in the business over the past 12 months, we have seen the benefits from improved working practices and increased capacity," Short says. "We intend to continue to identify opportunities to make further improvements." 
It has even added a biomass boiler and an improved extraction system to not only help reduce energy costs but also maintain its price position.
Training
Again, recognising its role in providing ongoing support for its retail network, before the pandemic Callerton also invested in a brand-new training suite at its factory and HQ.
"The introduction of the new training suite had been intended to allow us to provide expansion of knowledge through our dedicated training programme," explains Short. "Initially, this had been intended as an in-person course but, due to the pandemic, we were forced online. However, this actually proved to be the perfect delivery method for much of the information we wanted to impart to our retailers.
"We believe strongly in solving problems for the longer term hence the investment in our comprehensive retail training programme and dedicated training facility. The programme consists of 12 modules delivered through videos, live in-person or online sessions. What's key is that it is tailored to suit the needs of designers at various stages of their careers."
For context, what effect has that investment had and how is the business faring in general?
"Although we experienced an initial downturn immediately after the Covid announcement, like many in the home improvement sector, we then saw an 18-month period of record-breaking turnover," she says. "Turnover increased by 15% compared with pre-Covid levels.
"We currently serve a network of around 30 retailers but, thanks to the investment in the business and subsequent increase in capacity, we have ambitions to grow that figure and would love to welcome new independent design-led kitchen specialist retailers to the Callerton family."
Network growth
Short is quick to explain that, although the overall objective is to expand its network, it will be based on its current principle of offering its retailers exclusivity.
"We understand that exclusivity is important to our retailers and each of our partners is given their own geographic exclusivity ensuring they don't compete with one another," she explains. "That said, we still have lots of opportunities to grow our network, even keeping in mind that important principle of exclusivity. Thanks to the investment we've made in increasing efficiency and capacity, we are now in a position to extend our first-class service to more retailers."
And what about the future of the brand and the industry as a whole?
"It would be naïve to suggest that everything is rosy in the market at the moment," Short concludes. "But we are seeing more demand for high-value projects, which are likely to be less affected by the current financial challenges. Design-led kitchen specialist retailers are in a unique position as they are selling design as well as products and project management. I feel strongly that this focus on service and innovative design will secure the sale."