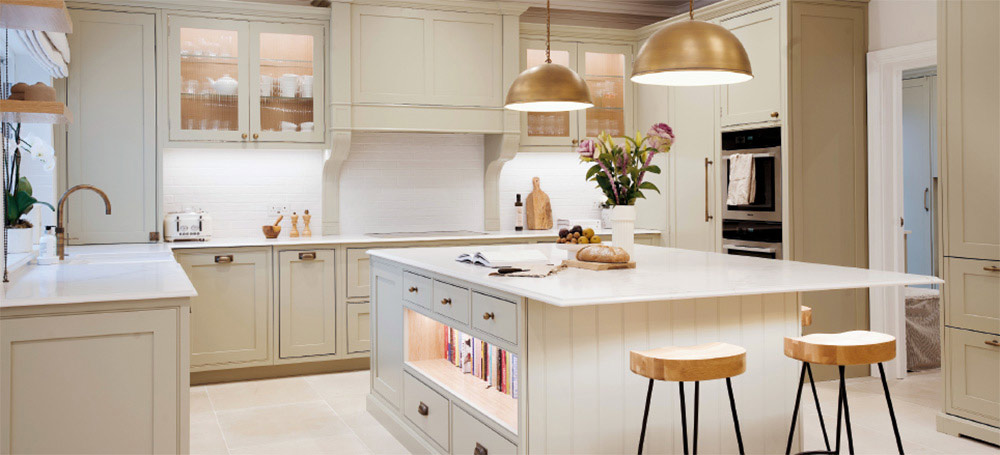 Case study: Traditional but timeless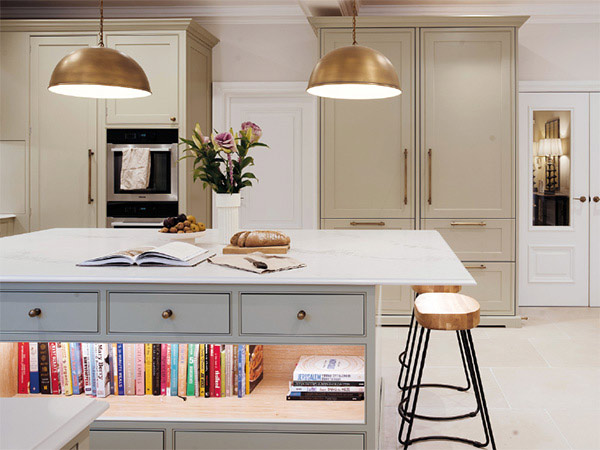 Bespoke furniture maker The Wood Works in London converted a small kitchen into an open-plan space where their clients could host frequent dinner parties.
The Wood Works was tasked with designing a timelessly classic kitchen for a family of four. The clients had already opted to remove the back wall where the kitchen had been previously, in order to open up the space and make way for an open-plan concept, complete with dining area.
The first challenge was to accommodate the large refrigeration request by the client. There was a space roughly 2m wide between the door into the utility room and the entry way from the hall, previously not utilised. The Wood Works designed a freestanding refrigeration unit that incorporated two side-by-side Liebherr 760mm wide fridge-freezers, giving a huge amount of cool storage and easy access.
On the other side of the utility room door, the tall run was designed with a stack of Miele cooking appliances, a tandem larder, which was to house all of the client's dried goods, and then running into the base and wall units on the back wall. There was a question about what to do in the corner so as to not void the space where the tall units met the base units, and so their designer opted for a push-to-open 'hidden' door, which provided additional storage for less frequently-used items.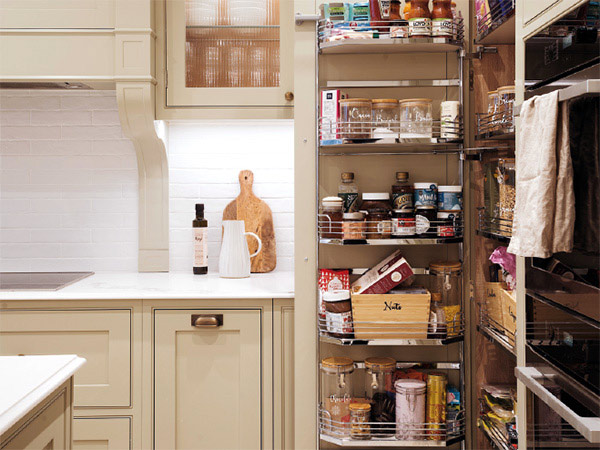 The real feature of the kitchen was the bespoke mantel area, which incorporated curved shaker panels coming down onto the worktop, and a frieze detail. This needed to be a focal point and create a central cooking space. Underneath the induction hob, they designed two deep drawers, with an internal drawer for cooking utensils.
The in-frame cabinetry continued around the corner to be able to locate the butler sink underneath the window, with two dishwashers located nearby. The client hosted dinner parties frequently, so the addition of a second dishwasher would help clear the plates away in one single session.
Another feature that the client opted for was fluted glazed wall units to show off their cups, mugs and saucers, but using fluted glass to slightly obscure the view gave them a helping hand if it got too messy.
The island combined a lit, open section to display cook books, while a freestanding dresser houses the coffee machine and pods.