Case study: Spa feel with a moody twist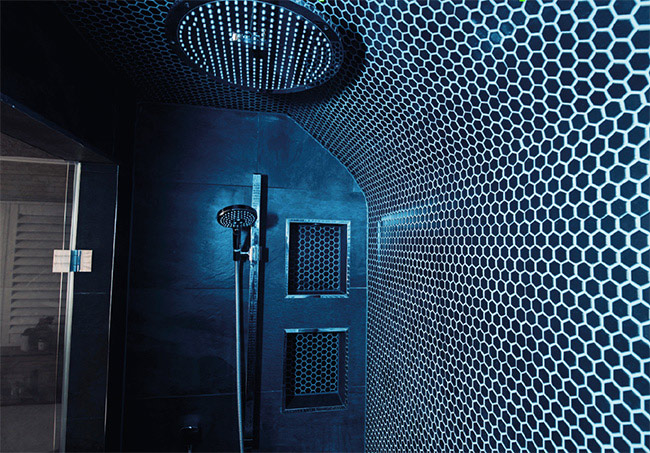 Norden's designer describes how he successfully married together two contrasting briefs to create a master wellness en suite to suit both his clients
We worked with the clients during the final third of their renovation project, making sure we kept them abreast of the fluid lead times of products and at what stages they needed to commit to decisions.
During the on-site consultation, we were able to gain an additional 400mm width in the room, which enabled us to fit in a generous freestanding bath from Waters of Ashbourne and also achieve a steam/shower area suitable for two. This design change did leave us with a skeiling roof in the steam area, but we used this to our advantage as it actually aided the run-off of surface steam and was high enough not to impact the showering/steam experience.
The Infinity wet-room kit from Abacus and a tileable gulley left a seamless look and the Hex mosaic from Ca' Pietra created the ideal 'dark and moody' area to de-stress. The Nuvola Smart Steam kit from Effe was the perfect match and we included the Chromathrapy RGB light and sound module again to enhance the 'at- home' well-being experience.
With the tiling we had to marry up the spa feel with the dark contrast and we decided that the Porcelanosa Lexington Colonial wood effect tiles would really soften this room, giving it a naturally relaxing ambience.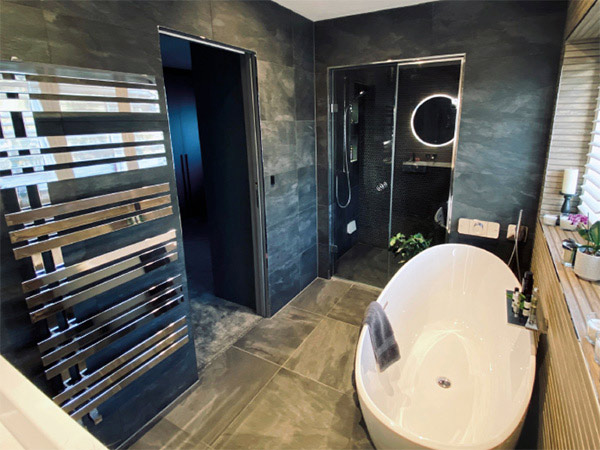 The minimalistic hinged and inline shower door from The Showerlab gently separates the steam/shower area and the chrome finish has been kept throughout, allowing other statement pieces to take centre stage.Underfloor heating from Warm Up was used throughout and is zoned in the steam area, allowing the seating to be independently heated.
Organised storage for everyday use was of importance and the clients fell in love with the sharpness of the Duravit L-Cube, C-Bonded range. The Dark Brushed Oak finish added to the earthy, natural tones and popped nicely against the tiles.
The clients had previous experience with Hansgrohe and were happy to go with the suggestion of Hansgrohe Axor throughout. Combining the Axor One and Citterio E ranges worked from both a practical and aesthetic standpoint and a large 350mm powder rain overhead was a must after experiencing it in our working showroom.
Illuminated niches were included both within the steam/shower and the Viega frame and electric flush plate really solidified that feel of high-end quality.
The contractor introduced remote RA2 lighting controls by Lutron, giving the clients zonal control of their lighting, which is important when creating different atmospheres.
This project demonstrates that even in a relatively narrow space you can give someone both the luxury of home wellness that is both stylish and practical.