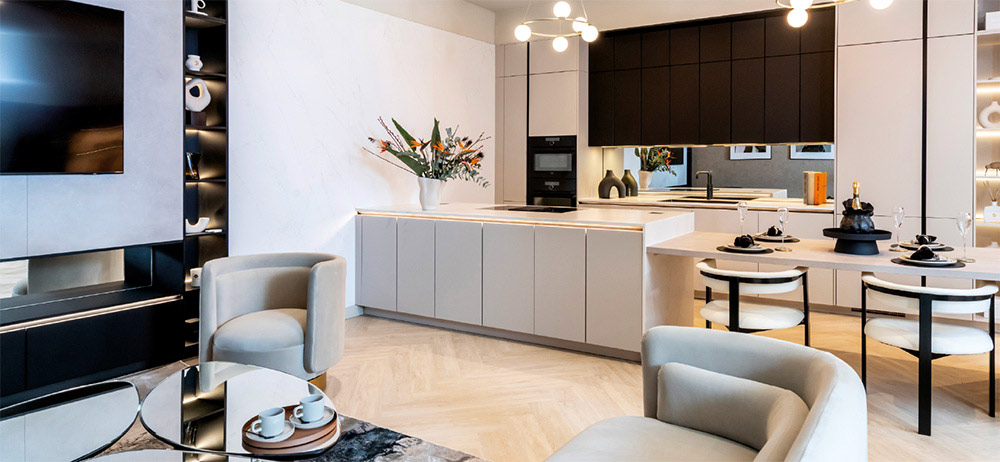 Why luxury retailing is the future
Ex-Nobilia GB owner Keith Barker has opened an upmarket showroom in Altrincham where every aspect of its design is aimed at giving his clients a great retail experience. Chris Frankland pays a visit
As I walk through the open door of Neü Projects in Altrincham, I am greeted by wow-factor displays, soothing music and a great fragrance in the air, all of which creates a cosy, relaxing ambience that's more like a home than a kitchen showroom.
After organising a welcoming cappuccino for me, owner Keith Barker walks me round and explains his thinking behind this eye-catching showroom.
"My take on the retail experience," he begins, "is – where do you feel most relaxed? I would say that is in a restaurant or a well-designed hotel or bar, and I have taken the cues from those sorts of spaces. It is a five-star experience."
He tells me that the fridges are full of wine and beer and there is coffee on tap, all aimed at helping his customers feel at home and relaxed.
"With the look and feel of the showroom," he continues, "we are trying to make it an experience, so you are not just looking at kitchen displays. You are looking at different aspects of the home. The central area has an open-plan feel with a kitchen, media centre, sofas. People can picture it in their own home. We are not showing kitchens against a wall, we are showing them as a room."
It is tastefully propped with sofas, mirrors and artwork on the walls, tables, plants, flowers and glassware/cutlery/crockery. And to ensure that customers are always at ease, he says air conditioning is a must. "Whether it is the middle of winter or the middle of summer, the ambient temperature is always 21°C."
The final element is lighting, which is controlled by a Rako system to ensure the perfect ambience.
Different
When Barker found this 3,000sq ft premises just off the main street in Altrincham, he knew exactly what he wanted – and what he didn't want. It had to be somewhere in what they call the Golden Triangle, within the area defined by Altrincham, Wilmslow and Sandbach. "That is where the money is," he tells me.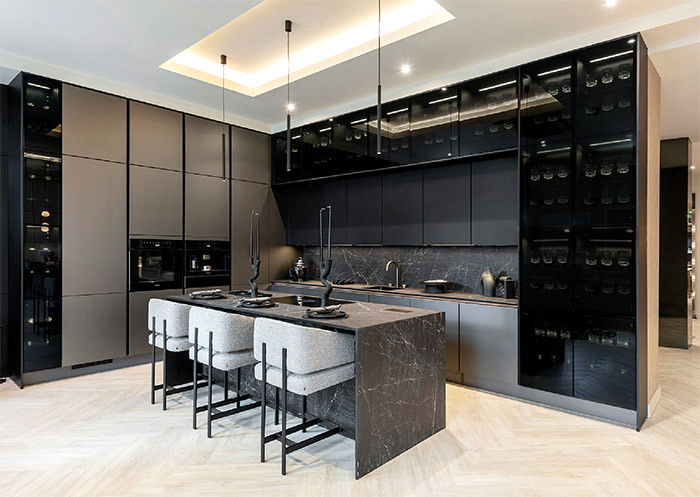 He also wanted something different. "I didn't want a typical glass-fronted, goldfish-bowl square shop, which doesn't feel interesting." And when he saw the old bank building, he knew straight away it was right.
Such a location was crucial for Barker as he did not want to compete in the middle market. "I wanted to take it as upmarket as I possibly could with the product," he explains, and that product was, unsurprisingly, Nobilia. Barker was previously owner and MD of Nobilia GB, which he set up in 1999.
Rather serendipitously, he reflects, Nobilia had started moving its product upmarket after having been what he calls "kings of the middle market" with a 55% market share of that sector in its home market of Germany.
"I hadn't realised Nobilia had had the same idea and had set up a concept showroom in Germany that looks almost identical to mine. Simultaneously, we had both been doing the same thing."
The old bank premises were ideal for his purposes and had one added key – tall ceilings.
"This building has height. This enabled us to take it to another level," enthuses Barker. "Our displays are nearly 3m tall. It is purely for aesthetic reasons and it looks in proportion with the showroom. In this area, you have many larger period properties and there are people that can accommodate such kitchens."
The showroom also has three presentation areas where designers can discuss plans with customers. They all have screens and, if needs be, one can also be used to keep customers' children occupied watching Netflix. Towards the back of the showroom is a sample wall and a large island with a padded top where clients can compare colours and styles.
The use of the word Projects in this new retailer's name was no accident. Barker wants to supply not just kitchens, but bathrooms, studies, walk-in wardrobes, dressing rooms and bars.
Whole house
"We are only in week three [late January] and we have already had footballers with six-bedroom homes ask us if we do any other rooms in the house. I wasn't intending to do that really in the first two years, as I thought people would want us to just do the kitchen."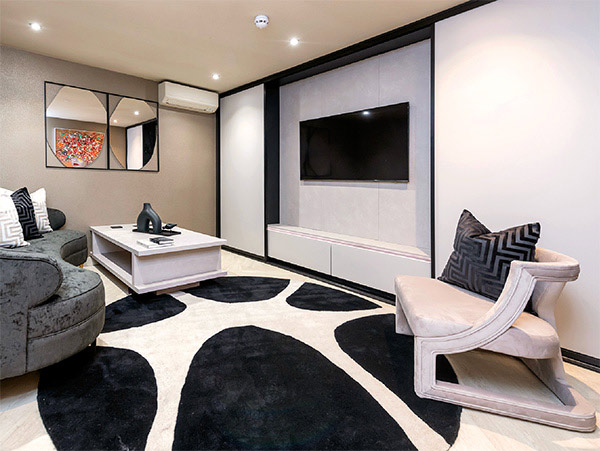 As Barker leads me downstairs to the basement area of the showroom, he outlines his plans.
The old bank vault will be a walk-in wardrobe/dressing room that he tells me will be "off-the-scale premium". Then there will be two bathrooms, again very much at the premium end of the market. One will have a large back-lit floor-to-ceiling panel at the end with a freestanding bath and will be "very feminine", while off that there will be a gentleman's walk-in wet room, all in black and very masculine.
There will also be a study and the final piece of the puzzle is a large bar. The staircase leading down to the basement will have lights all the way down to emulate the look of the entrance to a nightclub.
In a clear statement of intent, Barker says: "We are going into every room in the house."
With a solid background in the contracts market, it is no surprise that he also plans for Neü Projects to work with developers.
Contracts
And he knows where he wants to go with contracts. He tells me: "I am going to build up a contracts division, aiming initially at the developer who is doing 20 or 30 a year. Bespoke developments. It doesn't matter if it is 100 units, I want to know how many they will complete in a year and that tells me how many kitchens I will have to do. We will gear up as needed."
He says that if an opportunity comes along, he will not turn it down. "But you have to have the funds to back that up," he adds. "It's like what we are doing in the showroom. We put £1 million into the showroom and that takes out a lot of people.
"Rather than taking 22 years to get to where I want to be, I want to do it in five. And to do that you've got to put the jobs on the board. And the feeling is that we are going down the right route.
He continues: "I am going to build up a team. I don't want to grow massively and try to take over the world. I want a good size of contracts department with our own installers so that, if we do have issues, there isn't a problem. If we can replicate in contracts what we do in retail, like all of the rooms in a new-build, it gives us a big hand up."
To get the Neü Projects name out there, Barker uses a mixture of social media and their website, adverts in Cheshire Life and is just about to do a leaflet drop. He has produced leaflets for specific house types and these will be distributed around the local area and handed to people in person.
During my visit to Neü Projects, several customers come in saying they had not been in before and how bowled over they were by the displays. Barker tells me that is a typical reaction, so it seems he may well have a winning formula.