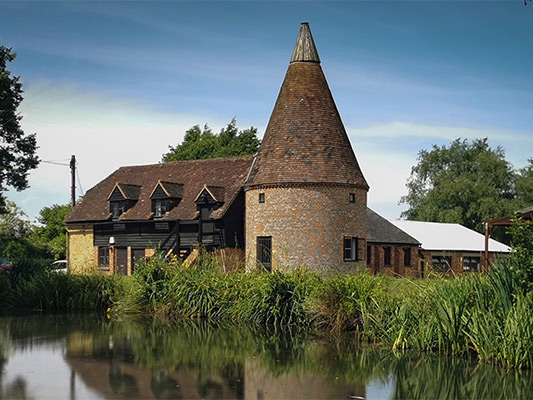 Take a tour around Jones Britain's showroom
Jones Britain's new destination showroom is in an old barn conversion in the quiet rural countryside near Royal Tunbridge Wells
Tucked away in the countryside is the Jones Britain showroom. As you drive up the lane, you are greeted by an idyllic scene of a pond and traditional buildings like an oast house. The showroom is situated near several other businesses in the creative sector, which makes it a mini-design community.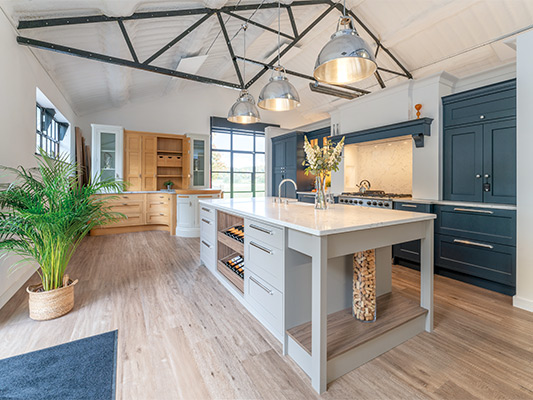 Jones Britain moved from a high street studio to this destination showroom on the edge of Groombridge village, near Royal Tunbridge Wells. Since Covid, more people are booking appointments rather than just walking in. With this behaviour change, Dan Stronge, managing director of Jones Britain, felt like moving out of town would not hinder the business.
The showroom is light, airy, and packed with a variety of modern and traditional kitchens. The layout is the result of a collaboration between Stronge and Masterclass Kitchens to find the perfect combination of displays, which includes kitchens from Masterclass and Jones Britain's bespoke range.
There are five main displays as well as three smaller sets, including a boot room, storage and office space. The designers work from the mezzanine floor that overlooks the showroom to give them space away from the main part of the studio. Also, there is a separate presentation area so clients can look at their designs in peace.
As customers enter, they can see most of the displays from the front door, so they are hit with variety and creativity as soon
as they step through the threshold. As Stronge explains: "It has been designed this way so you can see most of the displays from the front door helping to invite our customers in and then draw them to an area of their choosing.
"There are no dead ends in the showroom so you can walk around a central column wall back to the start again. This allows for really good flow and if we did have a number of customers in the space they wouldn't feel hemmed in."
There is no central focus as the displays flow from one to the next. While some kitchens are more popular than others – like the Masterclass Ashborne Kitchen at the front of the showroom – the layout is designed to let people wander. Stronge says: "Once you walk further into the space you are teased with what's around the corner.
"Off to one side there is an area where all our samples are kept and where we hold our presentations to clients. This is tucked a little out of the way so as not to cut off the flow of the rest of the showroom."
The showroom walls are white and the ceilings are high, which makes the colourful kitchens pop and stand out more; speaking about the colour, Stronge explains: "We wanted to show a broad brush of styles, finishes and colours. Although there is a black theme that runs throughout many of the displays, which are designed to reflect the black elements of the barn itself and tie the whole space together. We have blues, greens, greys (light and dark), off whites and also a pop of purples."