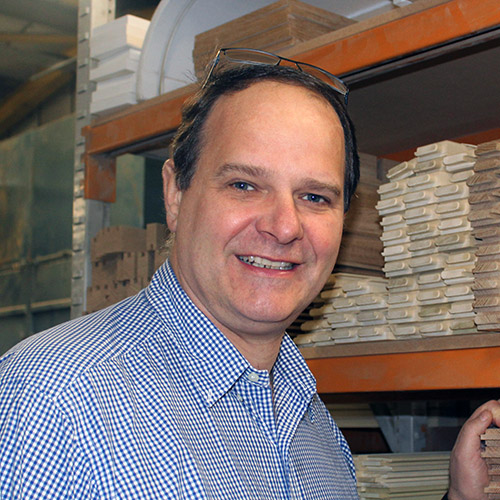 Imperial Bathrooms, one of the last British sanitaryware manufacturers, has been saved from administration by a management buyout. This follows what the new owner describes as 'major strategy blunders' by the previous leadership team.
The buyout, lead by former managing director Neil Gore, has been completed through newly formed company IBC Products Ltd for an undisclosed amount.
Gore returns to the role after three-years as Mereway's financial director and is joined in IBC Products by James Stevenson (pictured left), the son of Imperial Bathrooms founder Geoffrey Stevenson, as well as supply chain director Kevin Johnson and operations director Robin Wright.
James Stevenson was export director and then joint managing director under previous owner Simon Lousada and his company Lousada PLC. Lousada took the company over in the summer of 2020 with positive aims for growth but now, less than three years later, he no longer has any involvement.
Gore told kbbreivew that the money has been raised with the help of an 'angel' investor as he "just could not let such an iconic brand disappear from the market."
"There were a number of major strategy blunders made by the previous leadership team in the past few years that meant the business lost its focus on the Imperial Brand & costs. Imperial is really a truly unique business and we are fortunate than almost all of customers are continuing to work with the new business.
"The senior leadership team that I have pulled together to lead the company fully understand what the Imperial brand stands for and will ensure that we are focused again on our core brand values. We would like to put on record our thanks to our loyal customers who have embraced the NEW
Imperial and we all look forward to the journey ahead. We have a lot of exciting innovations and new products ready to launch over the next six months."
The company says it is launching a new range of products in 2023, including the imminent Fradley Collection.
James Stevenson said: "We want to show our customers that as a brand and business, we have the courage to innovate and adapt to the everchanging retail landscape. We strongly believe in leaning into change and are confident we can successfully navigate the current economic climate in the months ahead.
"Thank you to every customer that continues to tell our story, you are crucial to the long-term survival and growth of our business."
Geoffrey Stevenson founded Imperial Bathrooms in 1987 and died in October 2020.