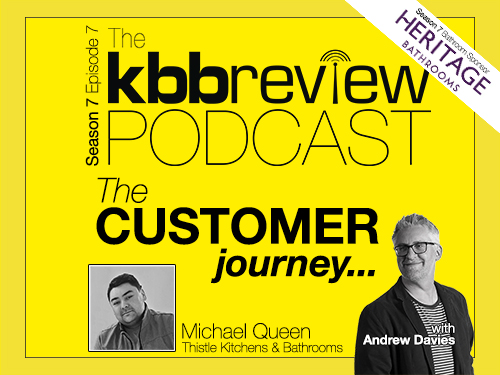 Welcome to the latest episode of The kbbreview Podcast, your host as always is Andy Davies and this is Episode Seven of Season Seven.
This week we're going on a journey. We're talking all about that most vital of experiences, the Customer Journey. It's a phrase that gets used a lot in kbb world but today we're meeting a bathroom retailer that has put it at the heart of its whole strategy.
What does it mean? What are the steps of that journey, where does it begin and, most interestingly, where does it end?
We're meeting Michael Queen from Thistle Kitchens and Bathrooms in Aberdeen.
Speaking of journeys, it's another huge thanks to our very good friends at Heritage Bathrooms, our illustrious Bathroom Sponsor on the journey that is Season Seven. As I'm sure you all know, Heritage has been a leader in UK bathroom products for nearly 40 years. They've just had the biggest launch in their history with FIVE fabulous new looks, a wealth of new products, and of course a brand-new shiny brochure! You can find out all about it at heritagebathrooms.com
Listen now using the player above or on your podcast app of choice such as Apple Podcasts or Spotify. You can also listen on YouTube.